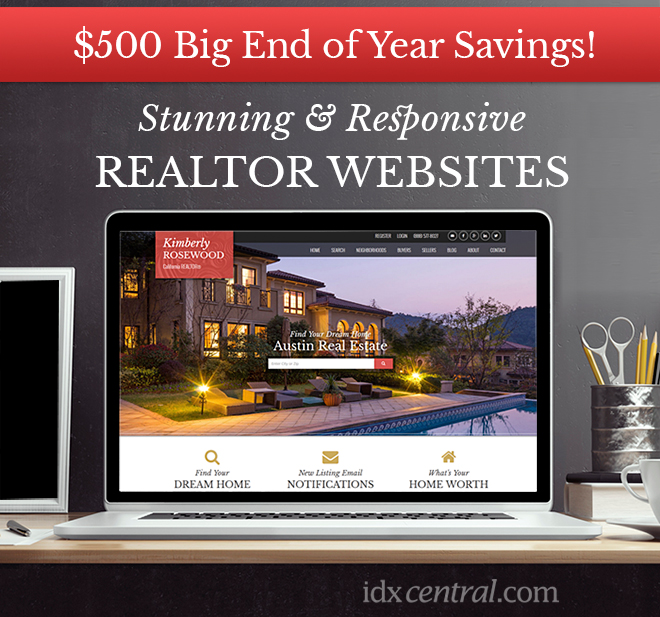 Take advantage of our end of year promotion. Save $500 on a new responsive real estate website AND get your tax write-off in before December 31st! It's a win-win scenario so jump on the special now and let us help get your 2017 online marketing plan off on the right foot. To help inspire you view our list of our Best Real Estate Websites of 2016.
Big End of the Year Promo – $500 in Savings!
Choose a $300 website add-on for FREE plus your choice of two of the following offers:
1. Two months FREE WordPress Care Package.
2. Aim to be unique? Get a FREE custom color scheme.
3. Six additional FREE stock photos for your website.
4. Free blog post promoting your new website.

Offer good December 5th to December 31st, 2016
Additional Value Added:
– Included with each site are $600 worth of valuable premium plugins.
– Approximately $150 worth of professional stock images to enhance your website.
– We waive the $100 IDX setup fee.
– WordPress training and support.
– You own the website.
Choose from our semi-custom WordPress Themes:
Austin Theme Design
San Francisco Theme Design
Seattle Theme Design
Appeal to the growing Mobile Market – It's Time to Go Responsive!
Internet usage on mobile devices currently accounts for over 60% of all internet traffic, far surpassing usage by desktop computers. While this outcome was inevitable, few predicted how soon this transition would take place. With Google's new ranking system, websites that are fully responsive and mobile ready receive priority ranking over their non-responsive competitors. Read "Why Switch to a Responsive Real Estate Website" and our top eight list of reasons to go responsive. You will find the writing's on the wall – the time to go mobile and get a competitive edge is now!
Our mobile responsive real estate websites automatically scale content and format to suit whatever device your clients happen to be viewing your site on at the time, whether it's a smartphone, desktop computer, or tablet. Built on WordPress, you will find this solution extremely versatile, enabling you to manage your website content on your own and with ease. Best yet, you own the website – it's not a proprietary website solution you can't take with you, but an investment that can grow alongside your business and become an integral tool for both you and your clients.
Let's get started.
Save on your taxes AND $500 on your website with our end of the year promotion. Partner with a company that has serviced over 3,000 REALTORS and Brokers – specializing in real estate website design, IDX sales and integration. Let us help you propel your 2017 online marketing with a mobile responsive website. Call (888) 577-8027 ext. 1
View WordPress Real Estate Themes
Contact Us