Choosing from dozens of differing IDX Solutions can be overwhelming, so let the IDX experts point you in the right direction. After twenty years of hands-on IDX integration, we've narrowed it down to two of the best. Their proven track record, continued innovation and advanced IDX features are what make these two stand out. Read on to learn about the best IDX for WordPress real estate websites.
What is IDX?
IDX is the property search on a website, it connects to an MLS (What is IDX?) which allows your leads to search every property on the market while featuring your own listings first. Leads can sign up for new listing alert emails, save favorite listings, save favorite searches and more! And the best part, it's all on YOUR website so you retain and nurture each lead.
IDX works via broker reciprocity, historically REALTORS® got together and agreed that sharing listings benefited the industry as a whole. When you add a listing through your MLS portal, that listing is auto-populated onto your website through the IDX (Internet Data Exchange), sometimes in as little as 15 minutes later.
What are the Biggest Benefits of an IDX Solution?
Not all IDX solutions are created equal. The best IDX solutions :
Offer a safe place for visitors to search for listings and all leads to go you
Have a responsive design and is mobile friendly
Displays the latest listings to hit the market, faster than Zillow Offer new listing notifications and automatic market reports
Showcase your featured listings
Gain valuable search engine optimization from indexable listings (SEO)
Allow you to create polygon map searches around popular areas
Allow you to display listings on informative and SEO friendly neighborhood pages
Allow you to display listings on lifestyle searches i.e. lakefront homes, golf communities, popular school districts
Control listing descriptions, photos, and videos
Allow you to integrate IDX into your Facebook account driving more traffic to your site
Offer lead generation forms to capture and build a database of leads
Offer sold data to help educate buyers and sellers
Never risk losing your leads to another Realtor's advertisement shown by portal search sites
These are some of best ways to use an advanced IDX search to attract and gain new leads. The two IDX solutions we profile below offer powerful features to help you succeed online and beat out the competition. They continue to grow, invent and serve the demands of today's savvy buyers and sellers.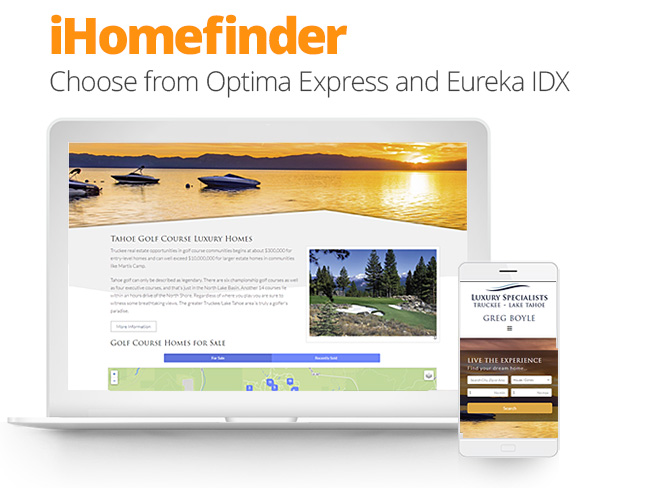 iHomefinder's Optima Express (with Market Reports!)
Founded in 1997 and headquartered in the San Francisco Bay Area, iHomefinder's team has a top-notch IDX with consistent improvements that keep the system competitive. Their years of knowledge and familiarity translates into an IDX that is user-friendly, feature rich, with large, stunning photos and professional IDX display pages. iHomefinder has several options for single-agents or teams. Pricing starts at $54.95 mo. with mapping or $44.95 mo. without mapping.
Additional features can be added at anytime, like MarketBoost's automated hyper-local market reports, Eureka IDX a new portal-quality Zillowesque property search with a huge map and large listing photos all on one search page, and a robust team management CRM. Inquire with us to find out if your MLS is covered and for a free consultation.
Limited Time 50% Off Professional IDX Set Up
Order IDX Now
Here's a quick list of just some of the iHomefinder features we find essential:
Market Reports, automated and hyper-local via MarketBoost
Eureka IDX Zillow-Portal Quality Search (view Eureka live demo)
Connect to your CRM of choice via email routing, or use the iHomefinder ONE CRM
Marketing Automation converts more leads with smart, automated follow-up
Optima Leads App works your real estate leads wherever you are.
Text Message Alerts
Lead tracking and management tools
Polygon and Map Search included
Sold data included at base price (when available)
Indexable Listings (no custom subdomain required)
Office ID Featured Listings available for single-agents and teams (no extra cost)
Facebook IDX Integration
Live examples of iHomefinder features:
VP Texas Realty – Eureka IDX
Leonardi Group – Optima Express IDX Search with MarketBoost
Bill Leeder – Specialty search with IDX
Michelle Keck – Polygon IDX search
Berkshire Hathaway – IDX featured listings
Greg Boyle – Neighborhood pages with IDX
Mark Salmon – MarketBoost automated market reports
Berkshire Hathaway – IDX new listing notifications form
Fawne Hayes – IDX search on Facebook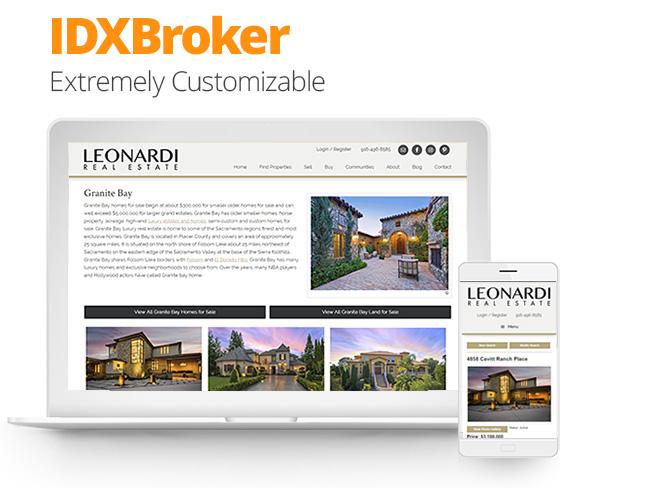 IDX Broker's Platinum IDX Solution
IDX Broker, established in 2004, has been working hard to provide a customizable IDX with room to grow. Their talented team strives to share their knowledge and passion for IDX. In a recent interview, IDX Broker CEO Chad Barczak reflected on the changes the Real Estate market has experienced over the years and how IDX has become the mainstay of smart, successful REALTORS®. Pricing starts at $50 mo. for Lite IDX (without a polygon search tool) or $70 mo. for Platinum IDX which includes a polygon search.
IDX Broker is the perfect solution for sellers of land, lots, farm, ranches, rentals, or other niche property types as they include advanced search fields for ALL property types. When you purchase through IDXCentral, you get our styled IDX Broker search pages (not the out-of-the-box experience) so inquire with us to find out if your MLS is covered and a free consultation. We love how beautifully the IDX incorporates into our WordPress real estate websites.
Limited Time 50% Off Professional IDX Set Up
Order IDX Now
With so many great options to explore, here's a quick list of our favorite IDX Broker features:
Advanced Search Fields for ALL property types
Customizable, use CSS to customize styling (or our custom IDX Broker templates)
Printable Flyers direct from listing pages
Track your leads beyond the basic lead tracking system, use Advanced Analytics to track conversion on specific IDX pages
Polygon Search on Platinum Accounts
Sold Data Addon for $9.99/monthly (when allowed by MLS)
Lead Login via Facebook or Google
Indexable Listings (custom subdomain required)
Facebook IDX Integration
Text Message Alerts
Live examples of IDXBroker features:
James Rowlett – IDX Search
Keating Real Estate – IDX map search
Best of NJ Realty – Neighborhood pages with IDX
Keating Real Estte – IDX featured listings
Heather Hauser Group – IDX new listing notifications
James Rowlett – IDX on Facebook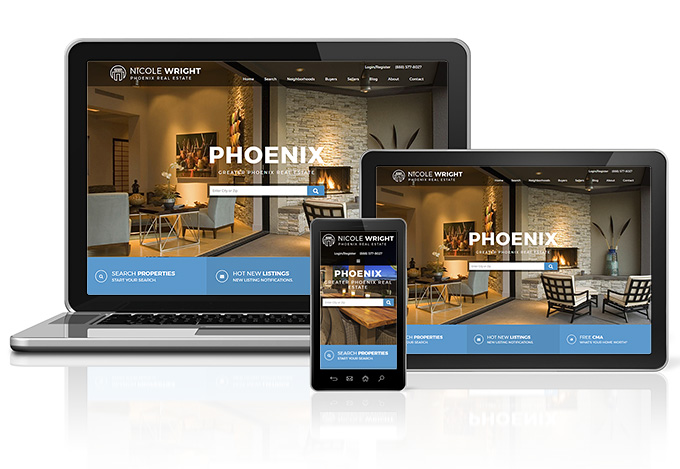 How To Get Started With IDX
Talk to the experts! Here at Moineau Design, IDXCentral.com, we have extensive experience implementing and customizing the iHomefinder and IDX Broker solutions for real estate WordPress websites. We have over 20 years of experience and have served over 5,000 real estate professionals.
Limited Time 50% Off Professional IDX Set Up
Order IDX Now
In Need of a WordPress Real Estate Website with IDX?
We can help with that too! If you're in the market for a responsive real estate site built on WordPress that gives you the features you seek then give us a call. We specialize in WordPress real estate websites, IDX sales and integration. View our WordPress real estate Semi-Custom, Limited Edition and fully custom website designs.
Contact us or call direct at (888) 577-8027 ext 1 for sales.