Valuable real estate market reports are now available for all IDX Broker Platinum accounts! That means if you are using IDX Broker Platinum on your site, it's free! This exciting new feature looks great and provides a variety of detailed market information. Local real estate can vary wildly, and every market is unique. Therefore, this valuable, smart data can be used to enhance your website's digital reach and increase your reputation as a local expert in real estate.
IDX Broker Market Reports pull data from local MLS and Realtor associations, so you know it's accurate. This information can be displayed on Realtor websites and home buyers can sign up to receive a monthly email containing market report data. IDX Broker Market Reports include recent activity, market data and demographics.
Recent activity will include sold listings, new listings, and open house listings. IDX Broker Market Reports use dynamic recent activity, for example if the market area received five new listings today, it will say 5 New Listings Today. If there are no new listings today, it will instead reflect the number of the new listings this week or month. This dynamic display applies to sold, new, and open house listings.
Market Reports Tip – Give your leads a boost with their Real Estate Market Reports by building one based on their unique saved searches. They'll get an updated Real Estate Market Report emailed to them every month. By automating these reports and keeping prospective leads up-to-date, you'll be the local real estate expert resource they've been looking for!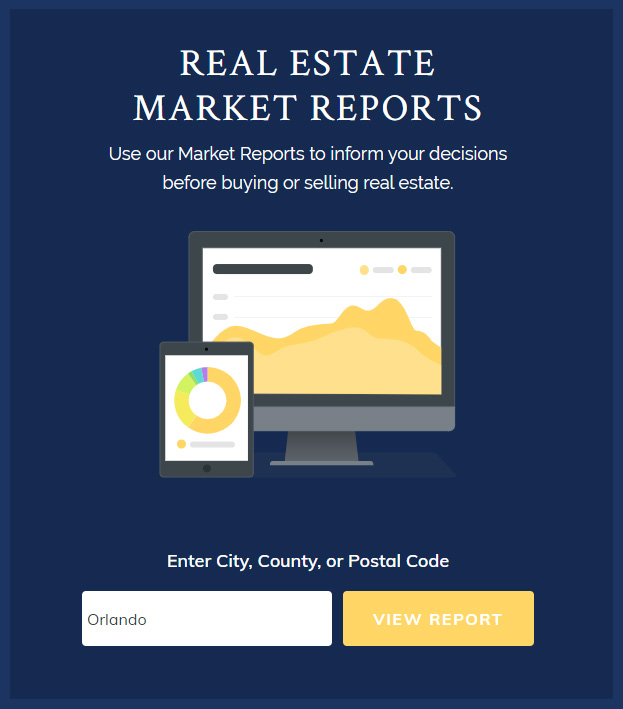 Keep in mind, not all MLS's allow for sold data to be shared and displayed on IDX websites. If sold data is not available in your area it will not be included on the market report. Contact your local MLS or our team to find out if sold data is available in your region.
Market Data will include active listings, recently sold listings, and price trends. Listings are separated by property type (residential and land) and include the average price and total number of active listings in the applicable market area. Colorful graphs (with customizable colors) and a map for sold data allow buyers and sellers to quickly take in the available data in an easy to absorb format.
Demographics rely on census data, going back to 1990 from the current year. Each IDX Broker Market Report will include the following demographics:
Population (Change Since 1990)
Crime (Compared to the National Average)
Employment (Percentage of resident workers organized by industry type)
Weather (Seasonal Average High and Low Temperatures)
Income (Percentage of Households organized by income level)
Costs (Living Expenses Compared to the National Average)
Currently, IDX Broker Market Reports can be created using city, county, and postal code filters. In the future, IDX Broker will include subdivisions, widgets, and additional filters. We at IDXCentral are excited to help our clients implement this fantastic new IDX Broker feature to enhance their website and help gain and nurture new leads.

If you're an existing client or a real estate agent in search of a real estate website and/or IDX partner that can help contact us and we'll get you started.
Call (888) 577-8027 ext. 1 for sales to learn more.
Partner with an established company that's here to serve you now and into the future. Put our immense knowledge to work for you! We're not just a one-and-done development team, we're here to support you long after the website has launched. We have clients that have been with us for 20+ years and counting! Join our family and you'll have a tech team on retainer that knows the real estate industry and has mastered the most complicated aspect of real estate websites with IDX.

View IDX Solutions
View Our Real Estate Website Designs