A Directory Page is the latest IDXCentral add-on for REALTORS®, designed specifically to enhance your social media presence with an efficient and effective link directory page. If you use Instagram, you've noticed that you're restricted to just ONE link in your bio. While this may be fine for casual users, you're anything but – you're a REALTOR®! This is a missed opportunity for ALL of your real estate marketing channels! You likely have a multitude of links to share such as a personal real estate site, a brokerage site, a Facebook page, marketing landing pages, a blog, free CMA, testimonial and review pages, the list goes on! So which link do you choose?
The answer is one master Directory Page – one simple link that lets you share all the links. It's easy to manage, looks fantastic, and works perfectly on mobile devices. Once your Directory Page has been created you can use it across all of your social media platforms and print materials. You can create multiple Directory Pages for other marketing purposes – get creative. Directory Pages include your branding, logo, contact info, and company colors and best of all, you get all the search engine optimization credit for these links and can track incoming traffic to see where your marketing efforts are working, and where they're not.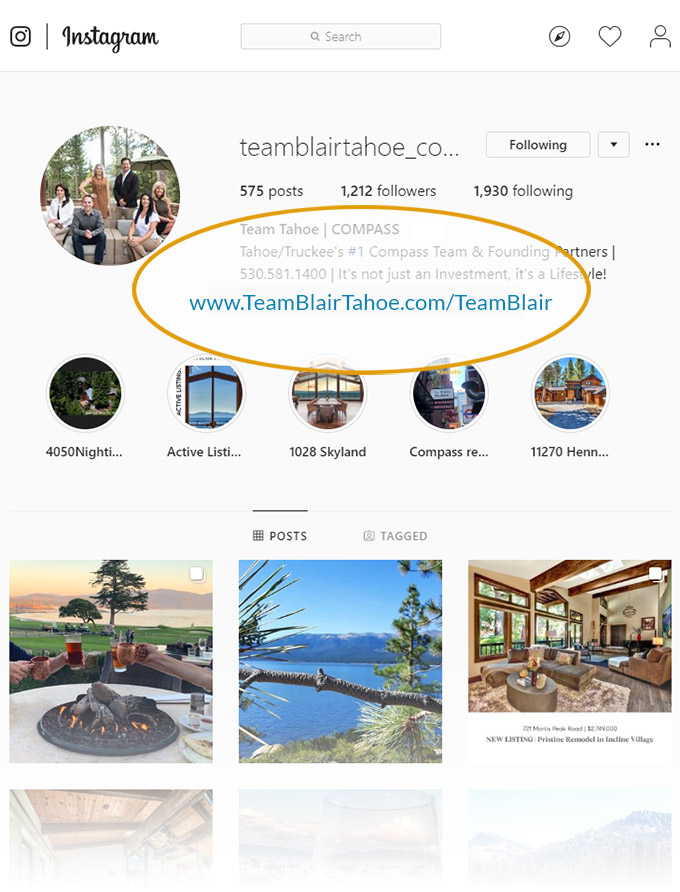 Team Blair Tahoe Directory Page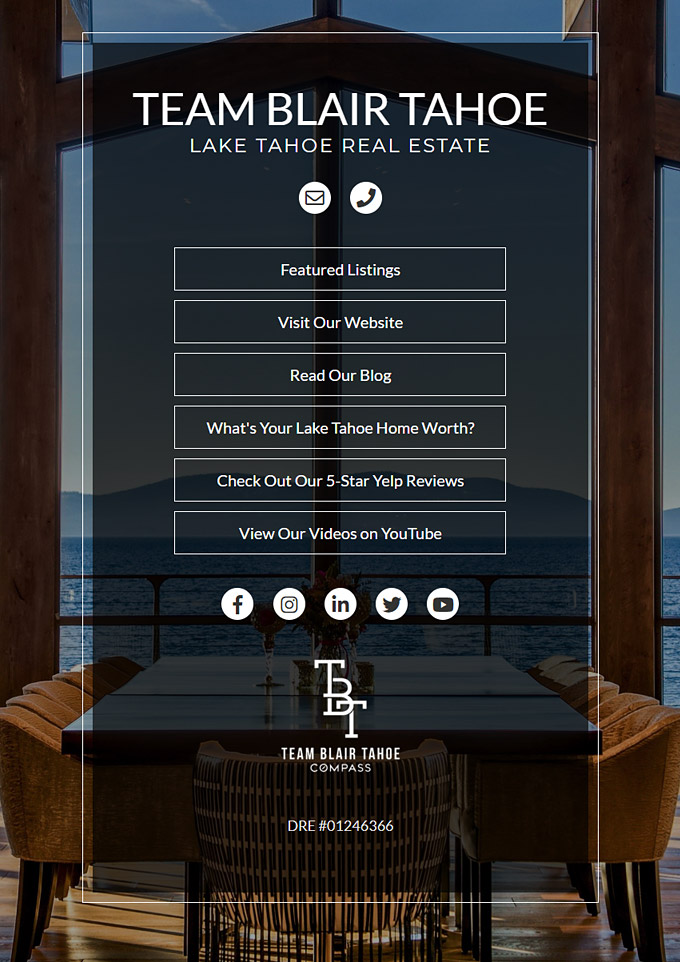 Team Blair Tahoe Directory Page
The bottom line is clear, you're losing leads when visitors can't find a link to the information they're seeking. Directory Page(s) allow you to provide multiple links on one practical, easy to find and use page, increasing your chance of connecting with a buyer or seller. Don't rely on just our word, check out the 2019 National Association of REALTORS® digital technology study, Real Estate in a Digital Age 2019 Report, which shows, again and again, that incorporating technology and social media is the best way to grow your real estate business. You're already putting the work in, now it's time to make sure you're capturing the leads you generate by ensuring those leads can access all of your links the moment they learn about you.
All of our latest semi-custom and custom website designs come with the ability to create one or multiple Directory Pages. Contact us to learn how you can get a website with all of our real estate add-ons including your Directory Page. Send us an email for a free consultation or call
Call (888) 577-8027
View WordPress Real Estate Websites
Contact Us to Learn More