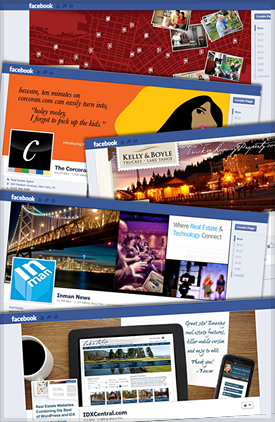 Did you know that photos and visual illustrations make up more than half of today's news content? So much so that even Facebook has acknowledged the shift from text to photos by updating its Cover Photo Policy. The new rule allows your photo to contain up to 20% of text. Hooray! These changes open up new possibilities for generating more leads and attracting more visitors to your website.
As a Real Estate agent you can now use your cover photo as a sort of virtual billboard to draw attention to just about anything – market your brand, promote your website, offer a promotion, or invite a call to action. Some ideal real estate related elements to feature in your Cover Photo include the following:
Open houses
A "Just Sold" listing with a client photo and testimonial
A "Just Listed" home pic
Your real estate website (a screen shot of your website, shrink, tilt and crop to size!)
Reinforce your branding or slogan (ad campaign)
Promote features or statistics of your company
Promote a giveaway or special offer
A charity you support or promote
Recent awards you received
A "home of the week" photo
Lifestyle images of the area
Photo collage of agents in the office
Photo collage of homes you sold
Photo collage of homes for sale
Promote your mobile IDX search
Encourage visitors to share or like you
Creative Ways to Promote Your Business
There area many creative ways to get visitors to relate to you through your Facebook cover. We were impressed with these ideas featured on Social Media Examiner. They examine how your cover image can be the perfect opportunity to tell visitors about your brand or products and drive home a great call to action. Read their article on 12 Creative Ways to Use Facebook Cover Images for Business.
Every time you change  your cover photo, visual attention is drawn to your Facebook account. If you can, we suggest making it a habit to change your photo weekly in order to alert followers of what you are promoting and increase visitor participation. Use Facebook to connect more and boost your real estate marketing.
An article by HubSpot.com highlights five powerful ways that you can use these changes to market your personal brand. It explains how your Facebook cover photo can be used to generate more leads when you "include links to specific offers such as ebooks, coupons, webinars, free gifts, applications, and the like"(source). For example, as a real estate agent you might be hosting a city-wide tour of multiple homes. You can choose an excellent photo and include text that prompts readers to register, plus a link to the registration form.
The article also offers great tips on how to analyze the effectiveness of your cover photos by using campaign tracking tokens, and provides advice on promoting more content to your audience. It also offers a peek at a Facebook feature that is currently in beta that, if implemented, will mean readers can comment on cover photos and thereby increase the "appearance of those conversations in news feeds … which means more leads" (source). Finally, it explains the positive impact your cover photo can now have on the value of your timeline photos.
When creating new cover photos, be sure to adhere to Facebook's rules. The official policy reads:
"All covers are public. This means that anyone who visits your Page will be able to see your cover. Covers can't be deceptive, misleading, or infringe on anyone else's copyright. You may not encourage people to upload your cover to their personal timelines. Covers may not include images with more than 20% text."(source)
Facebook's new photo cover policy has the potential to impact the ebb and flow of visitors to your Facebook business page. You can now create a more defined strategy that allows instant interaction from followers. Weekly changes to your cover photo will reinforce you as a proactive agent who is truly interested in client needs and wants. Why? More "activity" on your end gives you the image of an agent that is up-to-date with the latest real estate trends, has instant access to the hottest homes on the market, and is professional and informative. Utilize the power of your cover photo as a bold way to brand yourself.
If you have a chance take a look at our IDXCentral Facebook account and see how we have creatively used the cover photo to promote our work. For additional marketing advice, check out our real estate marketing tips section. If you haven't yet started your own blog, take a look at our professional real estate blog website packages and find the one that is right for you.