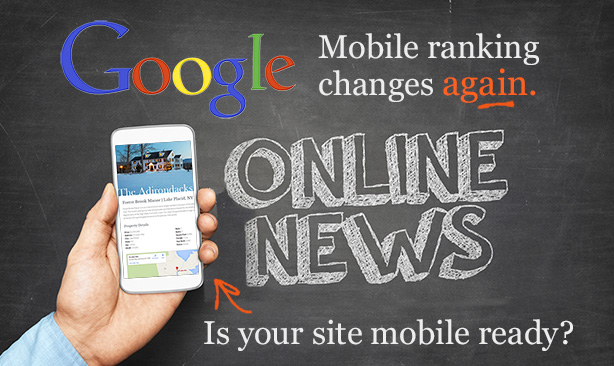 Concerned about your real estate website ranking on Google? You should be. If you haven't made the switch to a responsive real estate website yet, take note! On May 1st 2016, Google changed their "ranking signal" to give even more weight to fully responsive websites and there is word they might tighten this criteria even further. Check out the Google's ranking signal post for more info – this isn't the first time Google has favored responsive sites in their search engine algorithm, and it won't be the last. Don't get left behind and risk your current Google ranking – now is the time to act!
If your site is already mobile-friendly, then you have nothing to fear – but if you haven't made the switch yet, what are you waiting for? Don't get left behind by your competition and continue to alienate visitors using mobile devices! Heed our warning, if your website or IDX solution isn't mobile-ready, it's time to trade up to a responsive real estate website. Check out the mobile-friendly test to see how your website currently holds up.
Responsive real estate websites offer a user-friendly experience for every screen size, which is a must for the 89% of home shoppers that are using their mobile devices to browse listings. IDXCentral offers fully responsive IDX solutions and responsive real estate websites for single-agents, teams and offices, with sleek designs hand-tailored for the best user experience on every device. Over the past twenty years we've seen trends come and go in web design, but responsive IDX solutions and real estate websites are here to stay!
Contact us to learn more about our responsive websites, IDX sales and integration. We have helped over 4,000 real estate agents and brokers stay ahead of the curve and excel online – let us help you.
Call us at (888) 577-8027
View WordPress Real Estate Websites
Contact Us to Learn More
Related Articles:
Why Switch to a Responsive Real Estate Website
Google's New "Mobile-Friendly" Label
Responsive Real Estate Websites