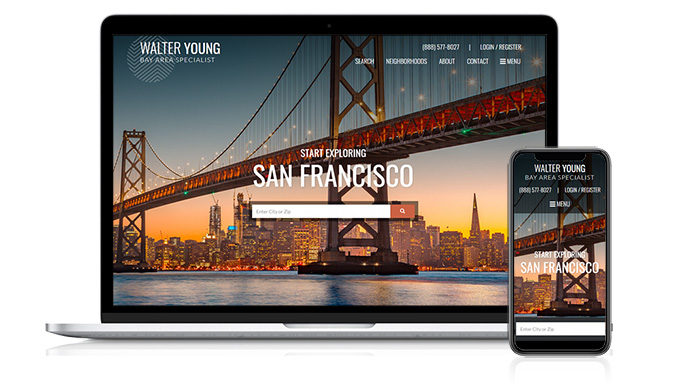 IDXCentral is proud to announce a new version of an old favorite, our real estate WordPress theme called San Francisco has a whole new look! This fresh design includes a new and exciting layout (with multiple options!) and the latest in modern website features, culminating in a powerful real estate website. Read on to learn what makes the San Francisco WordPress theme our latest and greatest semi-custom design.
NEW Appearance & Structure:
The new San Francisco design features a full-width banner on the homepage, with flexible layout options allowing for fullscreen or fixed height banner images, video banners, and single-bar or multi-field quick search options. The navigation bar now includes a hamburger menu component, allowing you to keep primary top-level links at the forefront for your visitors, with additional links tucked in the hamburger menu. The homepage also features an emphasis on your listings with two gorgeous listing boxes, for use with IDX listings or manually added listings through our featured listing add-on. A bold area to feature neighborhoods and popular searches follows, with a eye-catching "get to know" the agent / office section.
Responsive Design:
Just like every design we offer, the San Francisco is fully responsive. This means it will look and function perfectly on ALL screen sizes, from the smallest of smartphones to the largest full-screen monitors. When 76% of all home buyers are using their homes to find properties a fully mobile responsive and easy to use site is a must!
Essential Plugins and Custom Add-ons:
All semi-custom real estate websites include the premium plugins you need to get the job done, like Gravity Forms, Yoast SEO Local, and Yoast SEO Video. IDXCentral custom real estate WordPress add-ons are designed specifically to make adding and managing your real estate content a breeze, with predefined professional layouts already in place. We include four add-ons for managing content, the Testimonial add-on, Agent Roster add-on, Featured Listing add-on, and finally the popular Neighborhood Profile add-on. Two new add-ons designed to aid in your marketing efforts, the Directory Page add-on for Instagram and Social Media users, and the Landing Page add-on which can pair with marketing campaigns.
IDX Integration:
The new San Francisco includes an IDX Solution, integration is available with either the iHomefinder or the IDX Broker solution. We also include our feature listing add-on for clients that prefer to manually add listings to the website, allowing you to control exactly what listing information is displayed on the website as well as boost your sites SEO. All IDX pages are fully indexable and mobile responsive.
Support & Training:
Our team is ready to assist you with your new real estate website. We include free training with our websites, like live webinar classes and one-on-one training sessions. Our development team, with over twenty years of experience, can custom code your dream to life if you have a unique request, or make recommendations if you have a goal you want to achieve, but aren't sure where to start. Put us to work for you!
Don't wait, call us today!
Be one of the first Realtors with this clean, modern design – give us a call to get started, or send us an email. IDXCentral has specialized in real estate website design and IDX from the beginning and our expertise shows. Let us show you what we can do for your real estate business.
Call direct at (888) 577-8027 ext 1 today!
View WordPress Real Estate Websites
Contact Us to Learn More