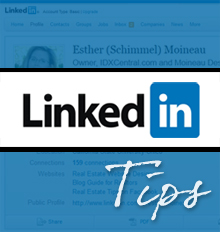 We recently came across this excellent article by Jeff Corhan called "10 LinkedIn Tips for Building Your Business." It offers great tips and advice on how to optimize your LinkedIn account. We wanted to take the tips a step further and go into more detail about how they can be used in the real estate arena to boost your business.
In case you didn't already know, LinkedIn is a business networking website that can be used as a professional online resume or business card. And, there's more! When you venture beyond the basics you will discover it to be an influential way to attract and manage your connections with other professionals as well as boost your online presence to create greater business opportunities, and more referrals!
How do you accomplish this? Start with a complete and descriptive LinkedIn profile in order to accelerate rankings in a general search. This can be accomplished in less than a month when you follow the steps given in the article. In fact, 7 of the 10 tips in the article can be used specifically for real estate agents.
We encourage you to read the full article and then review the following ideas of how these tips can be applied to the Real Estate field.
"#1: Use Appropriate Keywords and Phrases in Your Heading and Title" (source)
Your LinkedIn heading and title say a lot about you in just a few short words. Make them count! Your heading could be expanded into something like the following:
Lake Tahoe Realtor | Foreclosure Specialist | Luxury Homes Specialist | Vacation Home Expert
Just like that, your rankings in LinkedIn will go up when you utilize the most effective keywords in the Real Estate field.
"#2: Mirror Your Online and Offline Business Networks within LinkedIn" (source)
Be sure to check out the video on LinkedIn Maps to expand your reach into other segments of business that you might be lacking. Virtually anyone that you know will one day want to buy or sell a home, so there are a lot of possibilities—past colleges that could turn into clients, old friends and colleagues, or a favorite organization with the potential to reach new buyers and sellers. Broaden your reach as you cast more nets into various groups. Getting your name out there means more referrals!
"#3: Tag Your Skills and Expertise" (source)
Conduct a brainstorming session and really think about what kind of skills you have that are related to real estate. Your skill list could include things such as marketing, green industry, blogging, researching, etc. Even hobbies or favorite activities might be included as a skill. You get to add up to 50 tags, so try to come up with as many as you can. People will appreciate seeing your broad range of skills.
"#4: Link to Your Websites with Keyword Anchor Text" (source)
This is one of our favorite tips! It is really simple to apply this SEO link strategy to your LinkedIn profile. A great way to utilize this tip is to create a link to your real estate website and blog using SEO keywords and phrases, such as Sacramento Real Estate Professional or Sacramento Realtor. Be sure to watch the video to a get a full understanding of how to apply this tip to your profile effectively.
"#5: Personally Welcome and Acknowledge Your New Connections" (source)
Real estate agents know how critical it is to follow up with potential buyers or sellers after the first meeting. You can also do this on LinkedIn by treating each new connection with a personal note and follow up. Your short note will make a big impact with your connections by presenting you as approachable and interesting.
"#6: Add Video to Your Profile to Make it Come Alive" (source)
Yes, you can add video! A video will allow you to really sell yourself, showing that you are a real person with a personality and professional attributes. Your video is an opportunity to delve a little bit into your real estate background and experience. You can mention notable awards and community involvement, plus promote your website and blog. Video is another way to go that extra mile to make a strong first impression and create a personal connection with others.
"#8: Tag and Filter Connections to Organize and Build Relationships" (source)
Get Organized! Tag each of your connections into groups, such as buyers, sellers, an investment group, or a specific organization or office group. The next step is to communicate through LinkedIn with special notes to each group. Each message should be specific to that group and will allow you to keep in touch with these potential clients. Your messages should keep them engaged with what you are doing and things that you are offering that are unique or interesting.
___
Now, don't get overwhelmed by all of these new "things to do." Once you get started and create a strong LinkedIn profile you will realize that it won't take that much extra time out of your day to keep up with your connections. LinkedIn is a really fun and easy way to create strong bonds with potential clients, generate referrals, and increase traffic to your website and blog. We hope that you found the article as interesting and useful as we did!