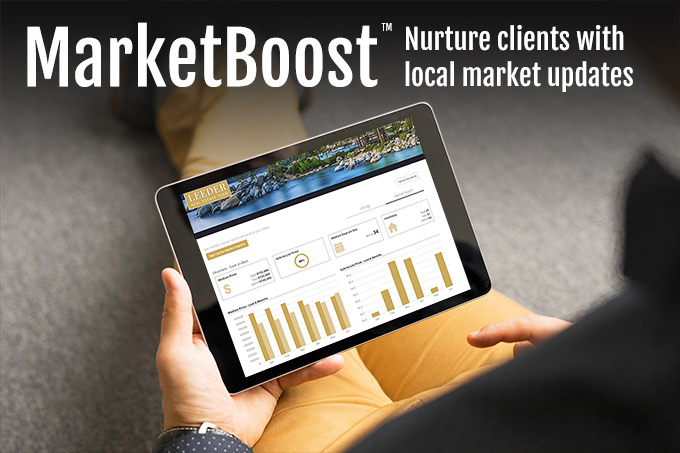 MarketBoost™ Market Reports is a invaluable drip marketing tool for both YOU and your leads.

Keep your name front and center with MarketBoost™, monthly detailed market reports emailed directly to prospective clients that continuously puts your name and contact information at the top of their inbox. When it's time to buy or sell a home, your name will be at the forefront – priceless!
MarketBoost™ from iHomefinder is a service that you can add to your iHomefinder IDX broker reciprocity solution and is your answer to providing valuable updated market data on your website, helping educate and encourage repeat visitors. The market reports display relevant trends in real estate and details like listing inventory, median price, sale-to-list price, sold and new listings etc. In addition to sending out monthly market reports, it can also send a weekly email announcing new open homes. These features combined with daily new listings, price changes and solds will help you stay in touch with your visitors, keeping you in the spotlight. For a full in-depth review read iHomefinder MarketBoost™ Review.
View MarketBoost™ In Action
For a top-tier example of market reports done right visit Leonardi Real Estate's Sacramento Neighborhood Profile page with links to the local Market Report, Sold and Open House data. These links take the visitor to the Sacramento Market Reports, Sacramento Sold Listings and Sacramento Open House pages. For clients like Leonardi Real Estate we can also create a custom sign up form for visitors to easily sign up for monthly Market Reports and include a full list of neighborhood market reports as a quick jump off point.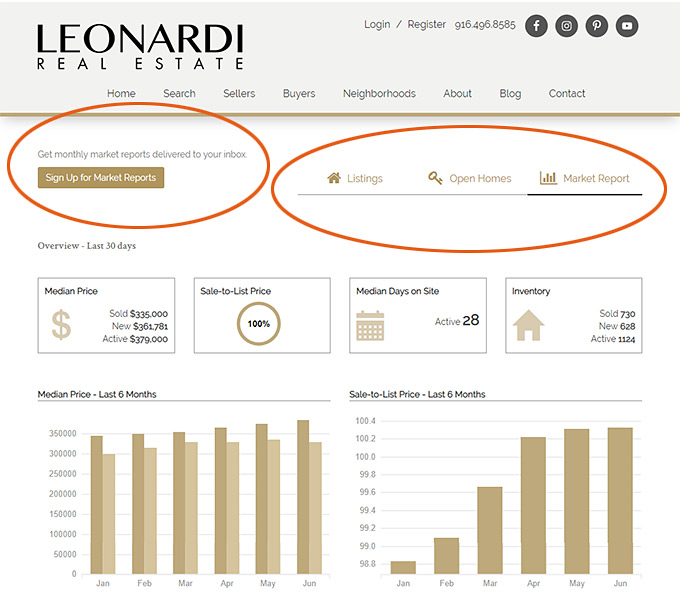 An overview of the MarketBoost™ Features:

Market Report Pages
Enhance your website with regularly updating report pages and skip the tedious hours of work gathering data and manually adding it to your site again and again.
Display reports of current stats and trends – Key market information updates automatically – making you the local expert with buyers and sellers.
Highlight sold, active and open homes – Engage visitors with dedicated pages for sold, active and open homes that update automatically from your board. Open houses and sold listings are provided when included with IDX feed.
Attract new leads – Generate signups on your market pages, where visitors can subscribe to drip emails of their choice.
Target your markets – Easily define your local markets with search options or draw locations on a map.
Drip Email Marketing
Keep clients engaged with automated listings content.
Monthly market reports – Increase repeat business and encourage referrals with Monthly "Market Report" emails. Leverage your knowledge and impress leads by adding them to the appropriate local market subscription and ensure they receive only listings and trends relevant to their needs.
Weekly open house alerts – Your clients and prospects will love these weekly notices that help them schedule their weekends. Each listing links to your site where they can request a showing with you.
Open house data provided when included in IDX feed.
Daily new listings, price changes and solds – Automatically send the latest daily listing information from your board so your clients and prospects can act quickly. Reaching you is just a click away.

Custom Form for Market Reports
We've taken MarketBoost™ to the next level by creating an easy sign up form for visitors to get Monthly Market reports. Check out this custom sign up form on Leonardi's Real Estate site for a great example. We can streamline the sign up process to make it as simple on your clients as possible!
Our talented team of developers & designers can enhance the MarketBoost™ experience for your website. We're able to take what is already a strong product (thanks iHomefinder!) and bring it to life, utilizing your unique branding to improve your online presence with the information your clients are already looking for, all in one great place.
Want to incorporate market report data into a landing page or marketing strategy? Put our creative team to work and bring your vision to life, with 20+ years of experience we know what works. Ask about our monthly WordPress care plans to help you with resourceful marketing ideas and landing pages, another way to get the most out of your MarketBoost™ market reports.
If you don't have iHomefinder's IDX solution with MarketBoost™ on your site and would like to learn more, please contact us for a no pressure consultation. We'll help get you started and become the local market guru your leads are looking for!
Call (888) 577-8027 ext. 1 for sales, anytime Monday through Friday, 8am to 5pm PST.