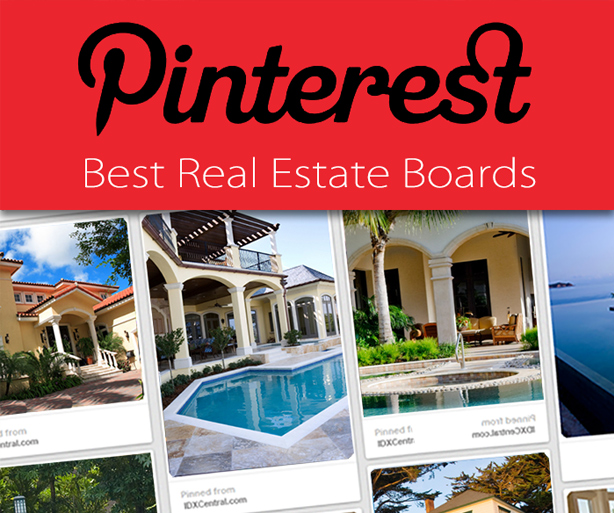 Pinterest: Best Real Estate Boards
The Corcoran Group – well organized by home styles and rooms.
Sotheby's – The art of living, visually stunning images.
Coldwell Banker – Real estate pinning at it's best.
Lisa Archer – Expansive ideas for real estate and life in general.
Bill Gassett – Proving Pinterest is not just for women.
Doug Echelberger – Great organization of topics and bold headlines.
Brown Harris Stevens – Pinning Manhattan style.
Dave Perry-Miller Real Estate – Pinning "Big" in Texas.
Pinterest: Best Real Estate Boards on Home Ideas
Better Homes & Garden – A plethera of home ideas.
Real Simple – Full of home ideas to inspire.
Lowes – Great ideas for home renovations, décor, tips and tricks.
Pinterest: Best Real Estate Boards by Popular Categories
Luxury Homes – Amazing luxury homes.
Mediterranean Homes – Mediterranean dreaming.
House Architecture – Jaw dropping design.
Spanish Style Homes – Spanish styles both old and modern.
Modern Houses – Keeping up with modern design.
Log Homes – Dreaming of mountain living.

As developers of real estate websites for fifteen plus years, we tend to keep one ear glued to the ground for trends and tricks of the trade that can contribute to a successful real estate website. While nearly every REALTOR nowadays has their own Facebook and LinkedIn account, we've noticed that comparatively few incorporate Pinterest as part of their marketing strategy. And in our opinion, they're missing out on a really fantastic way to establish their online brand identity. If you haven't yet taken the Pinterest plunge, or if you're still new to this social media platform and are looking for a few pointers to maximize your time spent pinning, read on (and please pardon our plethoric use of alliteration).
In a nutshell, Pinterest is a social media site that allows its users to share virtual scrapbooks (called "pinboards") of ideas, images, and videos ("pins"), which are displayed in a user's feed by the topics they opt to follow. Content can be added to a user's pinboards by uploading, pinning content while browsing the web (via a Pinterest browser extension), or re-pinning the pins of other users. Pinterest can also be easily configured to share content across other social media sites, such as Facebook and Twitter.

Due to its focus on showcasing visual media, Pinterest has become notably popular and effective as an e-commerce tool. It's ideal for advertising any product sold primarily by its appearance: clothing, art, recipes and of course, real estate! Pinterest offers wider exposure on a social network of 100 million active users – this can certainly help tremendously with driving traffic to your website. We would be remiss by failing to mention that since its inception in 2010, Pinterest has been far, far more popular with women. From its Victoria's Secret-esque color scheme to its florid, semi-cursive logo, and the fact that scrapbooking is a predominately female pasttime, it's no surprise an estimated 70-80% of the site's user base consists of women.
Regardless of gender, any businessperson worth his or her salt knows that marketing is only effective if it finds its target audience. Recent statistics indicate that single females represent 16% of home buyers, compared to single men who comprise half that number. In addition, a significant body of research confirms what many married couples can already tell you: more often than not, women call the shots when it comes to major purchases, especially when buying homes. And lastly, as a demographic, women are often much more avid users of social media. So, it doesn't take a math whiz to put two and two together, and conclude that a site that's overwhelmingly popular with women would be the perfect place to market to the gender that is likely to have the final word on buying a home.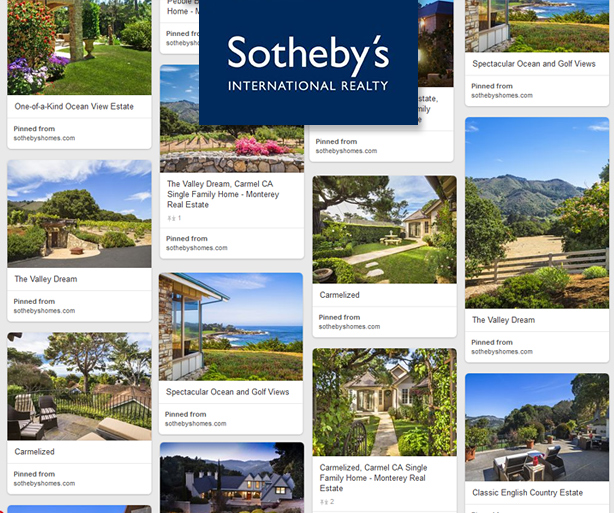 Here are some tips on getting the most out of Pinterest:
1. Get Connected:
Just as one hand washes the other, you can link other social media accounts to Pinterest, which will synergistically drive traffic to your website, which will provide content for others to share on their respective social media accounts, and so on. Also, by utilizing tools such as the Pinterest Pin it Plugin you can add single-click simplicity to sharing your site content on others' Pinterest accounts, and the Pinterest Profile Widget enables you to display up to 30 of your most recent pins on your WordPress site.

2. Create Popular Pinterest Boards:
Boards! Create the best Pinterest real estate boards that attract visitors and get them to repin your great pics! Pinterest boards are the key to a successful marketing plan on Pinterest; boards attract followers and followers turn into faithful clients. It can be fun and kind of addicting too! We have compiled your list of great Pinterest real estate board ideas to get you started. This list of 60 Pinterest Board Ideas for Real Estate that will get your Pinterest account off and running.
3. Get Pinning and Sharing:
The more content that you pin and share, the more you increase your visibility on Pinterest. Displayed beneath each pin is the name of the user who shared the pin, as well as where it originated from. If the content that you pin interests others, they may follow it back to the source, leading to more followers and more site visitors. Also, when pinning an image shared by others, the message "Also pinned to…" will appear. This link can help you find and follow users with similar interests, and if they seem to be potential leads, you can follow them, which may encourage them to follow you back.
4. Practice Proper Pinning:
Pinning and sharing often can be a formula for success, or—if you overdo it–scaring off the followers you've gained. Posting too many pins in the same setting in a short period of time will flood your followers' feeds, and quickly wear out your welcome. Also, take care to consistently pin to relevant boards. For example, don't pin recipes or fashion photos to a board entitled "My Dream Home"–stick to photos of houses, yards, interiors, etc.
It's very bad form when sharing pins to erase the original source and fill in your own, or upload content and not properly credit the source. Lastly, it's usually a good idea to check link sources to ensure they're valid before re-pinning, as sharing spam won't reflect well on your part.
5. Share High-Quality Pins:
Don't forget that the images and content that you pin and share are representative of your brand identity. While it's fine to give your Pinterest account that human touch, and personalize it with boards of your hobbies and interests, its main focus should always be real estate (the placement of your boards should always have business-related boards positioned at the top). As such, avoid sharing badly-cropped, blurry photos that lack descriptions; stick with professional, eye-catching photos with tightly-written descriptions.
6. Apply for Rich Pins:
If you want your pins to really shine with some added professional feel, we'd recommend rich pins These are special type of pin that allows for more content to be added its bottom description, as well as adding a range of theme-specific customizations. Setting up Pinterest rich pins requires a bit of effort – first in checking with Pinterest to see if you qualify for this feature, and next, adding the necessary coding (with the aid of a qualified developer, if necessary). However, the end result is that your enhanced pins will be totally worth it.
7. Make Comments your Friend:
Well-phrased and -thought-out comments on pins can earn you followers, If someone comments on one of your pins, or has re-pinned it, always remember to give thanks and respond to friendly comments. It also doesn't hurt to give the occasional, friendly shout-out to other pinners that you follow.
NOTE: While commenting can be a great way to build rapport with followers and leads, it's important to limit your comments to 2-3 daily, as Pinterest may consider more to be indicative of spamming and suspend your account.
8. Maximize SEO Benefits:
Each time you pin a photo on Pinterest, this creates an inbound link to your site. Google and other search engines index and count inbound links as a factor in their rankings. So while Pinterest users may click on the links on your pins, search engine-driven traffic may increase simultaneously due to improved search rankings—talk about a win-win situation! To get the most out of this, we'd recommend using keyword phrases in your pins related to the areas and property types that you specialize in.
9. Use Group Boards:
Feeling a bit shy in a crowd? Group boards can help you break the ice and meet others who share your interest. These are simply boards with more than one contributor, and you can create your own (and invite your own contributors), or you can request to join others' group boards. Either way, this is a very effective way of gaining new followers.
10. Drum up Interest with Contests:
There's nothing quite like some good-natured competition to attract attention and participants! Just as your local radio station would gain listeners by awarding prized concert tickets to the 10th caller, you can create a contest involving the number of times a user re-pins your pins, or perhaps the 10th follower signed up within a given span of time.
11. Keep up with Current Trends
Though Pinterest's user base is very small compared to Facebook's, there's a considerable number of online articles focusing on how to best use Pinterest for business, as well as marketing firms that specialize in data collection and management services specifically for Pinterest accounts. While these premium services may not be in your budget, it's well worth your time to stay abreast of new features offered by the social media site, as well as innovative marketing strategies published online by other users (in fact, there's a Pinterest board devoted to this very subject ).
For additional information on Pinterest for your real estate marketing read:
60 Pinterest Board Ideas for Real Estate
6 Tips to Grow Your Pinterest Marketing Results
Boost your Traffic: 10 Marketing-based Pinterest Tips that Work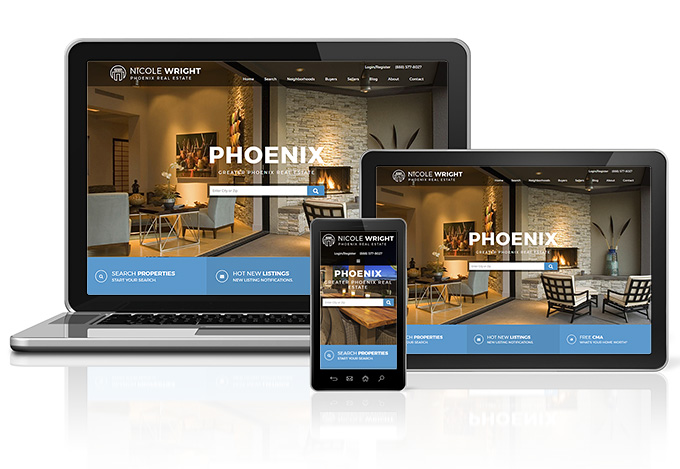 Stay Competitive!
Of course, what good are well-managed social media accounts if there's no great real estate site to send your leads to? Especially if your site is not fully mobile responsive making it easy for visitors to navigate. If you're in the market for your own real estate site, or it's high time that you replace your old one with a new responsive website, then give us a call! Moineau Design, IDXCentral.com, has more than 20 years of experience specializing in real estate website design along with IDX solution sales and integration. When it comes to our WordPress real estate websites we think of everything so you don't have to.
Learn more about our real estate website services and contact us now to get started.
Call us at (888) 577-8027 Ext 1
View WordPress Real Estate Websites
Contact Us to Learn More