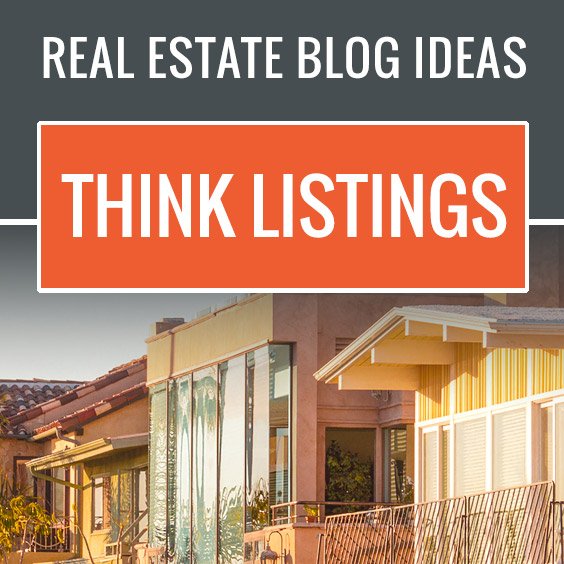 It's time to focus on your real estate blog! If your goal is to rank your site in the search engines and keep visitors engaged then professional real estate website with a blog are key. This platform gives you the opportunity to focus on topics and key word phrases that you want your site to rank for. If done properly you can make an impact on your websites search engine rankings. Blogging is also a fantastic way to draw in new clients and keep your current clients up-to-date on the real estate world. It is also a way to let clients get to know you a little more personally and connect.
So, here's the first ten blog ideas to get your creative juices flowing. Happy writing!
1. Featured Listings
Every featured listing should have its own profile page. This is where you can describe the listing in detail and get clients excited about it. Describe the overall experience by engaging the senses: How did it feel? Look? Smell? Focus on the positive aspects, while downplaying the negative if they need to be mentioned at all. Lots of pictures should be included, plus a virtual tour and a PDF floor plan if possible. Here is a great example of a featured listing profile page that a agent created using our Featured Listing add-on. It makes the process of building featured listing pages easy and user friendly. We can also create beautiful Featured Listings mini template sites to promote your exclusive listings that require that extra "wow factor."
2. Sold Listings
Create a category on your blog where you have a list of all of the homes you have sold. This is your personal brag space where you can demonstrate your experience and longevity as a real estate agent. The longer the list is the better, so go back few years to make your list substantial. For each home, include a picture and a brief description and/or maybe a testimonial from your client if you have one.
3. Top 10 Best Buys
Your clients will feel like you are letting them in on "inside information" when you provide a list of homes that you feel are the best buys and why. Include the location, price-per-square-foot, upgrades, potential for resale value, hidden gems in the rough, etc. This blog topic is one that should be updated quarterly so that it is always current with the newest homes on the market.
4. Top 10 Best Vacation Homes
Creating a list of the best vacation homes in your real estate area is another way to give clients some inside information. These are homes that have vacation potential due to their location, large size, and added features such as a game room, Jacuzzi, etc. Be sure to mention if it already has an established vacation rental income. This is another list that could be updated quarterly.
5. Top 10 Best Foreclosure Listings
Let your clients know that you want them to get the best deal possible by offering a list of the best foreclosure listings, and why. Be sure to include the location, price-per-square-foot, upgrades, potential for resale value, hidden gems in the rough, etc. This is another list that should be updated quarterly.
6. New Construction Homes
Many clients will be interested in the newest homes on the market, so you could create a list of new construction homes that you like. Mention if they are in a subdivision or planned community, built by a popular builder, size, upgrades, views, and location. This is another list that could be updated quarterly to keep the topic fresh.
7. Luxury Properties
Allow clients to dream big by creating a list, or a once-a-week profile, of the top-pick luxury properties. Describe it like you are walking around in the home, giving readers a first-hand view of its amazing features. If possible include lots of pictures if it is a once-a-week profile, or just one picture for each property if it is a long list. Tip: "Luxury real estate" is a sought after key word phrase in many areas so having a weekly profile page partially titled with "luxury real estate" could over time help your rankings for this search term i.e. "San Francisco luxury real estate."
8. Home of the Week
This is a great weekly blog topic idea. This could be the home that your MLS tour picked as a group or your own personal pick. Either way, describe why it was chosen including the location, cost-per-square-foot, whether or not it is undervalued, or any other reason that makes this a great home.
9. Special Location Listings
Location can be a key selling point, so create a list of homes that might be near or in a popular area. Your list might include ski-in/ski-out homes for condo units, or homes, timeshares, or condos in a planned community with great amenities (i.e., built in pool, gym, golf course, tennis club, etc.).
10. Historic Properties
Many buyers are attracted to properties that have a lot of history behind them and a lot of character. This is also a chance to play up the jewels-in-the-rough and potential resale value of a restored home. This doesn't need to be a weekly topic, so you could just post a new listing as they come on the market, depending on how often you have the opportunity to sell a historic property.
Other Related Real Estate Blog Ideas:
For other great real estate blogging ideas visit
Real Estate Blog Ideas – Think Outside the Box
Real Estate Blog Ideas – Think Local
Real Estate Blog Ideas – Think Buyers
Real Estate Blog Ideas – Think Sellers
Real Estate Blog Ideas – Think Market Conditions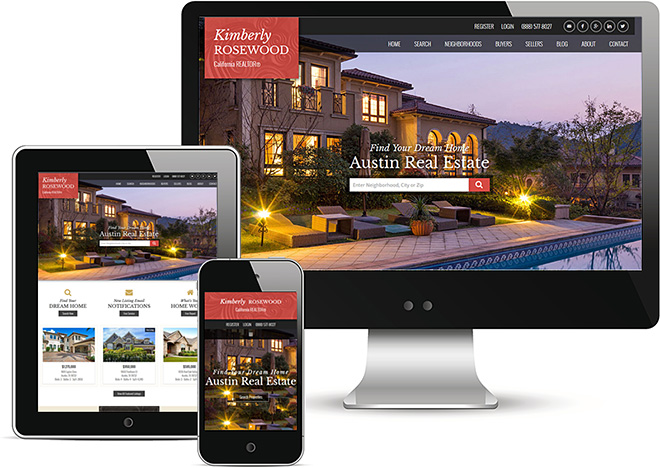 Real Estate Website Services
Now more than ever a real estate website is recognized by agents and brokers as an invaluable tool to generate new leads and connect with clients. Having serviced over 5,000 REALTORS, we have a solid understanding of real estate website design, IDX sales and integration. We would love to show you what we can do. Learn more about our real estate website services or contact us now.