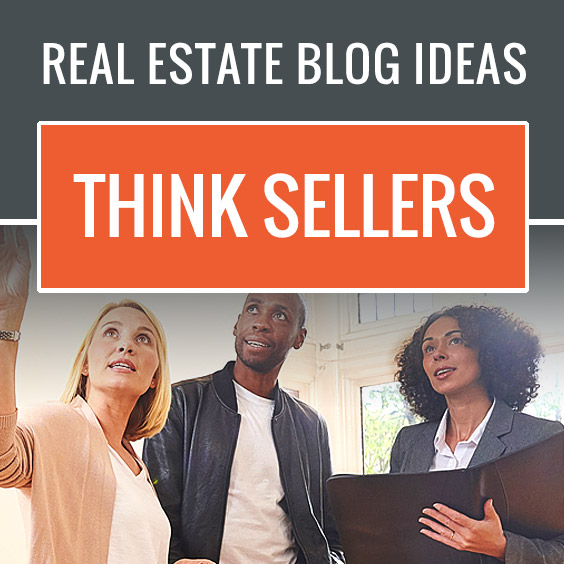 Sellers want to sell their properties quickly and at a good price. Ease their concerns by providing information that will help them through every step of the selling process. Give insights on what makes a home more marketable, how the selling process will go, and what they can do to find a buyer fast. Pick through these 14 real estate blog ideas for sellers and you are on your way to helping buyers become educated buyers.
1. Deciding on a Price
Sellers are often emotionally attached to the price of their home, so it is important to try and help them look at it objectively. Explain the problems that occur when a home is overpriced. Discuss the usefulness of a comparative market analysis report in determining a home price. Talk about pricing a home according to the market "temperature" (hot, cold, or neutral).
2. Home Improvements
Sellers will be interested to know that minor repairs, a new coat of paint, and a clean carpet can make a big difference in the price they will receive for their home. What is a minor repair to the seller is often seen as a big problem to potential buyers. Simple fixes such as replacing foggy thermal windows, re-hanging louvered closet doors, replacing worn-out carpet/flooring, or fixing broken light switch covers are just a few examples. You can even recommend local handymen, plumbers, and contractors that you trust.
3. Home Improvements vs. Remodeling
Make sure your clients know the difference between minor home improvements and remodeling. Discuss what kinds of upgrades are cost effective and what kinds of upgrades are unlikely to increase the value of the home.
4. First Impressions
Curb appeal is half the battle when attracting buyers. Educate your sellers how to make their home more appealing by weeding and mowing the yard, removing junk, and applying a fresh coat of paint on the front door or garage door. Give tips on how to open up space inside the home by de-cluttering rooms and closets. Suggest that they replace or clean a dingy carpet, and apply a fresh coat of paint in any rooms that need it.
5. Professional Staging Services
Make your job a little easier by promoting home staging services. Do your sellers realize how much money can be saved by using the services of a professional stager? Explain how a home stager specializes in making the house appear more inviting. Offer some testimonials from sellers who had a great experience with home staging, and be sure to provide a list of trusted home stagers in your area. Have a professional home stager offer an article to post to your website with all the great benefits of staging. It is a win, win for both of you.
6. Get an Early Home Inspection
Inform sellers that they can get a home inspection done before putting their home on the market, giving them the opportunity to make any needed repairs. Emphasize how this will speed up the selling process, because most buyers will have an inspection done anyways. You could offer some price points for how much it may cost and provide a list of trusted inspectors in your area.
7. Home Selling Process
Ease your seller's minds by providing details about the home selling process. Breaking the process down into parts will give you several weekly blog topics. Your series could look something like this:
You're ready to sell your home!
What should I list my home for?
What is the Property Condition Disclosure Form?
A Buyer is Ready to Present an Offer!
You have an Acceptable Offer!
Between Contract and Closing
8. Home Showing Process
Sellers will be interested in how to best show their home, so this blog topic should cover everything from the benefits of using a lockbox to the value of getting buyer feedback. Suggest that the best season to show a home is in spring rather than winter, and point out the downfalls of selling a home during the holidays. Discuss reasons to consider having an open house and how to prepare for it. You can even make a top ten list of home showing tips.
9. Ready for the Appraiser Appointment
The thought of getting a house appraised can be a little intimidating to many sellers. Ease their worries by writing about the appraisal process and what can be expected. Give tips on how to make the most of your appraisal, such as cleaning the house and yard before the appraiser arrives. Talk about what the alternatives are if they receive a low appraisal, or what their rights are if a buyer cancels the contract because of an appraisal.
10. Home Inspection Process
Here is an opportunity to provide your seller with a home inspection checklist so that they know how to prepare for it and what the inspector will want to see. Be sure to include in your checklist that the attic and basement will both be examined thoroughly for leaks. You can also discuss the final walk-through inspection.
11. Common Seller-Required Inspections
Make sure your sellers are fully informed on the common things that sellers are required to have inspected. Depending on your area, you may want to include roof certification and termite/pest inspections which are a matter of public record. Mention items link homes built before 1950 must have a sewer inspection and other similar items a seller might be up against. Sellers will appreciate knowing that the inspection report fees are negotiable, even if they are seller-mandated.
12. Discuss Seller Disclosures
Be clear about the importance of disclosure and what must be disclosed when a home is being sold. Include the requirements of lead-based paint disclosures and material facts. Sellers with homes belonging to a homeowners association will need to know that although the title company should provide CC&Rs, additional documentation is also required.
13. Negotiating a Price
Let sellers in on what to expect when they start receiving offers to buy their home. Give tips on how to prepare, such as deciding ahead of time what price range they are comfortable with, and what is a definite "no" or "yes." Discuss counter offers and how a seller with a competitively priced home should not be afraid to make a full-price counter offer. Mention that sellers can ask for a first right of refusal to eliminate buyers that place an offer based on the selling of their home.
14. Close of Escrow Process
The close of escrow is an exciting time for the sellers, but make sure they know what to expect. Describe what happens, including the documents that will be a matter of public record, i.e., the property deed, reconveyance, and deed of trust. Mention that the title company with notify the agent and the seller when it records. Discuss the possession rights of the buyer, which may require the seller to vacate the property on closing day.
Making the home selling process worry-free is a great way to create goodwill with your clients. When sellers know what might be expected at every stage of the process, they are less likely to panic when unexpected things come up. After a good experience, your sellers may just want you to help them purchase their next home and are sure to be a great resource for referrals, too.
Other Related Real Estate Blog Ideas:
For other great real estate blogging ideas visit
Real Estate Blog Ideas – Think Outside the Box
Real Estate Blog Ideas – Think Listings
Real Estate Blog Ideas – Think Local
Real Estate Blog Ideas – Think Buyers
Real Estate Blog Ideas – Think Market Conditions