Check out our "Real Estate Blog Ideas" series – your resource for great ideas to give your blog a power boost! Get creative, generate new clients, grow your online audience, expand your offerings, and promote your brand. Explore this series and discover fresh ideas on how to redesign your blog into a place where people come to find answers to common real estate questions.
Real Estate Blog Ideas – Think Outside the Box – reveals 10 free, yet very powerful marketing tools.
Real Estate Blog Ideas – Think Listings – offers 10 great blog topics to draw people to your website.
Real Estate Blog Ideas – Think Local – gives 21 tips on how to promote your real estate area.
Real Estate Blog Ideas – Think Buyers – discloses 20 ways to make yourself more valuable to buyers.
Real Estate Blog Ideas – Think Sellers – has 14 tips on how to ease your sellers worries and answer their questions.
Real Estate Blog Ideas – Think Market Conditions – offers 10 stellar ideas on keeping your blog up-to-date with current market trends.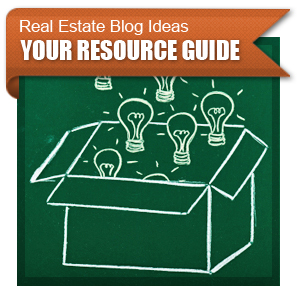 Imagine creating a center of real estate information – an online community where people gather for all their real estate needs. Search Engine Optimization techniques are also explored to ensure that your website has the best possible chance of being ranked #1 by search engines. Best of all, each topic in our series is easy to implement into your daily routine. Get your creative juices flowing and happy writing!
Real Estate Website Services
As you now know a real estate blog is an opportunity for you to connect with clients and potential clients. For over 17 years IDXCentral.com has been specializing in real estate website design. Our custom real estate WordPress add-ons, easy-to-use tools, and real estate blog posts are designed to keep your real estate blog at the cutting edge of the real estate industry. Learn more about our real estate website services or contact us now.