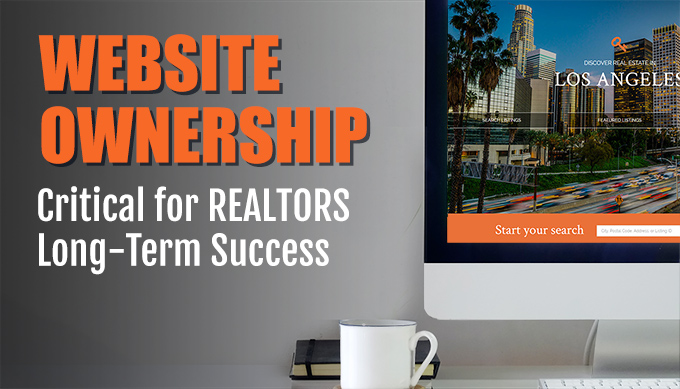 If you are like 86% of all REALTORS® who are independent contractors with their company then you know building your name/brand and protecting your business interests are number one. Your website is an integral part of your business and the importance of owning your real estate website cannot be overstated. You never want someone else holding the keys to your website – so many REALTORS® do unwittingly.
Let's look at two common types of websites in the industry that should raise red flags for every agent:
1. Proprietary Website Platform
2. Broker Provided Website
The Danger of Proprietary Website Platforms
Proprietary website solutions are great for getting a nicely designed site up and running quickly. Unfortunately they severely limit your ability to customize, add functionality and retain ownership. Companies like Real Estate Webmasters, Real Geeks, Placester, and iHouse own the technology and platform their sites are built on. You could spend years building out content and thousands of dollars marketing your site to get it ranked in the search engines, only to realize all is lost once the relationship ends. You're subject to price increases they impose. Any software enhancements and customizations are at their mercy – can they keep up with technology? When you leave a proprietary platform, it will be difficult or even impossible to automate the migration of your content to a new website. Proprietary websites mean they own your website and you are just leasing it. If you ever decide to move on for any reason, you have to start all over and find a new home. Now how comfortable do you feel about that relationship?
Broker and MLS Provided Websites
A free website sounds pretty tempting, right? More brokerages and multiple listing services are offering a "free" website with agent membership. We put "free" in quotations as the costs are generally wrapped into ongoing membership fees. Typically agents are forced to pay the website fee, whether they use the site or not, so many just go along only to find out the hard way that this was a poor decision. A broker provided site might be good for new agents with a limited budget, but if you are an established agent or thinking long term, your best interest is owning your own site that grows with you. You hold the keys!
So why not use your broker provided website? The answer is simple, if you don't own it, you can't secure it. You are simply leasing a website your broker has full control of. With a broker provided website there is a limited amount of freedom that you can have with your website, along with software enhancements and customizations. What if your brokerage decides to increase website costs? What if they sever ties with their developer? What if you switch brokerages?
"… the average real estate agent may switch offices as often as three times during a 10-year span. According to NAR, 86 percent of its members are independent contractors with their companies, making all that moving relatively easy to do."
– National Association of REALTORS®
Securing your website investment should be a top priority for any agent. Use your free website, it never hurts to have more than one website! But as the cliche reminds us, don't put all your eggs into one basket, even more so when you don't own the basket. Your primary website should always be one you own the rights to – that means owning the website code, your domain name, the written content, and any photos or videos.
There's a lot of competition out there so it's important to stand out, but free Broker or MLS provided websites are cookie-cutter sites, your competitors and co-workers may have the exact same look and feel. Will a lead even remember your site after visiting it, or brush it off as just another among hundreds or thousands? Also consider this, you could lose leads! When a brokerage provides free sites, they'll want to benefit too. There may be links that draw buyers away from your free website and back to the main brokerage website where they can connect with a different agent entirely.
Why is it so important for agents to own their real estate website?
Own and protect your investment, never risk losing it
Switch companies without losing your content, customizations, search engine positioning, page link structure, etc, and having to start all over.
No surprises, the company that built your website can't make changes to your website without your input
You control everything, your logo, your branding, your website, your LEADS
Leads only see what you want them to see
Retain the freedom to hire developers to customize the site as you see fit
Build your search engine optimization and secure it, don't risk losing your ranking
You are not hostage to price increases or changes you don't agree with
You can build up your sites SEO and compete at a higher level
Set yourself apart from your competition by customizing the site to be consistent with your brand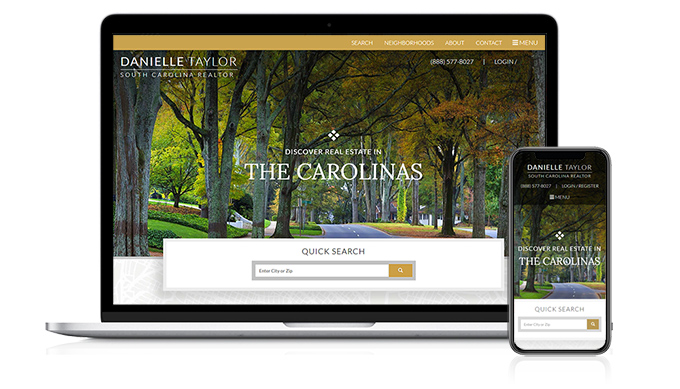 What is the best website option for REALTORS®?
After 25 years in the real estate website industry developing our own IDX and helping over 5,000 real estate professionals succeed online, we find WordPress has been a clear leader. WordPress is the #1 open source CMS (content management system) on the market (35% of the internet is using WordPress in 2020). As an open source platform that means you own it. We are experts in developing the best WordPress real estate websites with custom real estate products designed to run smoothly on WordPress and easy to learn. Here are more compelling points about WordPress.
Why WordPress is the Best Open Source Solution
#1 CMS system (Content Management System) on the market
You own the website so all your money and effort stays with you
Your website can grow as your business increases and needs change
WordPress is open source which means thousands of developers are constantly building new technology that can benefit your website
It is easy to customize and flexible to meet many specific needs
SEO friendly and easy to optimize for search engines using simple plugins like Yoast
Add custom real estate plugins / add-ons to enhance the sites functionality (Our specialty)
Perfect for REALTORS® who want to blog
Easy to learn to add and edit content
Build endless website pages, landing pages, property pages, blog posts etc.
Considered a safe and secure platform when kept updated. We offer WordPress packages to keep your site safe from brute force attacks and malware.
Easier to find an assistant that has WordPress experience
Why Partner with IDXCentral.com
Knowing the huge benefits of WordPress we've combined our years of real estate website design and IDX knowledge to create the best WordPress real estate websites in the industry. From building our own custom real estate website add-ons to making sure all the features of IDX are working on your site – we do it all and we do it RIGHT! From sales to set up, training and support, we've created the complete package for agents who want to own their website and have it grow with them. We supply the tools and knowledge to help them succeed.
25 Years in Business
Experienced WordPress real estate website developers
Experts at IDX integration
Created more than 5,000 agent / broker websites
Boutique, personalized team that cares
Experts at helping you build what you need to succeed
Your own in-house technology department, ready when you need us
Worry free WordPress maintenance care plans to help you maintain your site
Invest in agent-owned website options and you'll grow your website as you grow your business. Get started building your business online the right way today. View our portfolio of work then contact the IDXCentral.com sales team by email or by phone at (888) 577-8027 ext 1 for a free consultation.
View WordPress Real Estate Websites
Contact Us to Learn More