You have spent the money and time to get a website developed that gives you a professional appearance…so take the time and add photos that show your attention to detail and professionalism. Sure, you can surf the web for 20 minutes (or more) and try to find images you can legally use on your site for free, but we would suggest getting an account with iStockPhoto. iStockPhoto has a very large collection images that you can search by keywords and typically cost $1 for you to legally use on your site. The time you will save alone is worth the cost and the site is easy to use.
The following are stock photograpy sites that professional web and print designers say offer "the best selection" of images are :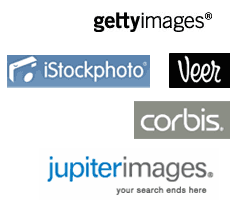 Other sites designers feel offer photos for "the best value" are :
Keep in mind, you don't want to just use any photo you find on the web without getting permission first. In general, using images from another website without permission is illegal.