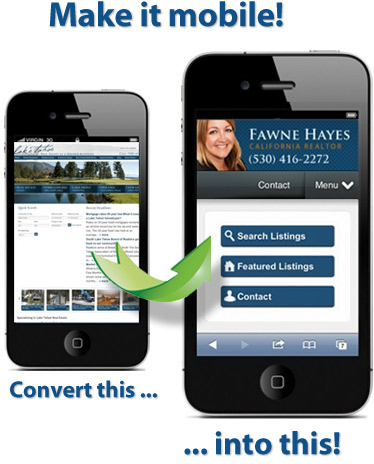 A real estate website is an amazing tool that allows clients to easily access listings from any computer. But, with the advent of mobile devices more and more people are viewing websites from these much smaller "computers." This means that having a mobile friendly site is critical to attracting new clients as well as keeping your current ones happy.
Visitors trying to access your site from a smart phone will just as quickly leave your site if they can find a more user-friendly alternative.
A Google webinar revealed that 61% of visitors who have had problems viewing a mobile website will most likely never return to that site. It gets worse; a recent survey from Compuware discovered that 57% of users will not recommend a site after a bad experience and 40% of visitors would turn to a competitor's site.
Chances are, many of your competitors have already optimized their site for mobile devices and could be attracting your potential clients just because their site is mobile friendly and yours is not.
The Wave of the Future
The number of people who browse the web on a mobile device is growing eight times faster than the desktop computer craze of the 1990s. As a matter of fact, the number of smartphones being activated every minute is three times more than the number of babies being born.
Mobile phones are used everywhere—in the car, at the gym, in restaurants, in the bathroom and even in bed, where one out of five people check their phones before getting up in the morning. It has been estimated that more than half of Americans now own a mobile device.
What's the big deal?
The problem with trying to view a standard website from a smartphone is that on the smaller screen your text becomes too tiny to read without a lot of zooming and stretching the screen. On a mobile device you are literally "all thumbs" making it difficult to push the miniscule buttons and navigate around the site.
To make matters worse, the time it takes to load the site is often overly long, while programs such as Adobe's Flash Player will not work at all on an iPhone.
A mobile friendly site has a simple layout, large buttons, and prioritized content that includes only the most critical information. For a real estate website, this means making it simple for visitors to search for listings and view pictures of homes from their smartphones.
Mobile App vs. Mobile Website
Real estate agents should definitely choose a mobile website over a mobile app.
The majority of people will search for real estate sites by browsing the Internet rather than browsing an app store. This makes it critical that your site lands in the top of the search queues.
This also means that SEO keywords are a must even on a mobile website. You want your site to get as many hits as possible.
Going Mobile is Easy
Don't be intimidated by all this new information—going mobile is quite easy!
IDXcentral.com launched a new service for real estate agents who are ready to go mobile. Allow us to make your website mobile friendly by creating a mobile friendly version of your current online website.
Get ready to step into the future of real estate and allow your clients to access you anytime from anywhere! Give them the ability to search for homes from the seat of their car. Most importantly, allow easy access to your contact information. The possibilities are endless!
Step into the future of real estate marketing and get your mobile friendly website today!
Still reading…Get it FREE
If you would like to get our mobile friendly website add-on and you are a client of IDXCentral with a WordPress site from us – the first client to comment on this post can have it for free (just state "I want a mobile friendly website" in your comment and a brief statement about why you think it is important. If you are one of the next four people to comment, as stated above, you will still earn 25% off this service. That's a total of $74.75 in savings from yours truly!