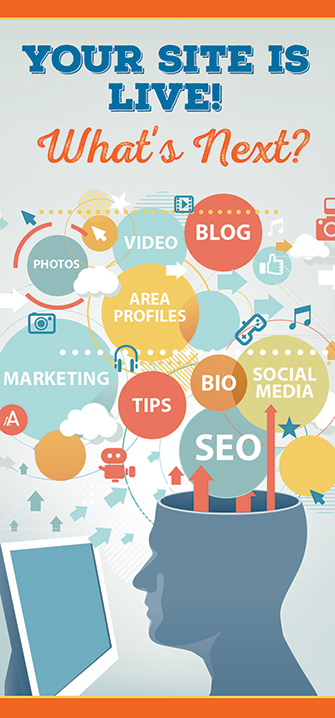 So the day has finally arrived: your very own real estate site is now live on the web. Beyond a shadow of a doubt, you've got the sleekest, best-looking site in your market. Now all you have to do is to figure out how your clients are going to find it among the 1 billion+ sites on the world wide web. Piece of cake, right?
Actually, the task of getting your real estate site noticed online is nowhere near as daunting or as bad as it sounds. To paraphrase Edison, the key here is one percent inspiration, ninety-nine percent perspiration. Here are a few tips to increasing your site's visibility on the web, and keeping your site visitors coming back for more:
1.Know SEO Basics:
Before you go about creating written content for your site (pages, posts, neighborhood descriptions, etc), it's strongly recommended that you gain a rudimentary understanding of search engine optimization (SEO) and a bit about how search engines operate. Though textbook-sized tomes have been written on this subject, learning the basics of link-building and selecting keywords/keyword phrases aren't rocket science. Utilizing Google+ to increase your online presence can't hurt, either. Take a coffee break or two to check out a few of our articles on these subjects:
– How Search Engines Operate
– Link Building How-to Guide
– Link Building Tips and Tricks
– Using Google+ for SEO
– Choosing Keywords
2. Write Valuable Content:
Pretty pictures are great, but ultimately it's your site's written content that will establish you as an expert on your area and properties that you specialize in, as well as give site visitors reasons to return regularly. Here are a few examples of where to focus your literary efforts:
a. Neighborhood Profiles:
Who knows your market better than you do? This is where the likes of Zillow, Trulia, and Realtor can't compete; by offering hyper-local content that showcases your area's schools, shopping, recreation and unique natural beauty, you're speaking directly to the priorities of potential homebuyers. Spruce up your Neighborhood Profiles with links to local resources, demographic data, a photo gallery, and neighborhood listings. We've got your guide to creating powerful neighborhood profiles covered with our piece on How to Write Neighborhood Profiles. Also consider our real estate Neighborhood Add-On that can enhance your site.
b. Have a Powerful Bio:
For many clients, your site will be their introduction to you, so make first impressions count! Consider what qualities you'd want in an agent: be sure to list any association awards that you've won, list the neighborhoods and property types that you specialize in, and don't forget to give it that personal touch (hobbies, family, how long you've lived in the area, etc). For more tips on this topic, we'd suggest perusing our article 10 Steps for Writing Your Real Estate Agent Biography.
c. Get to Blogging:
Last but not least, your blog is a powerful tool for keeping your site up-to-date with current events, maximizing SEO, and creating rapport with clients. Draw from your own experience as a realtor, and write about what you know best; consider common questions from clients and issues specific to your market. If you're at a loss regarding what to blog about, our article on this subject offers a wealth of link resources to get your creative juices flowing, Real Estate Blog Ideas – Your Resource Guide. Start to think of your blog now as a real estate news publication and you becoming the journalist of your publication.
3. Real Estate Videos:
While many clients still prefer a well-written article or blog post, numerous studies show that for a growing share of citizens (and search engines as well), videos speak louder than mere words. Engage these clients with your own YouTube videos that are informative, concise, and above all, fun! This article, The Power of Marketing with Real Estate Videos, addresses the hows and whys of real estate videos in greater depth.
4. Basic Marketing Tips:
Now that you have an IDX search solution and powerful real estate website don't overlook some simple yet effective marketing tips listed in our Basic Marketing Tips article. From adding your website URL in your email signature to leaving it in your voice message, we offer up some simple tips that will keep your website on the top of your mind and your clients.
5. Social Media:
Unless you've been living under a rock without Wi-Fi for the last ten years, there's no need to stress the importance of social media for promoting any modern enterprise, real estate certainly being no exception to this rule. If you don't already have your own business Facebook, Google+, or Pinterest accounts set up, get connected! It also wouldn't hurt to sign up on LinkedIn, Twitter, and Instagram as well, as long as you've got the time to explore the nuances and particular advantages of each of these platforms. To help motivate and inform you better we suggest reading more about these powerful social media tools to help you maximize their potential:
– Top 11 Reasons to have a Facebook Business Page
– Why Google+ is an Inevitable Part of Your Content Marketing Strategy
– Google+ Strategies
– 60 Pinterest Board Ideas for Real Estate
– 10 Pinterest Tips to Increase Traffic to Your Real Estate Website
I'm sure that you've heard the phrase, "If you build it, they will come" (one of the most widely-misquoted movie lines ever, from 1989's Field of Dreams starring Kevin Costner). This is a great mindset to have, provided that the process of "build(ing)" your site doesn't end with the moment it appears live on the web. While creating new, SEO- and visitor-friendly content can be time-consuming, it's not hard to do if you: a) speak from your own experience and b) have fun with it. So roll up your sleeves and start blogging, creating videos, building links, and continually improving your dynamic and engaging real estate website. To again quote Field of Dreams, "Go the distance" – you'll be glad you did.