Don't overlook the persuasive power of your biography to help build on your personal brand and connect with clients. If you don't consider your real estate agent biography to be a fundamental tool in reaching potential clients, the time to change is now! A strong bio can attract new clients, lay the groundwork to build interpersonal relationships, and offer potential clients a reason to trust you. By seeing you're a real person, they'll see you as more than just a real estate agent – you'll transcend to the status of real person with family and hobbies all your own. Whether you write your own bio, or hire someone to do it, here are 10 steps to make it outstanding.
Step 1: Include Professional Experience
You're the expert when it comes to real estate, so show it off! A well-rounded biography should include your skills, expertise, education (certificates, degrees, diplomas, classes taken, etc.), experience, and awards. Generate a list of facts you want to include, but don't go overboard! If you find yourself with a long list of facts, narrow it down to only the best achievements and include those in your biography. Then, if you want to take it further, provide a link or a complete list of credentials at the bottom of the page. Take a cue from Deb Howard, where she showcases her impressive list of real estate and community achievements with just the right amount of personal background to connect with potential buyers and sellers. Broker John Leonardi from Leonardi Real Estate also created a powerful biography without overselling – just the right touch. We highly recommend client testimonials like Deb and John display in the side bar. Read How to Acquire Great Real Estate Testimonials for great tips and marketing ideas.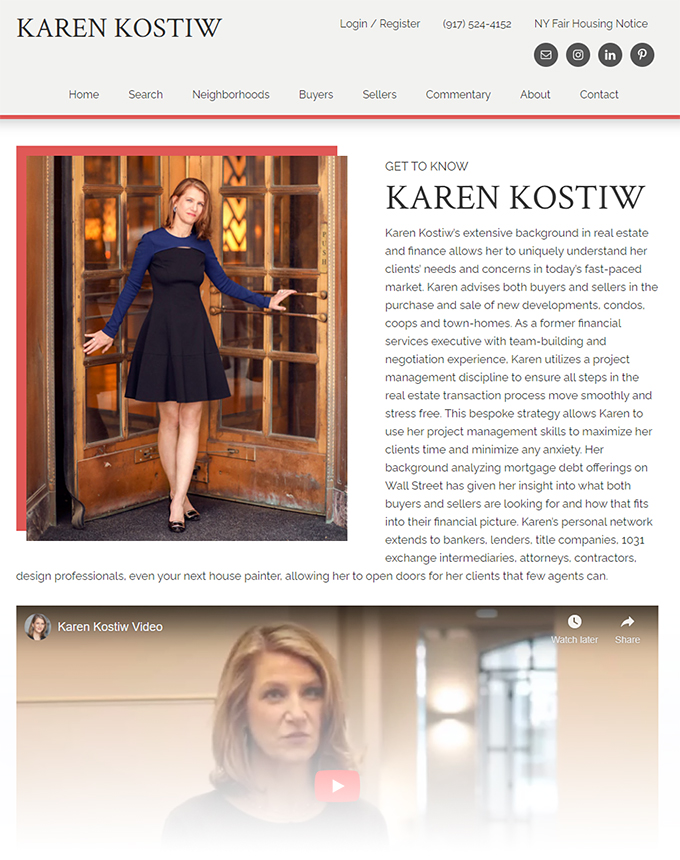 Step 2: Provide a Personal Touch
Life isn't all work, so adding some insight into your personal life outside of work can be a great tool for connecting with potential clients. By including information about your family, pets, hobbies, and extracurricular activities, your clients will see you as a real person rather than just a Realtor. And, who knows when someone might contact you simply because you have something in common with them. Don't bog your biography down with too many fun facts though, keep things light and to the point, and avoid getting too intimate with your personal details. Karen Kostiw, a New York REALTOR®, gives a background story that offers a personal touch, addresses how she treats each client with care, expands on her vast knowledge of the New York real estate market and list of accomplishments with overdoing it. Perfecto!
Step 3: Link Yourself to the Real Estate Area
You know the area better than anyone else, so be sure to include information about where you've lived and how long you've been an agent there. Demonstrate your knowledge of the area! On the other hand, if you're new to the region, mention why you moved there and everything you love about it. This is a great way to build trust with your clients as they'll need your guidance in finding the right home. Nicole Truszkowski, a Carmel California REALTOR®, creates this connection with her visitors through video. By highlighting what makes the Carmel area so special, Nicole connects with her buyers and adding that personal touch can make all the difference.
Step 4: A Bio is NOT an Advertisement
There's a time and a place for an advertisement, and this isn't it! Keep your bio simple and honest – if you come off as an advertisement, you'll turn clients away. Make sure your clients see that you are focused on their satisfaction and interests rather than your own business goals. Your bio should show how qualified you are, but ultimately reveal you as a hard-working person that can relate to someone's wants and needs. Greg Boyle, an agent in the Truckee and Lake Tahoe region, establishes his knowledge in the real estate world without an intrusive sales pitch, engaging a potential client with his down to earth approach to business.
Step 5: Do Some Research
Finding the best way to express yourself and catch your reader's eye can be hard to figure out on your own, so start by exploring what other agents have done. This will give you some great pointers on what works and what doesn't work, allowing you to develop your own technique and style. Find a bio you love and use it to start an outline for your own bio, just be sure to change it up to reflect your own unique branding. Maison Real Estate Team has taken real estate website design to the next level by incorporating our Agent Roster add-on as well as TSB Real Estate in North Carolina. Each of their agents have a classy, informative bio allowing them to showcase their experience, personal insight and a great partnership with the company.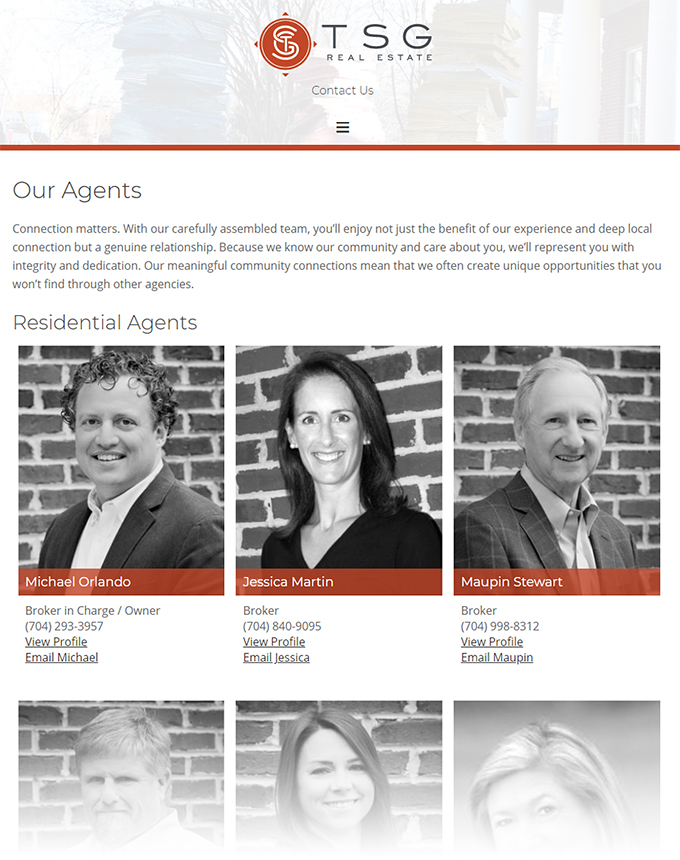 Step 6: 10-minute Brainstorm Session
Writer's block? If you're writing your own bio, it can be intimidating to get started! Don't get overwhelmed by trying for perfection on the first go – instead, just start writing! Ignore spelling, grammar and sentence structure and focus on getting the words down first. Try writing a list, making a mind map, or just fill the page up with your own freeform thoughts. Once you've narrowed down what you want to actually cover in your bio, you can revise and rewrite until you're ready to show it to the world.
Step 7: Just the Right Length
Aim for a medium length bio. Two to three paragraphs, or about 250 to 500 words, is the optimal length to shoot for. Any longer and your readers could lose interest. You want to connect with your readers, not scare them away with a wall of text, or an equally frightening two sentence bio. Give them an idea of who you are what you've done, and avoid sharing your life story. Truckee REALTOR® Bret Churchman brings the reader into his "mountain lifestyle" with a story like approach and headlines each paragraph introducing each element to his background, experience and family – great personal touch.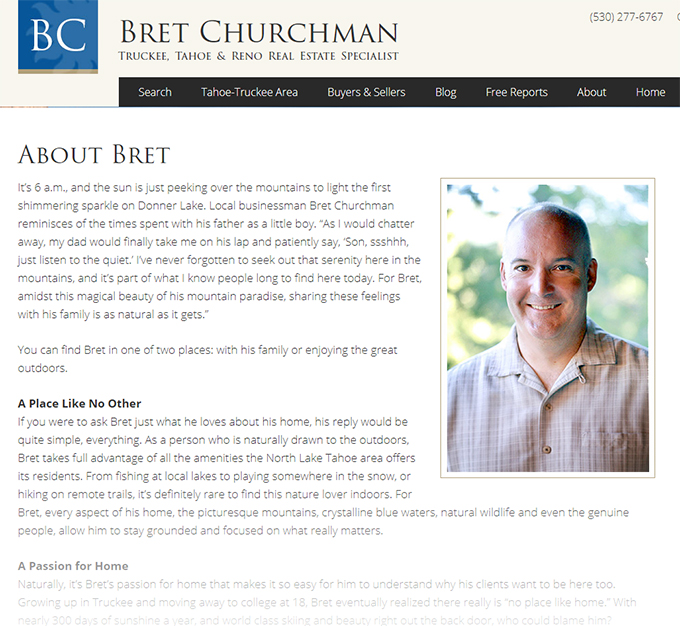 Step 8: Proofread and Review
Your bio is the perfect opportunity to demonstrate just how professional you are, so make sure your writing is 100% error-free! Correct spelling and grammar is an absolute must and a single error has the potential of turning a client away forever. Once you think your bio is perfect, follow these three steps: take a 12 to 24 hour break so you can review it with a fresh mind, read every word aloud to yourself, and finally have a trusted friend, family member or colleague read it and give you feedback.
Step 9: Don't Use too Much of a Good Thing
Avoid going overboard with your use of font styling and fancy writing techniques. While using exclamation points or font styles such as italics, bold or underlining are a great way to emphasize a point, they should be used sparingly. When overused, they can have the opposite effect and distract the reader. Using a professional font with standard font sizes is also important, don't try to reinvent the wheel by using non-traditional fonts or colors, or you risk exhausting your reader's eyes. Michael Pion, a Greater Harrisburg area REALTOR®, tackles his bio with just the right amount of fancy formatting, drawing potential clients to take note of his quote, and separating business from personal life with the use of a single elegant line.
We can build you a custom real estate agent roster like Team Blair Tahoe.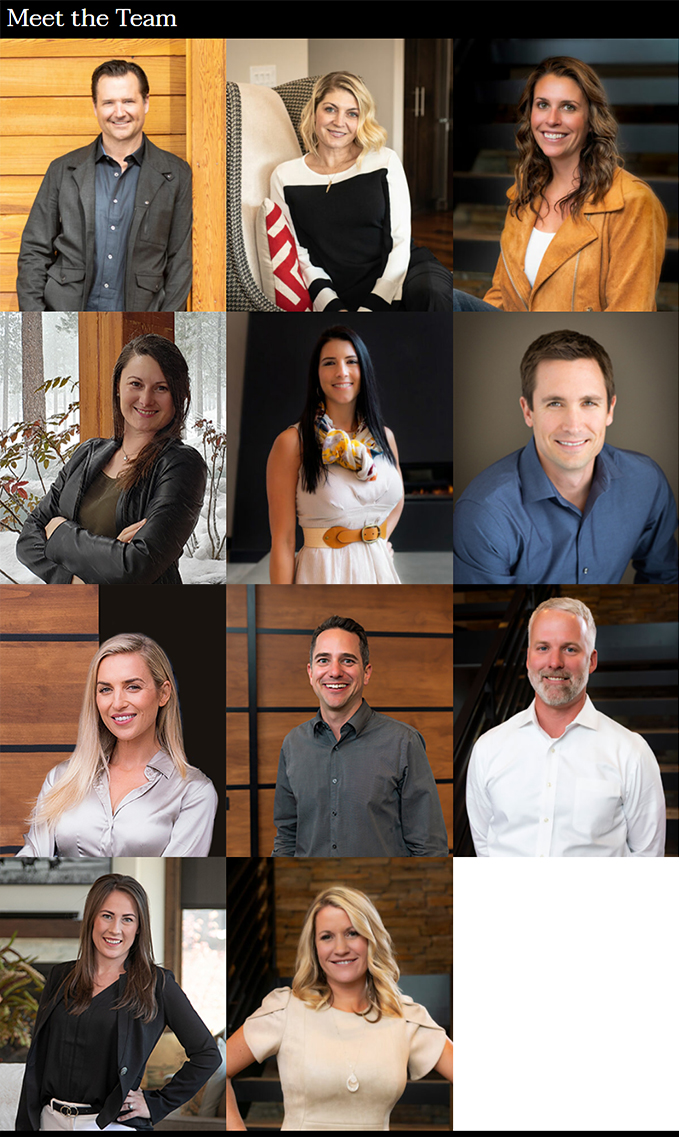 Step 10: End it Right
Ultimately your bio is one way of helping your client's get to know you so they'll want partake in your services – so be sure to include your contact information at the end of your biography! This will give your potential clients an immediate and easy way to contact you and access all you have to offer.
Writing or refining your real estate agent biography should be at the top of your to-do list. It's inexpensive and effective, and the best part is you can use it over and over again! Include it on your website, blog, in your listing presentation, brochures, social media pages such Facebook and LinkedIn, and every other place you've made your online presence known. Just make sure to keep it updated by reviewing it every six months or so. Once you've created a bio, you'll have a great tool to help you bond with potential clients before you even meet them, making you another step ahead of your competitors.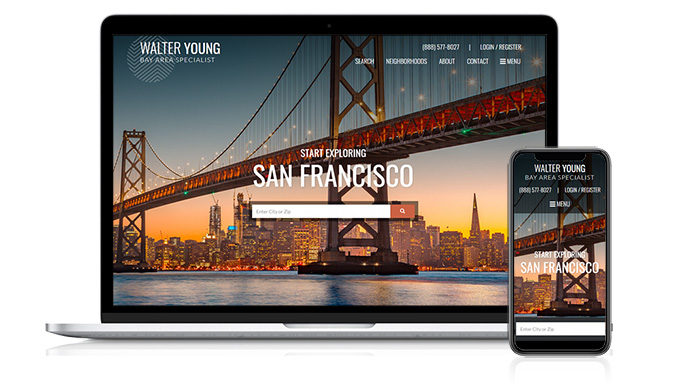 Real Estate Website Design with IDX
Having a powerful real estate website has become an invaluable tool for agents and brokers. It's a way to generate new leads and connect with today's clients who expect their REALTOR® to be marketing online. With our WordPress real estate websites, hand-designed by our talented designers, you can leave the creative design work to us. Our great support staff will help train you and get you up and running smoothly. Best of all you have peace of mind that you own your website and all your marketing money and effort stay with you. Having served over 10,000 REALTORS®, we have a solid understanding of real estate website design, IDX sales and integration. We would love to show you what we can do for you.
Contact us or call direct at (888) 577-8027 ext 1 for sales.
View WordPress Real Estate Websites
Contact Us to Learn More