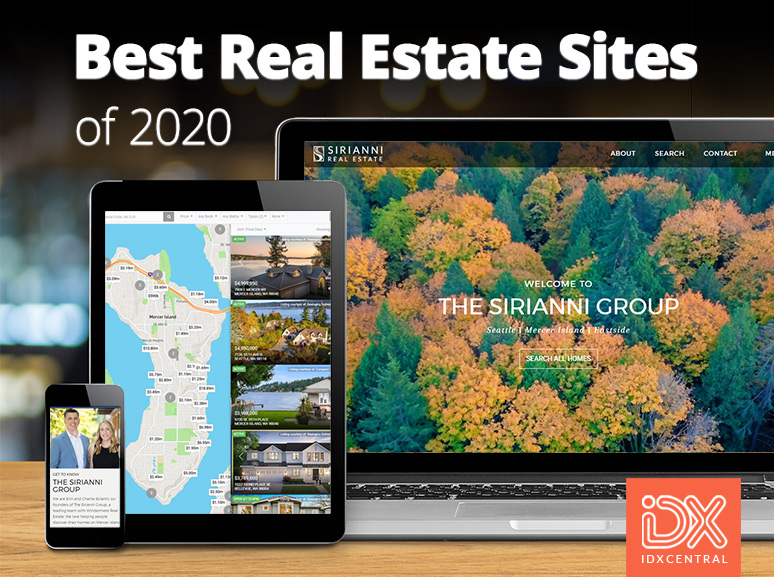 Real estate is a competitive market with an abundance of agents to choose from, so how do you guarantee you're the agent they choose? You do it by separating yourself from the noise and staying top-of-mind with the buyers and sellers you interact with. A captivating, user-friendly and beautifully designed yet comfortable real estate website can be the solution to dominating your market, consider it a vital piece of your overall marketing plan.
As a tool that can be used to show off your real estate expertise and grow your business, you need a tech team with outstanding customer support and proven longevity in the real estate industry. You need a team that understands what agents and brokers need and IDXCentral is that team. With 27 years of experience developing custom designs specifically for real estate we bring our extensive knowledge of WordPress and IDX to the table. We know how to exploit IDX features to generate leads and we put that wisdom into our designs and IDX integration, into our custom real estate tools and into our clients' hands. And best of all you own the website and never risk losing your investment.
View Our Real Estate Website Designs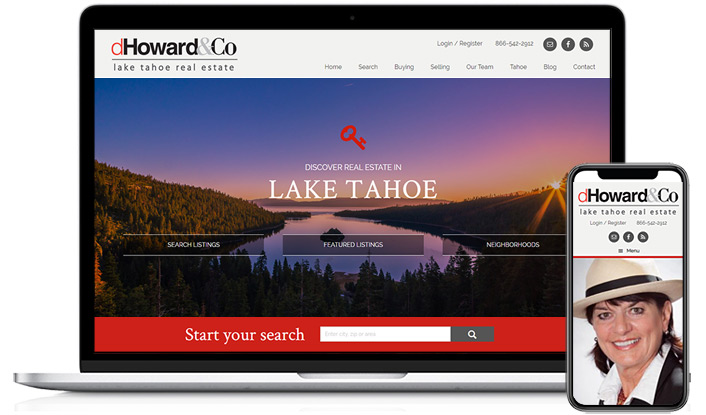 dHoward & Co. | Lake Tahoe, California
Best real estate website features: dHoward & Co. site reflects the professionalism and attention to detail of the Deb Howard team, with over 25 years as one of Lake Tahoe's most successful brokerages. The iconic branding is seamlessly integrated into the design rounding out their perfect broker website. Luxury cabin living, golfing, leisure lifestyles, they're all here and Deb's team has the information buyers and sellers need to make the right decision in not one, but in all three Lake Tahoe real estate boards. This is a powerhouse of a website built on our Limited Edition WordPress theme with extensive featured listings profile pages, niche lifestyle pages, automated market reports, great buyer and seller information. Lifestyle living is why people dream of living on Lake Tahoe and dHoward & Co. site covers all three Lake Boards!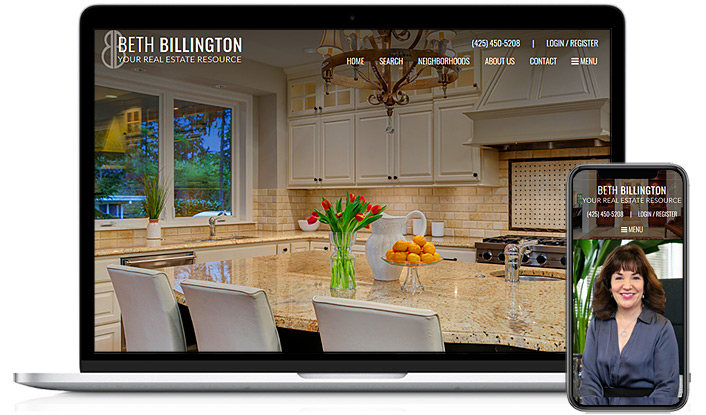 Beth Billington | Seattle, Washington
Best real estate website features: With 28 years of experience and over $1.3 Billion in sales, Beth's website had to reflect the same successful and hard-working image as Beth herself. The Seattle Eastside real estate market is as competitive as ever and this bold, fluid, and modern website accentuates the very essence of what it is to be a top Seattle real estate agent. Designed with our semi-custom WordPress real estate website named San Francisco as the base, this website has it all including luxury listings, fantastic agent roster pages and ample resources for sellers. Here extensive Sold Listings page help to emphasizes Beth's great success throughout the years.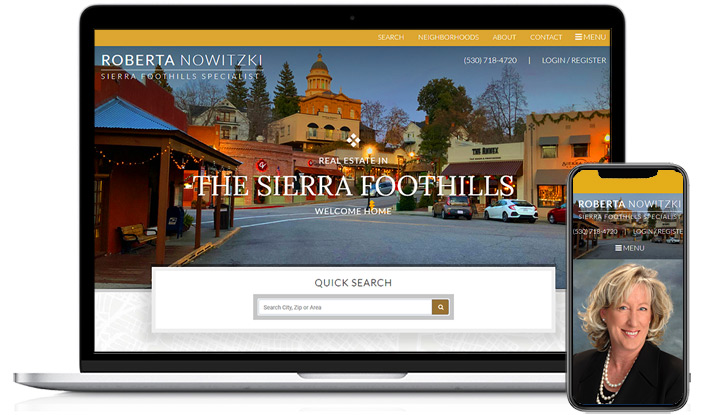 Roberta Nowitzki | Auburn, California
Best real estate website features: Roberta Nowitzki's website has so much to offer both her buyers and sellers, a portal like IDX search, expansive neighborhood profiles, niche market profiles, automated market reports, lead generation forms and more. The home page invites the visitor in with warm colors that reflect the area she serves, the beautiful Sierra foothills of California. The gorgeous and unique architecture of Auburn, Grass Valley, and the greater Sierra Foothills can't be overlooked if you're considering a home in this area. Roberta's website, using the Carolina semi-custom WordPress real estate website, features vintage and historic homes throughout the area. Lake and golf course community properties are easy to find on this welcoming real estate website, offering a cozy cup-of-tea atmosphere to attract both buyers and sellers without breaking the bank.
My website turned out better than I could have imagined. I highly recommend IDX Central to any real estate agent or company looking for a professional, polished website.
– Roberta Nowitzki
Terry & Greg Didier | Aspen & Snowmass, Colorado
Best real estate website features: When Greg and Terry came to us with a request for a new design, we were excited to show them our latest semi-custom options. We knew as agents in a highly competitive area that this site would need to highlight their expertise in luxury Colorado mountain properties including Aspen, Snowmass Village, Basalt and Carbondale. Working with the Carolina WordPress real estate website as our base, we crafted a warm and classy website. Breathtaking photography and the classic Sotheby's colors define the look and feel, complete with smooth animations. We also designed a custom three-step search form to assist in capturing leads and fully integrated the site with IDX Broker's IDX Solution. Property videos give eager buyers an easy way to experience these beautiful homes virtually. Greg & Terry are Aspen real estate experts and this showcase website pairs with them perfectly.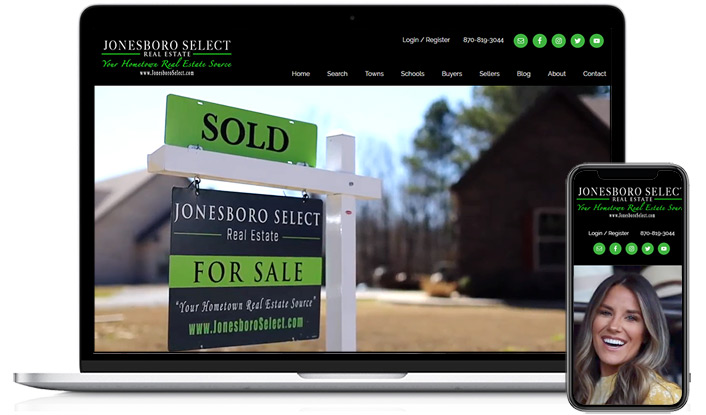 Jonesboro Select Real Estate | Jonesboro, Arkansas
Best real estate website features: The Midwest tends to be overlooked by development teams focused on coastal area clients, so we were especially enthusiastic to design a site for Janie Hay's Midwest Arkansas real estate team. As a growing team looking to attract new agents and capture leads, this Limited Edition WordPress theme guarantees no other area competition can touch this unique design. The intuitive portal search (Eureka IDX) is easy to use and the Jonesboro Select Real Estate team included pre-created School District and Town searches for even easier home hunting! The video banner sets the stage for everything you want and love in a homegrown Midwest city.
"I highly recommend Dylan and all of the IDXCentral Team! They have gone above and beyond to assist us in creating a new and stunning website that is extremely user friendly. Our previous website was with another company and we had a terrible experience. Within the first phone call to IDXCentral, they walked us through everything (Sales, Design, IDX, etc), answered our million questions, and were very helpful and friendly. Dylan and his team have explained every step for creating the site, helped us learn how to use our website backpage, made multiple changes for us, and did everything so quickly. I cannot say enough positive things about IDXCentral and how much we love our new website. Our clients also agree!"
– Janie Hay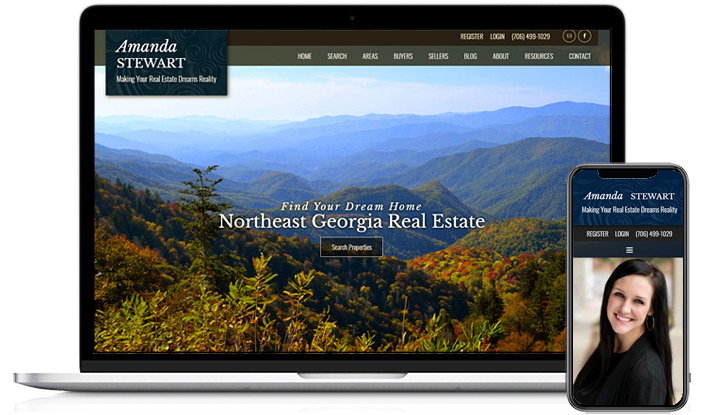 Amanda Stewart | Demorest, Georgia
Best real estate website features: Amanda's website reflects the unique beauty of Northeast Georgia, her home and area of expertise. Built on our semi-custom WordPress real estate website named Austin, the site showcases a variety of properties from elegant Georgia estates to mountain cabins that buyers can easily search for. A clean, easy to use navigation helps visitors find all the valuable information at their fingertips.
View Our Real Estate Website Designs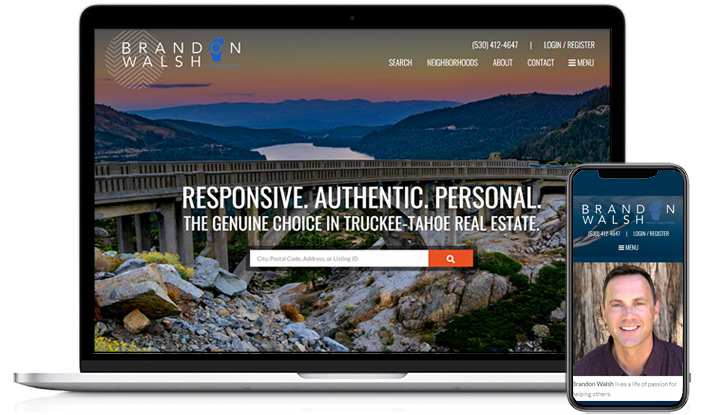 Brandon Walsh | Truckee, California
Best real estate website features: Our latest WordPress real estate website named San Francisco seems like it was custom built for Brandon's branding which is highlighted throughout the site. The clean and easy to use navigation make this site a dream for buyers looking to find their perfect mountain home. The neighborhood profiles with beautiful area photography help visitors learn the insights of each community. The search by map feature is built for those who quickly want to get to their search destination. An all around beautiful site not just in function, but design.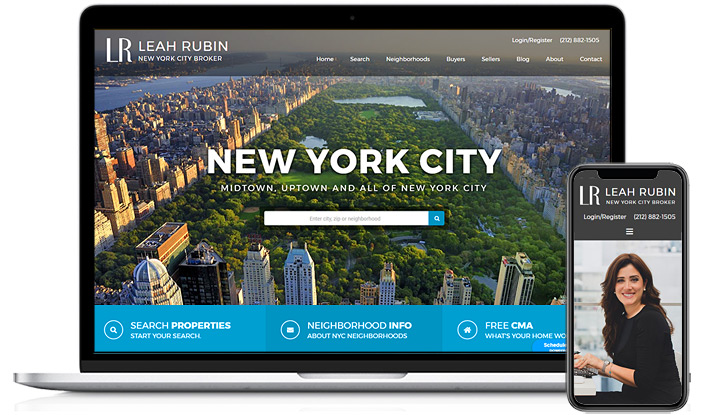 Leah Rubin | New York, New York
Best real estate website features: Leah Rubin's polished website reflects the modern city that she has served for over 20 years. The portal-like search helps visitor narrow in on their desired location. Well executed neighborhood profiles paired with beautiful photography help showcase the many great communities that make up New York City. The automated market reports help educate both her buyers and sellers on what's happening in the New York City real estate market. This site combines ease of use and beauty for a great user experience.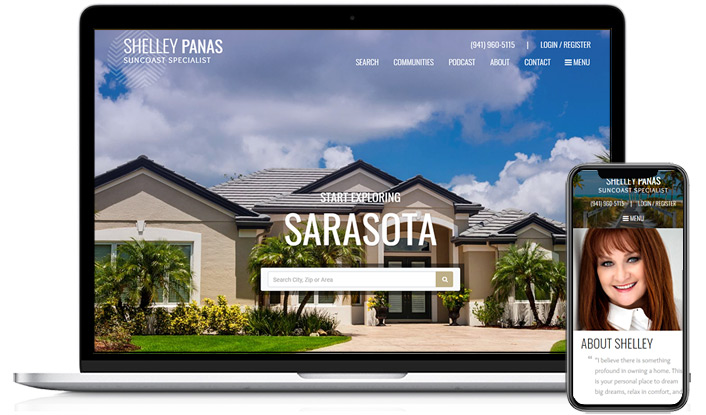 Shelley Panas | Sarasota, Florida
Best real estate website features: Shelley Panas's website welcomes visitors to the beauty of Sarasota and the Suncoast of Florida. Shelley showcases her knowledge of Sarasota with informative neighborhood profile pages that include detailed market reports that visitors can sign up to receive via email. She has done a great job of highlighting her many designations which include Military Relocation Professional (MRP). Built on our latest WordPress real estate website named San Francisco this site is a great online resource and works seamlessly on both PC and mobile device – it checks all the boxes.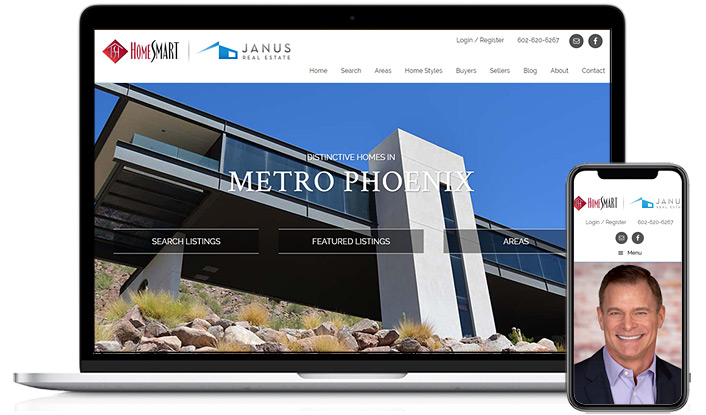 Joe Janus | Phoenix, Arizona
Best real estate website features: Joe Janus has our Limited Edition WordPress theme with all the bells and whistles that come with it. Visitors can use the portal-like search Visitors can use the portal like search to narrow in on their desired location, read up on the best Phoenix neighborhoods, get up-to-date market reports, sold and new to the market listings and much more. Joe even offers niche market information on Home Styles for those seeking even more specific requests – a great example of using the IDX solution to generate more leads.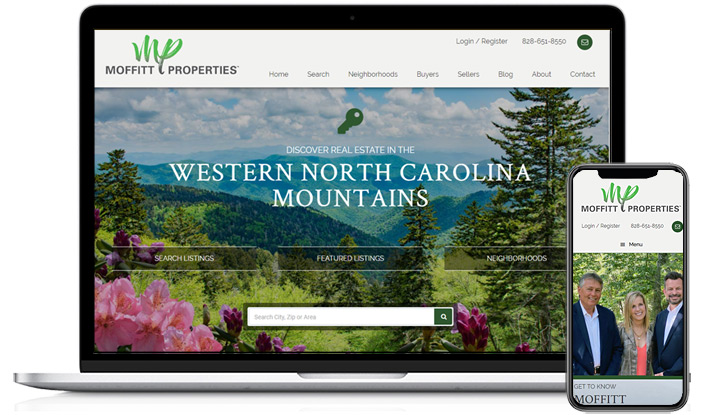 Moffitt Properties | Asheville, North Carolina
Best real estate website features: Moffitt Properties showcases the amazing beauty of the North Carolina mountains and the communities they serve. Their small team delivers big on this site which includes a portal-like IDX search, neighborhood profiles, detailed market reports and images that highlight the areas stunning scenery. They have niche market pages for their commercial, lots and land markets as well. Built on our Limited Edition WordPress theme this site is simply beautiful.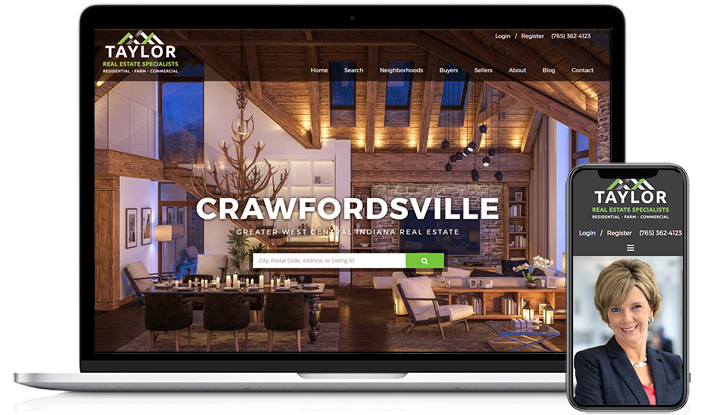 Lisa Taylor | Crawfordsville, Indiana
Best real estate website features: Lisa Taylor represents properties in the residential, farm, and commercial sectors of Crawfordsville, Indiana – her site needed to cater to this larger audience. Throughout the site Lisa has highlighted her knowledge of farm and commercial properties and included lead generation forms to capture leads from these sectors. Lisa is consistently recognized as a leader in the top 4% of licensed realtors in Indiana and this site reflects her professionalism and attention to detail. The site was designed on the Phoenix semi-custom WordPress real estate website with unique call to action buttons for effortless searching, this site captures the Midwest feel with a slick urban touch.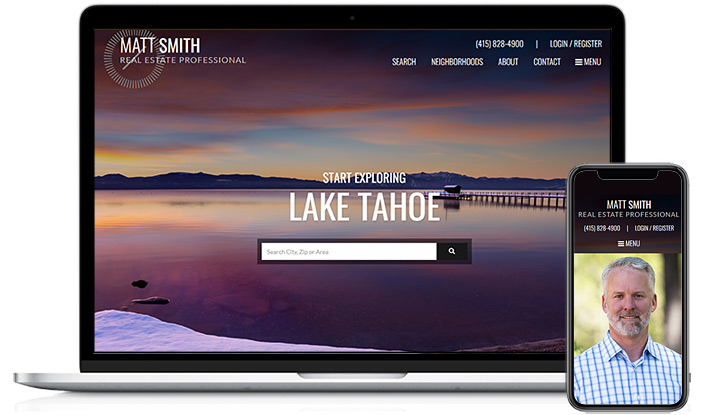 Matt Smith | Lake Tahoe, California
Best real estate website features: A sharp, professional website is today's business card and the WordPress real estate website chosen by Matt Smith gives him that competitive online edge in the luxury Lake Tahoe market. Vivid images of Lake Tahoe combined with this modern, clean design ties perfectly together. The site offers visitors an advanced IDX search for two Lake Tahoe real estate Boards complete with search by map capabilities. A great digital presence for Matt Smith that will help him gain and nurture leads. With ample search tools and listings to look through, this site will become a frequent visit for Lake Tahoe home buyers.
Putting together a new website is no easy task and I found the IDX Support team to be super helpful in making the process as easy as it can be. We found a few issues and worked through them and even during the COVD 19 Pandemic, I always heard from them. It was a great experience.
– Matt Smith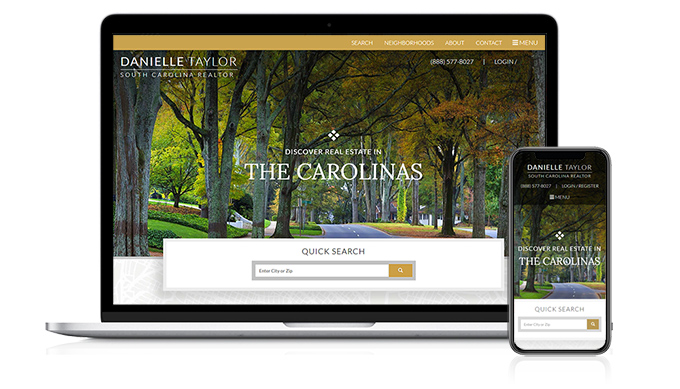 It's 2020 and time to create the best-possible online first impression you can. Your website IS your new digital business card and we're the experts to help you stand out! Our WordPress real estate websites are fluid, stunning, and entirely custom and unique for the real estate industry. We can adapt any website to work with single-agents, small teams or large brokerages. We hand-tailor your website to your needs whether that's a focus on luxury residential homes, rentals in the heart of a metropolis, cabins hidden away in a Tahoe resort, majestic Midwest farmland, or just a bit of everything. Best of all these are websites you OWN and grow with your business.
Put our immense knowledge to work for you! We're not just a one-and-done development team, we're here to support you long after the website has launched. We have clients that have been with us for 20+ years and counting! Join our family and you'll have a tech team on retainer that knows the real estate industry and has mastered the most complicated aspect of real estate websites.
Contact us via email or phone (888) 577-8027 to get started with a free consultation.

View Our Real Estate Website Designs
Get Pricing and Features