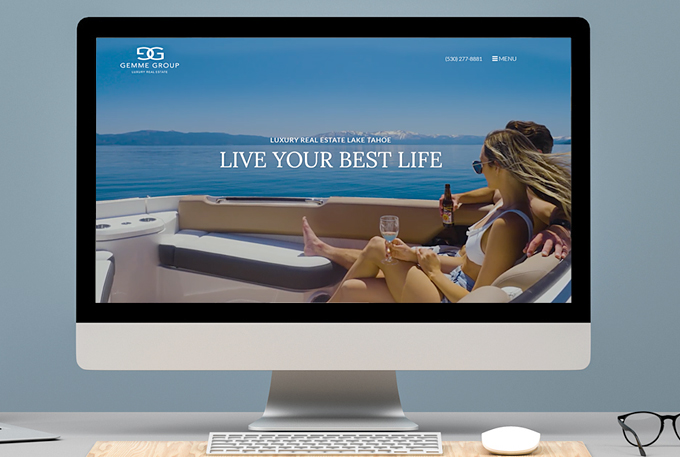 It's time to showcase some of 2022's best IDX real estate websites built on WordPress, the #1 content management solution for Realtors. A strong online presence is more important than ever to help develop relationships with buyers and sellers. Agents need a website that they own, to attract new leads and nurture existing ones. Having a user-friendly and professionally-designed website is one of the most important marketing tools a Realtor can use to showcase their knowledge and solidify their brand. To inspire you on your quest for the best website solution for your real estate needs, we present for your consideration our 2022 Best IDX Real Estate Websites Built on WordPress.
We love what we do and we've been doing this for over 27 years. Our small team has 100+ years of combined experience with each bringing their specialized skillset to the table.
Beautifully Designed and Highly Effective
Site visitors have high expectations of how a real estate website should perform. With only one chance to make the right first impression it's critical that you partner with an experienced company. When you partner with us we bring our years of experience to the table, from professional website design to advanced IDX integration and coding. All of our real estate website designs are built on the world's largest content management system (CMS) WordPress platform, so you own your own website and have full access to all of its features. We are located in the USA and do not outsource our work.
Let us help you succeed online with a powerful website that you OWN and grows with you. Contact us today (888) 577-8027 ext 1 for sales or email us.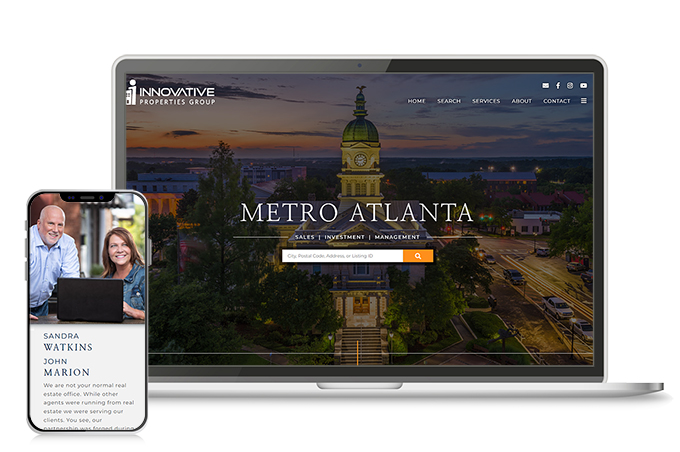 Innovative Properties Group | Canton, Georgia
Our latest custom WordPress real estate website showcases this professional team of Sandra Watkins and John Marion and features the beautiful areas they serve. Innovative Properties Group is revolutionizing the way homes are sold and their website serves to educate buyers and sellers about their successful approach. Keeping with their real estate brand the design is professional, visually engaging and most importantly, easy to use. The end result is a stunning real estate website that will continue to grow with their business. A site that not only attracts new business, but continues to nurture and engage existing clients.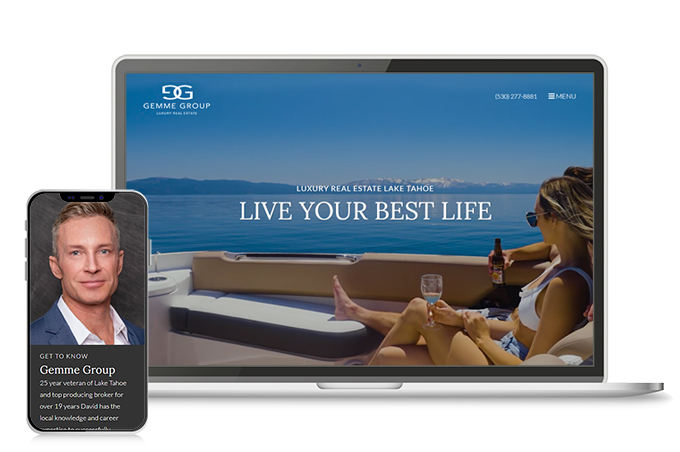 Gemme Group | Lake Tahoe, California
David Gemme is a 25 year veteran of Lake Tahoe and top-producing broker for over 19 years. David has the local knowledge and career expertise to successfully navigate all nuances of the Lake Tahoe real estate market, and his online presence professionally reflects this. The stunning opening video captures the essence of the Tahoe luxury market. Built upon our semi-custom WordPress theme, this website has it all including an advanced IDX, recently sold listings, and detailed neighborhood profiles. The Gemme Group uses MarketBoost market reports to give their buyers and sellers up-to-date market conditions. This is a popular automated feature that helps to keep their brand engaged with their valuable clientele.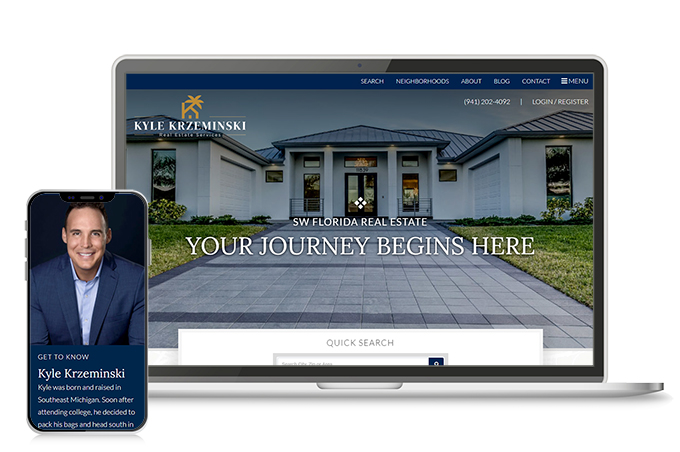 Kyle Krzeminski | Port Charlotte, Florida
World-renowned for its beautiful beaches, unique charm, and a vibrant nightlife community, it's no wonder Sarasota, Florida is the #1 place to retire in the U.S. Our main priority for Kyle was to create a stunning website that highlighted all of the great qualities of his market. Working with our semi-custom WordPress real estate theme, we created a professional design that offers visitors a user-friendly and informative luxury homebuying experience. MarketBoost automated market reports informs his visitors of recent homes sold, current market date and emails them updated reports with his branding. By offering a wealth of resources and information to help his clients make informed real estate decisions, Kyle's site gives him a leg up on his local competition as well as nationwide real estate sites.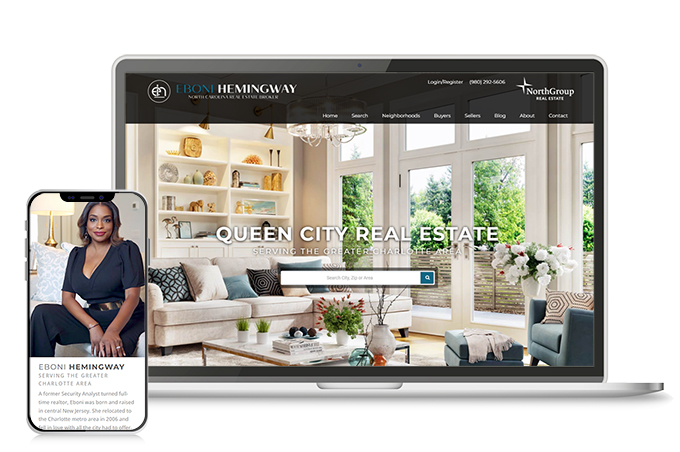 Eboni Hemingway | Charlotte, North Carolina
Eboni prides herself on being the consummate professional, providing exceptional service, and is anchored by integrity to every client, on every transaction. With over 15 years of corporate experience her impeccable professionalism extends to everything she does and that includes her online presence. From Uptown Charlotte to the major suburb of Mint Hill, her detailed neighborhood pages apprise buyers of the hottest real estate markets while confirming her as the local expert. Full MarketBoost market reports keep her clientele up to date on current market conditions. This is a powerhouse of a website which offers visitors an advanced IDX search, and ensures Eboni's visitors have the best online search experience. Working with our San Francisco WordPress real estate theme helped deliver a stunning Realtor website that fit Eboni's needs.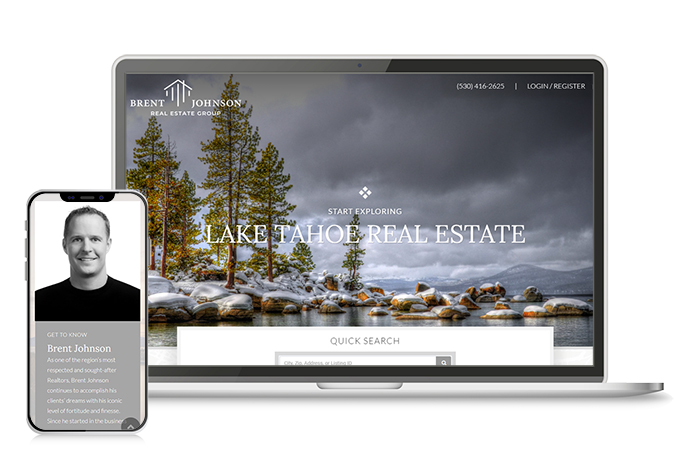 Brent Johnson | South Lake Tahoe, California
As one of the region's most respected and sought-after Realtors, Brent Johnson continues to accomplish his clients' dreams with his iconic level of fortitude and finesse. To match his exceptional level of service is an exceptional website. Licensed in both California and Nevada, Brent needed an IDX solution that made searching for properties easy and included the MarketBoost automated market reports. The advanced portal-quality MLS search does the trick for creating custom searches to display on his site, and enable his leads to provide specific insights about the properties that interest them. Working with one of our most popular WordPress real estate themes, this site offers an abundance of area information and allows Brent to keep his clientele informed of market conditions and local events with his active blog. Simply an all-around beautiful real estate site not just in design, but in functionality.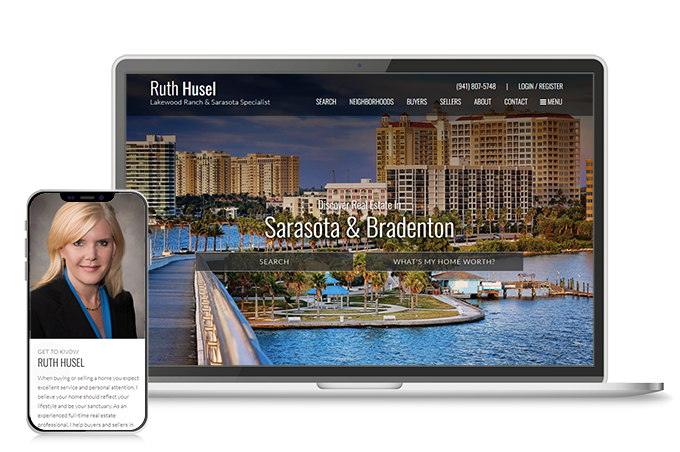 Ruth Husel | Sarasota, Florida
Specializing in luxury and waterfront properties in the greater Sarasota Florida area, Ruth needed an online presence to match her luxury clientele. Ruth's website offers detailed information about the area's most popular real estate market. Prospective buyers can gain valuable insights about her market's neighborhoods. The advanced IDX search provides visitors with an user-friendly interface to locate luxury homes with the features they want, in the locations they want. In the end we created an easy to use, yet extremely professional website that seamlessly blends its most essential elements.
Put us at work for you!
Join our family and you'll have a tech team on retainer that knows the real estate industry and has mastered the complicated aspect of real estate websites. We are a U.S. based company that loves what we do and we've been doing this for over 27 years. Read some of our client testimonials and their experience working with us.
Contact us via email or phone (888) 577-8027 to get started with a free consultation.

View Our Real Estate Website Designs
Get Pricing and Features