Creating your own QR codes using Google is simple and FREE!  Follow these simple steps and you are on your way to a whole new level of  marketing using QR codes for your real estate needs. For a information and real estate tips read our article on Real Estate QR Codes : 5 Strategies for Success.
Log Into or Create a Google Account
Sign in to your Google Account. Don't have one, create one for free in less than 1 minute (How to Create a Google Account and Why you Should).
Creating Your QR Code
Visit Google's URL Shortner service and simply enter the URL (web page link) that you want to send someone to when they scan your QR code. Google will create a shortened version of your website link and then list it below. You can then click the Details link located to the right and you will see a one-of-a-kind QR Code created just for your link. It's really that simple and you can create as many QR codes that you need.
Testing Your New QR Code
Want to test your new QR code creation? If you have an Android or iPhone, simply search your App Store for "qr code scanner" and you will find plenty of free apps. One popular scanner is RedLaser – Barcode Scanner and QR Code Reader By Occipital. Some the benefits of marketing with QR codes is you can view basic visitor stats such as Country, Browser, and Platform. This can be helpful in determining if the effort and money you put into creating, managing and marketing these codes is worthwhile.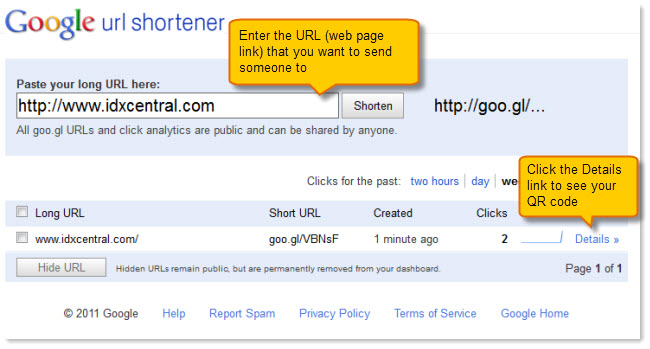 Stats Page