Generate more leads with Landing Pages designed for one specific task. Unlike your typical website pages, real estate landing pages are designed specifically to keep visitors focused on a clear call to action making it easier for them to sign up for your list or contact you. The IDXCentral WordPress Real Estate Landing Page add-on is a way for REALTORS® with an IDXCentral website to leverage this technology to their advantage. Discover more about this useful new add-on and how real estate landing pages can be used to capture leads and market your real estate website. If you need a real estate website with unlimited landing pages, contact us to learn more.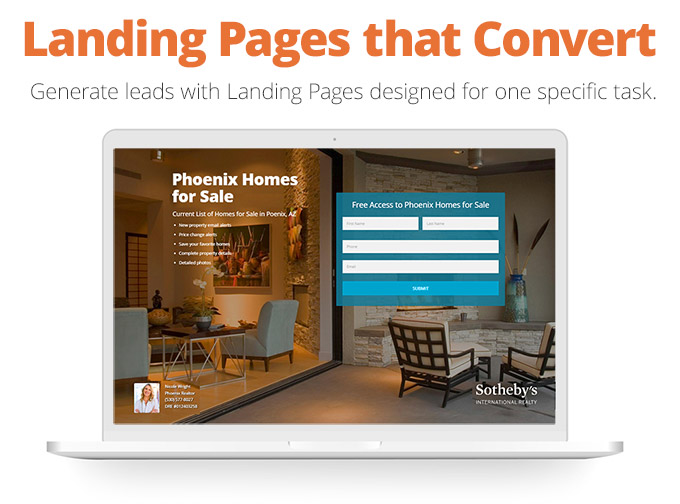 Capturing Real Estate Leads with Landing Pages
Most internet users are familiar with landing pages, they're a website page that typically requests basic information like an email address in exchange for useful information, discounts, newsletters, etc. Real estate professionals use landing pages, also known as squeeze pages, to share property listings, market data, home valuations, real estate tips and tricks, and more while ensuring the REALTOR® captures the lead, allowing them the chance to convert that lead to an opportunity and finally a closed transaction. In summary, real estate landing pages serve two main purposes: they offer useful information to home buyers and sellers, and they help REALTORS® connect with potential clients.
Visually, real estate landing pages use simple forms that should be quick and easy to fill out. They should include a REALTORS® branding colors, logo, and contact information. Featuring an eye-catching photo can also help impress a lead, but overall landing pages are meant to be straightforward – funneling the visitor straight to the form for a quick response.
Once a visitor fills out the form, they're pushed to the page on the REALTORS® website where they can view tailored listings, watch videos, learn about the home buying or selling process, review market trends and stats, sign up for email alerts, and so much more. REALTORS® can use landing pages to funnel leads to highly targeted information, showing their value as a real estate professional and as an expert in their field.
Market your landing pages – get creative and test different avenues. Real estate landing pages can be used with Facebook, Instagram, Twitter, and other social media accounts. Connecting great landing pages to a social media marketing campaign or Google Ad campaign can increase the likelihood of capturing leads, and successful REALTORS® are definitely taking advantage of this technology – today's real estate landing pages are yesterday's mailbox flyers!
What Realtors Need In a Landing Page
There are numerous landing page "builders" on the market, and the IDXCentral landing page add-on is designed to help REALTORS® set up their own landing pages with relative ease and flexibility. You only have a few seconds to appeal to the visitors needs so make them count. Real estate landing pages should always include:
A simple, quick and easy to fill out form.
A form that allows for partial completion, don't force a lead to give too much information upfront.
A compelling banner photo that speaks to them and captures their interest, such as a striking landscape, eye-catching listing photo, or young family with a sold sign. If it speaks to you then it will probably speak to your visitors.
Captivating copy that clearly and quickly explains what the lead will receive by filling out the form – i.e. what's in it for them?
Call to Action buttons that stand out, it should be easy for a lead to know where to click
REALTOR® branding including colors, logos, contact info, etc. It should be obvious who the REALTOR® is – include your headshot.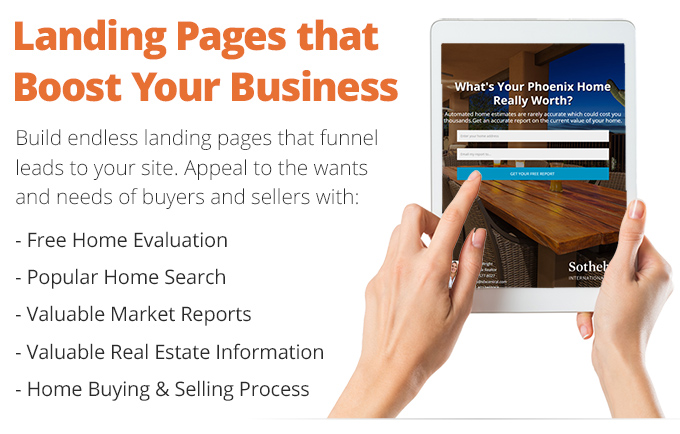 Example Landing Pages
Let's look at some examples of landing pages for real estate agents and how REALTORS® can put these pages to work for them.
Example #1: What's Your Home Worth / Home Evaluation Form
Home sellers typically start the process by finding out the approximate market value of their home. Offering a free home evaluation or CMA is a popular strategy to capture potential sellers. Although automated CMA products exist, most people agree the data generated is typically incorrect. A custom landing page form is always a better option, allowing both the REALTOR® and the seller to benefit from the exchange of information, and showing that the REALTOR® is an expert in their market. This can also be a great opportunity to introduce a seller to ongoing market report stats such as sale-to-list prices, median days on market and sold listing data.
Example #2: Promote Homes around Local Universities
The REALTOR® works in an area with a college or university near-by. This could be a great opportunity to target several very specific markets like the parents of students who may wish to invest in rental properties, students looking for rental units, new graduates looking to purchase their first home, University professors and staff or simply homes and rental units within walking distance of the university.
Example #3: Target New Home Buyers with Tips and Tricks
11% of buyers look online first for information about the home buying process. New home buyers are just starting out and need as much information as they can get. REALTORS® who target new home buyers may end up forming a lifelong relationship and assist in several transactions over the decades. Educating new home buyers on the market and what to look for in a new home can impress new buyers and help the REALTOR® start off on the right foot. Consider targeting home sellers in the same manner, first time home sellers may think they can handle the sale without involving a REALTOR®, but once they know the full scope of selling a home, they'll likely want to enlist a REALTORS® help after all.
Example #4: Target Homes around Great School Districts
Every parent wants their child in the best school possible, and REALTORS® often know where the top schools are located. A landing page offering listings within a specific school's territory are extremely valuable to current and prospective parents. Use a real estate landing page to share market trend reports (check out MarketBoost) for homes surrounding a school district, go into detail about the local school district and what makes it standout, or to promote properties within the district.
Example #5: Target Investors seeking Real Estate Opportunities
Investors gravitate toward new real estate opportunities and a real estate landing page can offer access to important information regarding the rise and fall of home prices. If a REALTOR® knows that home values are on the rise in their area, a targeted campaign aimed at local investors is a great opportunity to show off hot properties in a quickly growing market.
Example #6: Target Older Buyers with 55+ or Retirement Community Listings
Retirement communities are on the rise, but with so many to choose from, older home buyers may not know where to start. REALTORS® can target home buyers in this demographic by going into detail about the pros and cons of each community. Is one near a golf course, tennis or pickleball courts? Is it a gated community? Is it an HOA? What listings are available in the community? A real estate landing page can connect a home buyer up to the answers they're seeking and a REALTORS that can help them find a community that fits their retirement goals. You come off looking like the pro!
Work with our team of real estate website development professionals, with over 20 years of experience, to develop stunning landing pages that help you get more out of your marketing campaign. We have do-it-yourself landing page tools so you can create unlimited landing pages, or receive a quote for a custom landing page upon request. Put our collective experience and creativity to work!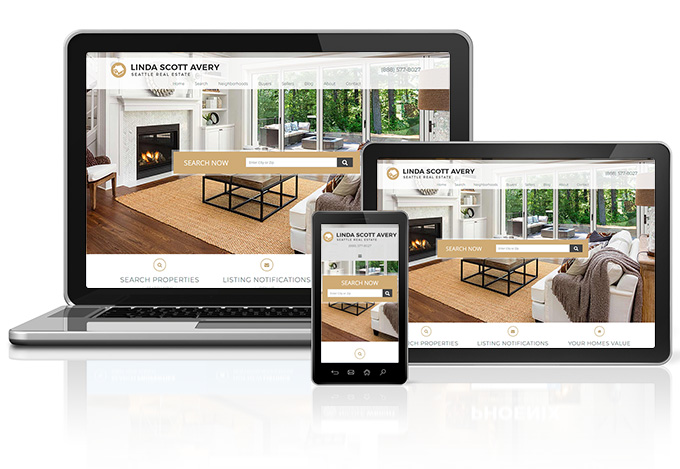 Contact us to start capturing hot leads in your territory today! Our real estate websites are fully responsive (mobile-friendly), include an IDX Solution with an intuitive lead management system and mobile app for contacting and tracking leads while you're on the go, and you own the website so you never risk losing your investment. This is your chance to grow your real estate website and your business.
Call our sales team at
(888) 577-8027 ext 1 or email us to learn more.
View WordPress Real Estate Websites
Contact Us to Learn More