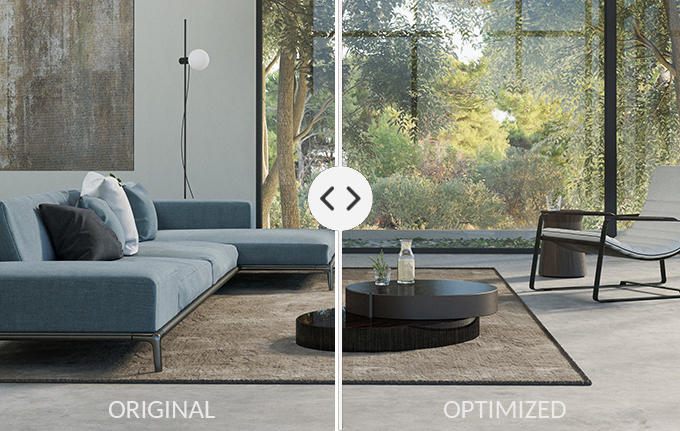 Want to save time optimizing images and improve your website's performance? We've got your back. We've developed an automatic image optimization service that could shrink your image file size by half or even more – all without sacrificing image quality. Pretty cool, right?
You know what that means – a faster site, improved SEO, and a killer user experience. One of Google's PageSpeed Insights recommendations is to use "Next-Gen" image formats like WebP or AVIF.
Our new automatic image optimization service takes care of this and much more. It converts every image you upload into the super-efficient AVIF format. Why is this big? Well, WordPress doesn't support AVIF by default. But with our service, you don't have to worry about a thing. We take your professional WordPress IDX website to the next level in website performance.
Here's what we offer:
Automatic Optimization Service: Every image you upload gets instantly optimized. Your real estate neighborhood, featured listings, and agent bio pics you upload to your WordPress website now display in a snap! You just focus on uploading fab images. We'll handle the nitty-gritty.
Next-Gen Conversion: We convert all your existing and new images into the sleek AVIF format. And yes, WordPress will love it!
Why should you care?
Speed is crucial for your website. Faster page loads mean happier visitors and better visibility in search results. Search engines, such as Google, prioritize speed by considering your website's load time when calculating where you rank in search results, often directing potential clients to faster-loading websites.
Combine our automatic image optimization service with our lean, mean real estate WordPress websites to quickly hedge out the competition.
What's the cost?
The initial setup fee is $299, which covers the first year of annual maintenance. After that, it's just $99/yr for maintenance.
Got a question, or ready to turbocharge your Realtor website's image handling? Reach out! We can't wait to help you take your website to the next level.
Remember, great images don't have to slow you down. With our automatic image optimization service, you get the best of both worlds – stunning visuals and speedy load times. Talk about a win-win!
Get signed up today!