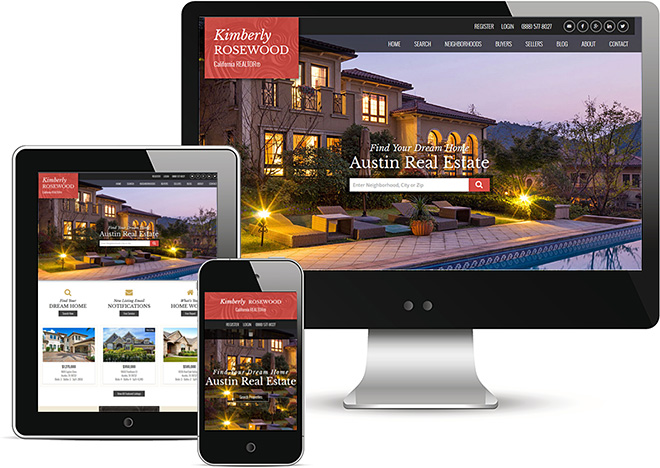 Responsive Real Estate Websites – is it right for your site? The answer is a resounding YES!
Internet usage on mobile devices account for over 60% of all internet traffic, overtaking usage coming from desktop computers. While this outcome was seen by a consensus of market analysts as inevitable, few predicted how soon this transition would take place, or the brisk pace that mobile internet traffic currently outstrips that of PCs. The writing is on the wall for business sites, and the real estate market is certainly no exception: go mobile now, or be left behind in the dust of your competitors. Read Why Switch to a Responsive Real Estate Website and you'll be convinced the time to make the change is now.
Going Mobile
Of course, you can always maintain a separate mobile-optimized website to your current site. While this option isn't entirely without its own merits, keep in mind this requires that all future updates will have to be individually applied to both the desktop and mobile versions of your site. Unless you regularly configure all links on your mobile site to correspond to their respective full version pages, your site may fast become a user-unfriendly mess of faulty redirects. There's also the issue of SEO to consider – maintaining two URLs means that search engines must crawl and index both versions, which results in spreading out your page rankings. Also, a site that looks great on cell phones may not always adjust as well to tablet viewing.
Going Responsive
Now, wouldn't it be nice if you had just one website to deal with, one that automatically adjusted its layout to whatever device your clients happen to be using at the time? This is where responsive real estate web design enters the picture: responsive sites automatically scale their content and format to suit whatever platform your clients happen to be viewing your site on at the time, be it a smartphone, desktop computer, or tablet. Even Google recommends responsive web design because it makes managing your SEO strategy easier and offers a greater user-experience across many devices. Having one responsive website makes it simpler and more efficient for Google to spider through, index, and then organize web content.
Still need some more compelling reasons go make the switch to responsive design? We recommend these two articles that go into more depth 6 Undeniable Reasons Why Your Website Should Be Responsive and also 3 Reasons Why Responsive Web Design is the Best Option For Your Mobile SEO Strategy. If you are ready to go responsive with your real estate website, we are here to help.
If a potential client pulls your website up on a smartphone and it doesn't work properly, it will likely change their mind about contacting you. Invest in a responsive Web design platform, as it will allow you to seamlessly display content on any device." – Hal Timinsky (Source)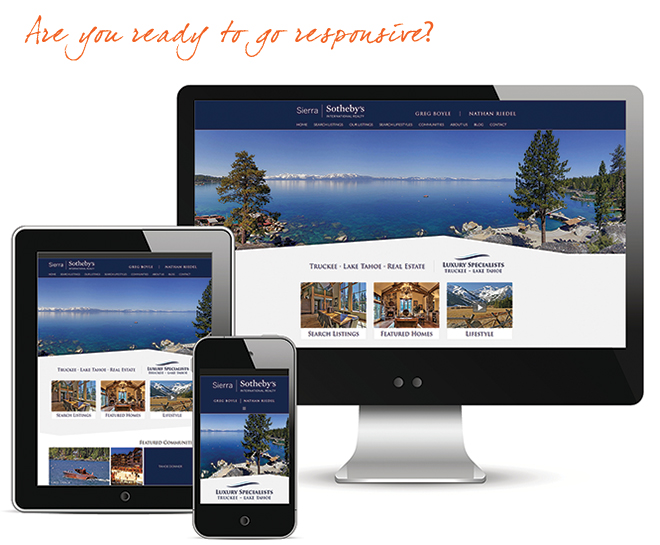 Let us make your site responsive!
Having served over 5,000 real estate professionals, we have a solid understanding of what it takes to build a successful website. We specialize in WordPress real estate websites, IDX sales and integration. For your consideration we have created a three semi-custom WordPress themes called Austin, San Francisco and Seattle. We think you will find our responsive real estate WordPress websites provide you with one streamlined solution to your website needs that doesn't skimp on the extras:
IDX Sales and Integration
Built on WordPress
Includes $600 of Essential Plugins
SEO Friendly
Lead Generation – Gravity Forms
Daily Backups / Peace of Mind
Mapping
Social Media
Website Visitor Stats (Google Analytics)
Content Management
Support and Training
And you certainly don't need to sacrifice versatility for aesthetics. Presented below are demos of our semi-custom responsive real estate website designs. Keep in mind that we offer a range of background colors and patterns, and we'll be happy to work with you closely to achieve just the right appearance to appeal to your clientele.
View Real Estate Website Designs
View examples of our work on Pinterest under Responsive Website Designs.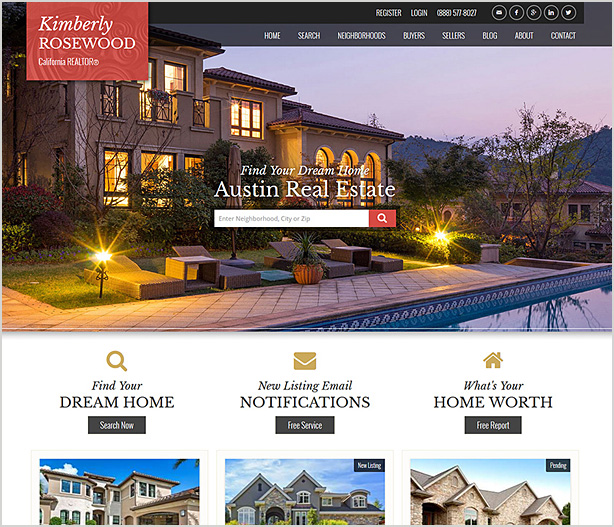 Austin WordPress Theme | View Live Demo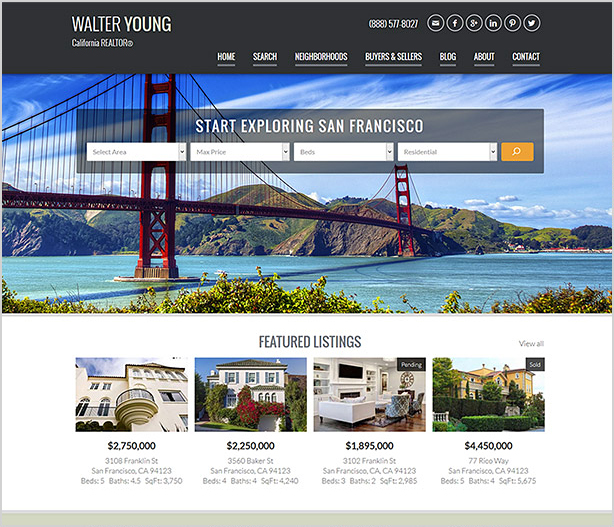 San Francisco WordPress Theme | View Live Demo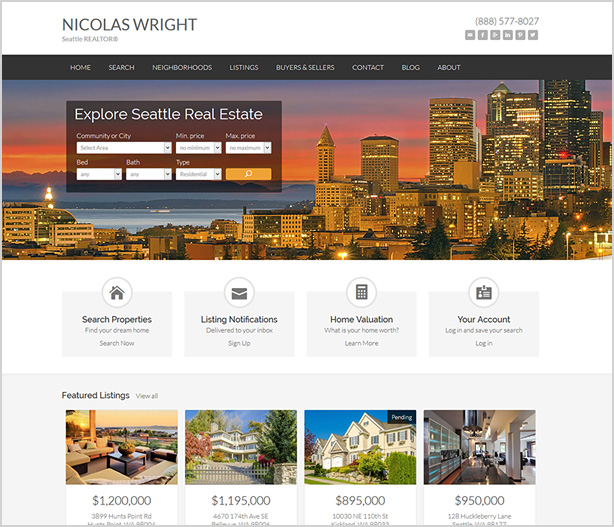 Seattle Design WordPress Theme | View Live Demo
Custom Responsive Real Estate Websites
Going custom means having a real estate website that reflects your branding that matches your goals and vision. It requires some extra time and investment from you, but the end result is a website that stands heads and shoulders above your competition. Contact us to discuss a custom responsive real estate website and review what you are looking for.
View our custom responsive real estate website TruckeeLuxuryProperty.com
REALTORS Greg Boyle & Nathan Riedel at Engel & Völkers.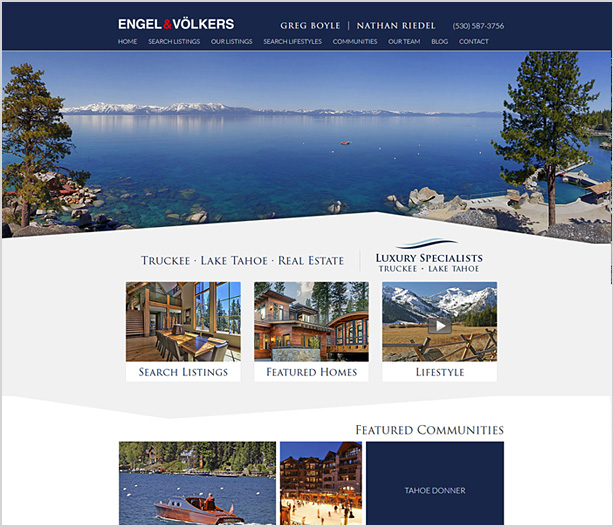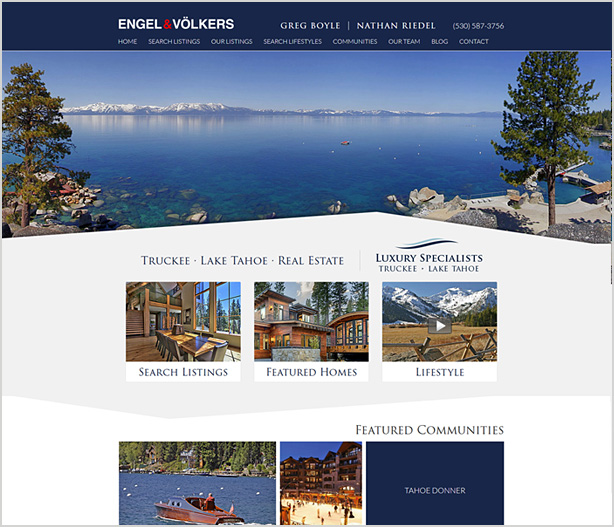 View our custom responsive real estate website AdirondackPropertyforSale.com
The Keir Weimer Team at Select Sotheby's International Realty.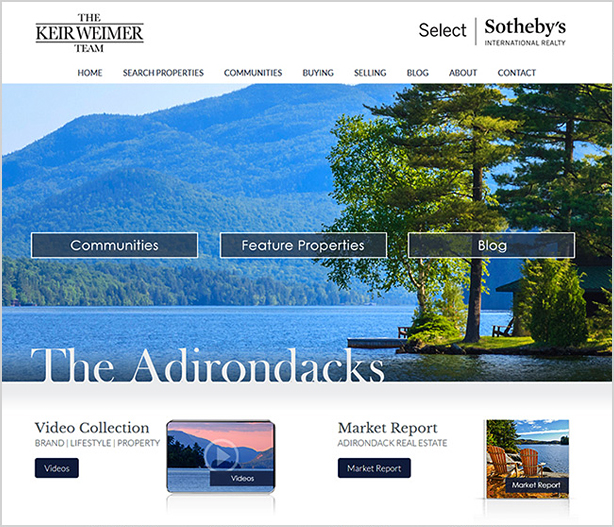 We recognize that although responsive real estate site design can be a great option for many clients, it's not really ideal for the needs of others. To this end, we provide websites with their mobile versions – still catering to the ever grow mobile market.
Resources