FeedBurner is a great tool that will help you stay in contact with your website visitors. FeedBurner can automatically email visitors that have signed up on your site, new information publish. For example, if you write a post about Recent Market Conditions and publish it to your site, FeedBurner will send an email out to all your subscribers to let them know. You can even see who clicked on the link to read the information.
FeedBurner will also turn your RSS feed into a browser friendly web page so visitors that are not familiar with RSS feeds will get a better understanding of what it is and how to subscribe. To see an example visit our support website feed: IDXCentral RSS Feed
To set up a FeedBurner Account you must first have an account with Google. If don't already have an account, then visit our tutorial How to Create a Google Account.
Once you have created your account and logged in…
1. Go to FeedBurner (feedburner.google.com). If you are not logged in to your Google Account you will be prompted to do so.

2. Enter your sites rss feed link. if we set up your site the link will be http://www.yourwebsite.com/feed/rss2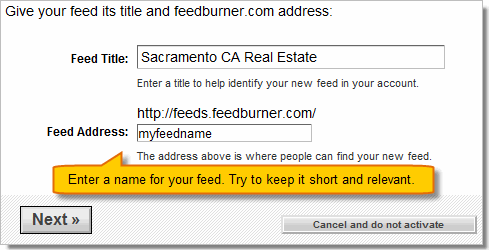 3. enter a short name for your feed. ideally something short that relates to your name or website address.

4. You should see the Contgrats! confirmation page. Click the "Skip directly to feed management" link adjacent to the Next button at the bottom of the page.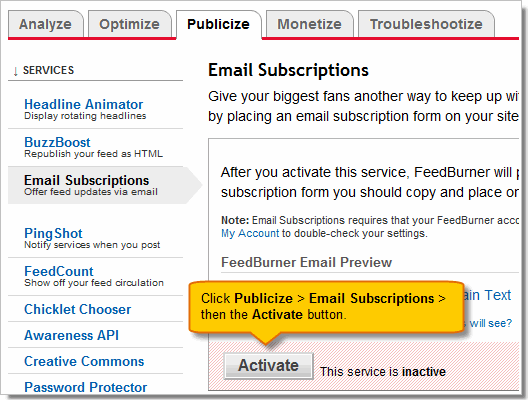 5. To complete the initial set up, click the Publicize tab at the top > then choose Email Subscriptions on the left side. From the Email Subscriptions page > click the Activate button located at the bottom of the page.
6. From here you can follow the instructions to add the form to your website or if we have set up a Content Management Solution website for you, simply send us your new feed name, as set in step 3 above, and we will add it to the appropriate place on your website. IDXCentral Support.
Once your account has been set up, it will take approximately 24 hours before you will start to see data in the report.
For more information about FeedBurner we suggest starting with FeedBurner Help.