Google Analytics is an extremely powerful (free) tool that can help you determine how visitors are finding your website, how they are using your website and give you guidance on what you may want to improve upon.
If you are participating in online advertising campaigns such as Google Adwords or purchasing banner space from another website, this tool will allow you to identify which campaigns are most effective so you can get the best return on your investment.
To set up a Google Analytics Account you must first have an account with Google. If don't already have an account, then visit our How to Create a Google Account.
Once you have created your account and logged in…
1. Go to Google Analytics (www.google.com/analytics)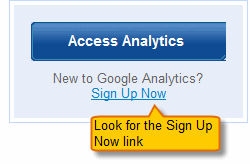 2. Click the Sign Up Now link located on the left side of the page.
3. You will be prompted to enter your Google Account password. Enter and click Sign In.
4. You should see a box titled Sign up for Google Analytics > click Sign Up.
5. Enter your website address (example: www.mywebsite.com), Give your Account a name (such as: MyWebsite.com), Enter your country and timezone, then click Continue.
6. Enter your First Name and Last Name and select your country then click Continue.
7. Review the Terms of Service and check the "Yes, I agree…" box at the bottom of the form > then click Create New Account.
8. Finally, copy and paste the code as shown below and add it to your website as instructed. Or, you can send to us via IDXCentral Support and we can add it for you. Be sure to click the Save and Finish button at the bottom of the page.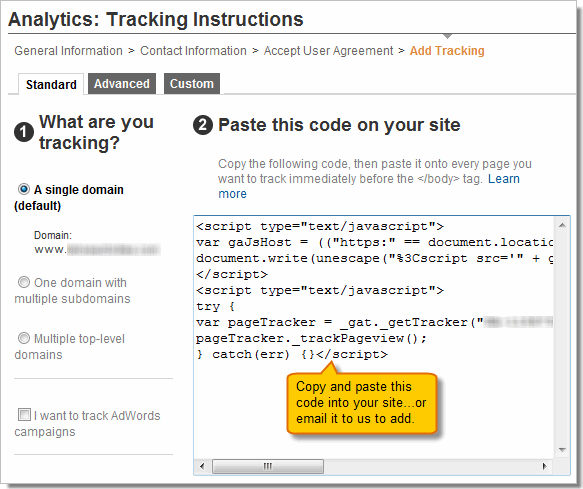 Once the code has been installed on your website pages, it will take approximately 24 hours before you will start to see data in the report.
For more information about Google Analytics we suggest starting with Google's Getting to know Analytics.
Another great place to learn more about using Google Analytics would be to do a search on YouTube for video tutorials (there are several from Google and others). YouTube Search for "google analytics".