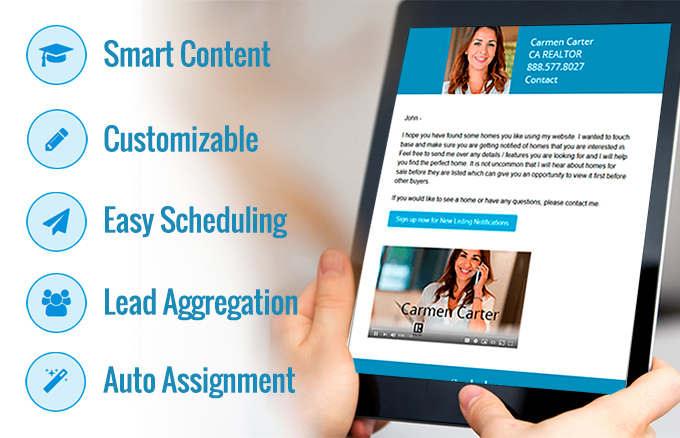 Marketing Automation gives you that important jump-start on lead engagement with personalized, automated campaigns. It's like having a personal assistant that helps keep your clients engaged, educated and up-to-date while keeping your name and branding in front of them. Your Marketing Automation account is ready to go with scripted campaigns, but is also designed to let you easily set up your own custom messages. This allows you to tailor your campaigns with your creative and personal touch.
Think of Marketing Automation as a mini CRM with all the marketing tools, minus the complicated transaction management. It's designed to nurture relationships with buyers and sellers, helping you remain top of mind (and top of their inbox, too). Every new lead receives immediate, personalized follow-up so your prospects never fall through the cracks, even on busy days. Marketing Automation is marketing made easy!
It's well known that email marketing is the most effective method of acquiring leads and turning them into closed transactions. How and why does it work? Ready-to-use email campaigns are automatically sent with listing recommendations and market data based on your leads' property search and viewing behavior. This is called smart content, it's content that leads want to see, it piques their interest and encourages them to look at the email instead of ignoring it. Combine it with MarketBoost and your leads can receive market trend data, too.
An IDXCentral Exclusive Offer
When you purchase iHomefinder's Marketing Automation through us you ALSO receive our tailored drip-email campaigns that include a buyers, sellers, and general follow up campaign. We've gone the extra mile to improved on their "out of the box" campaigns so you don't have to! We'll include over 75 scripted emails, ready for you to use and put into action or customize further. With our scripted emails you can get started on day one!
Customize Your Campaigns
Customizing your real estate drip-email campaigns is easy, add photos, videos, text content, etc. so your emails reflect your business expertise. Or create your own campaigns from scratch! All campaigns include your email branding so your colors, logo, and contact info are all visible and these emails look great on mobile phones too.
Track Your Campaigns
Click-through rates are recorded, so you'll see when a lead is opening your marketing emails and if they're clicking on the listings or links inside. You'll know exactly how effective your campaign is and be able to strategize accordingly. Want to start a marketing campaign targeted toward homes and apartments near a local university or other desirable location? Now you can apply a rule that connects leads reaching you through that landing page to the proper campaign, AND see how effective that campaign is via tracking stats.
If you receive leads from multiple sources, iHomefinder's Marketing Automation can aggregate your leads from over 30 third-party systems. They'll enter your iHomefinder account and email campaigns automatically. Automated email campaigns can be setup to follow custom rules, for example if someone on your site filled out the "What's My Home Worth?" form, they'll be put on the seller's campaign. If someone came to you as a Zillow lead, have them automatically added to the buyer's campaign.
On the go all the time? You can now see the emails your leads have received right on your phone with new Optima Leads app.
Contact us today and find out how you can get access to our exclusive custom real estate drip-email campaigns and start using iHomefinder's Marketing Automation to turn leads into sales. We offer low pressure consultations, we'll review your real estate website goals during the free consultation and see if we'd be a good fit for your real estate website or IDX project.
Let's recap the many Marketing Automation features:
Smart Content -Send automated listing recommendations & market data based on your leads' search and viewing behavior.
Fresh Content – Keep the conversation going by sending always-current content instead of stale, generic campaigns.
Customizable – Tailor messages by mixing your own custom content with Smart Content.
Ready to Go – Your account comes pre-loaded with IDXCentral's tailored drip-email campaigns that include a buyers, sellers, and general follow up campaign
Flexible and Friendly – Build your own great-looking emails with a simple editor that makes it easy to add images, video, and Smart Content.
Easy Scheduling – Set the days or minutes between messages with a few clicks, and re-order messages with a simple drag and drop.
Lead Aggregation – New leads from Zillow, Trulia, Realtor.com, and other lead generation services are automatically imported into your iHomefinder account.
Auto Assignment – Easily create rules that assign leads to specific campaigns depending on their source.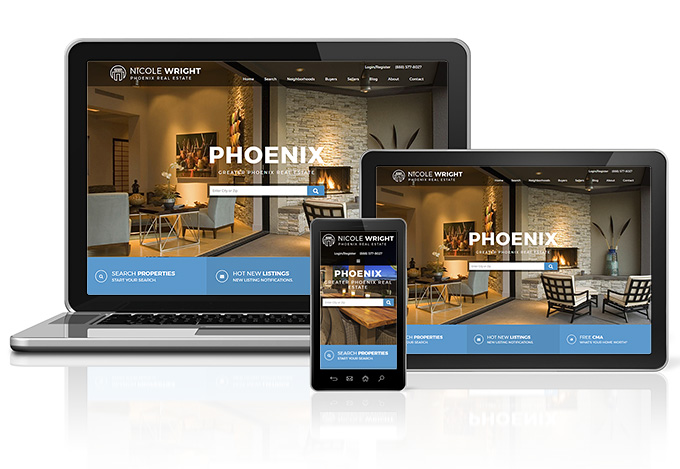 Need help coming up with a game plan? IDXCentral.com has over twenty years of experience working with agents and brokers, put our experience to work for you!
Call (888) 577-8027 ext. 1 for sales, anytime Monday through Friday, 8am to 5pm PST or contact us via email! We'd love to hear from you.