What is IDX? (Internet Data Exchange)
IDX, also known as Broker Reciprocity, is ultimately a policy that allows brokers (and agents) to display one another's listings on their respective websites. An IDX Solution combines this policy with the necessary technology to make it all happen. With the power of IDX, REALTORS® can display their own listings as well as any listing within their MLS, creating a mutually beneficial system. When the pioneering REALTORS® of the past got together and agreed to help one another out, they couldn't have imagined how it'd all turn out.
The History of IDX
The roots of broker reciprocity reach back as far as the 1800s, but it wasn't until the year 2000 that the flood gates were unleashed and IDX was born – REALTORS® and brokers could finally show listings on their own sites, rather than rely on Realtor.com alone for online listings. IDXCentral helped pave the way forward by developing our own original IDX Solution, and establishing what would be only the beginning of our 20+ year history of building real estate websites with fully integrated IDX.
Why is IDX so important for my real estate website?
In our experience, 80% or more of your site visitors will be buyers looking for listings – if your site doesn't have an IDX, those visitors will move on to the next site that does. IDX encourages visitors to return to your site again and again as they look for the latest listings, repeatedly exposing them to your branding.
IDX can ensure your leads think of you first when they're ready to contact a REALTOR®; with New Listing Notifications you're able to keep your name and personal brand at the forefront of your lead's property hunt. Akin to having your own personal assistant, IDX will automatically send an email with the latest listings that match the leads favored search criteria. This ensures your leads will stay informed and always have your contact information within quick reach.
Use IDX to showcase YOUR listings by using the Featured Listing tool, giving extra exposure to your client's listings. Or use it as a great marketing tool that can give you the leg up when competing to land a new listing you may potentially represent. If you don't have any listings of your own to use, that's fine too! You can always take advantage of the IDX to display real estate around your area, drawing in buyers & sellers alike.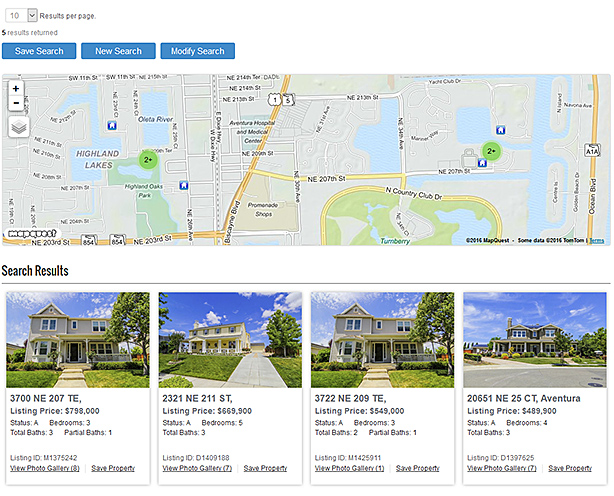 Ultimately, to succeed in real estate you have to stay competitive! It's more important than ever to have a mobile responsive website AND IDX that caters to the growing mobile market – a trend that has no end in sight! Get ahead while your competition falls behind. Keep in mind that while some national companies are offering low cost websites to their agents, most can't keep up with the shift to mobile responsive design, which is ultimately hurting their agents. As an agent, having a site of your own (not proprietary to your company or a third party company) is in your best interest. Build your brand, grow your business, and keep all of the work you put into your site for years to come! For the agent in need of a website, we offer both semi-custom and fully custom responsive real estate websites for real estate professionals and/or their office, complete with IDX integration.
Other features of a great IDX:
All leads are YOUR leads: IDX leads go directly to you, when you refer your buyers to a company site you will be losing business
SEO friendly & indexable listings: all listings are indexed under your URL, giving you valuable SEO benefits
Mobile IDX Search: phone & tablet users will be able to use the IDX with ease
Interactive Mapping: an easy to use visual tool that allows people to search a specific area via map points
New Listing Notifications: automatic emails are sent to your leads as new listings enter the IDX
Lead Capture Forms: allows your leads to sign up with you, can be set to varying levels of intensity
WordPress Compatible: great for any WordPress site, including our Responsive Real Estate WordPress sites

How do I go about getting the best IDX for my site?
In our 20+ years of experience, including developing our own IDX Solution, we've learned that no single IDX Solution can meet every client's needs. In order to make sure you get the solution which will serve you the best, start by asking yourself some simple questions:
What type of properties do you typically deal with?
Is there any special criteria your clients need to search by?
Is the solution for yourself only, a small team or an entire office of agents?
Do you want / need control of the search criteria your visitors use to find properties?
Do you want / need to customize the design and layout of the IDX data?
These are just a few of the questions that will help us recommend the best solution for you – and as experts at IDX integration and longstanding members of the industry, we have a deep understanding of what goes into creating a powerful IDX. We've been at the forefront of IDX since the start, and have since partnered with two of the largest IDX providers around; we provide IDX to REALTORS® from Baja Mexico, the U.S and Canada.
We've witnessed the shift in technology in the real estate industry, propelled by IDX and now, the move to responsive IDX. As technology continues to progress, we'll continue to grow and adapt alongside it, and you should too! View our Optima Express demo and Platinum IDX demo to see the solutions we offer, and our tightly integrated IDX layouts included with every IDX integration.
Why IDXCentral?
IDX integration can be a complicated and sometimes tricky process, especially for non-developers. But even experienced developers can struggle with IDX integration, regardless of which IDX Solution you choose, there could be something that doesn't look or work the way you were expecting. These types of issues require some modifications to the code, and that's where our expertise at IDX integration comes in. We can save you (or your developer) time by knowing how to fix those issues, and we can offer creative ways to make your IDX even better.
Having served over 5,000 real estate agents and brokers, we know how to help you navigate the murky waters of the IDX world. Our sales team will work with you to understand your real estate goals and IDX needs, recommending the best solution for you. Once you've made a choice, our support team will be there to assist with your IDX should you need any help. Contact us to get started today!