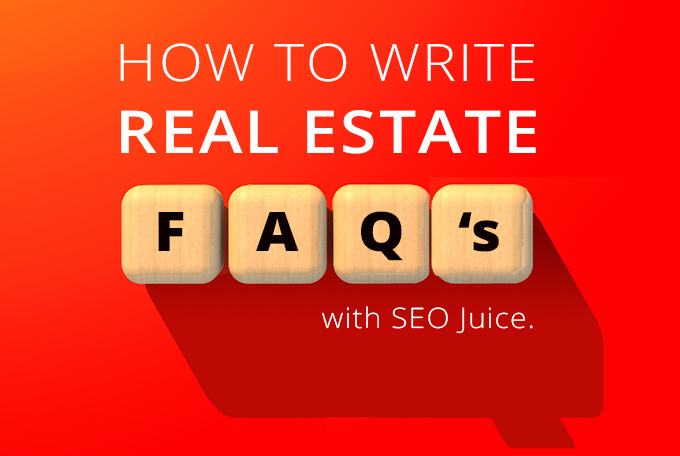 Should you take the time to include real estate FAQ's on your website? In short, the answer is a resounding yes! In this article we will cover how having real estate FAQ's on your website can benefit your business, improve your SEO scores, and establish your company as a knowledgeable resource for your clients. To help you get started, we have also included a few sample FAQ's and answers, along with examples of FAQ's that you can answer with content relevant to your audience, whether they are buying or selling. Let's get going!
What are the advantages of FAQ's on your website?
There are several reasons that real estate FAQ's on your website can be valuable to you!
Educate your buyers and sellers. FAQ's on your site are accessible to any audience interested in real estate. The FAQ content can extend to those wanting to buy, those wanting to sell, and anyone in between. We know the process of buying and/or selling can be daunting and often stressful for potential clients. Concise and easily understood questions and answers can engage your readers, as they will offer information that will apply to many of your leads. Real estate FAQ's on your website also serve to make potential leads more comfortable and informed as they begin their search. When it is your company offering helpful information, they are more likely to seek you out for their real estate needs.
Answer niche market questions. Niche market details can be a great way for local leads to identify with you personally, and can also serve to inform those who only have limited knowledge of your area. You have a vast understanding of the in and outs of the real estate market. Offering an FAQ section on your website covering both common and tough real estate questions illustrates your knowledge and skill in your field. In addition, tailoring some of the Q&A to your local area also can show potential leads how well you know your market, and give a strong impression you can provide information and service that others may not.
Stand out from the competition. In a similar way, adding FAQ's to your website will help you stand out from your competitors. This gives you an edge that potential clients will appreciate, as you are offering them a no-pressure way to become more knowledgeable. When your FAQ's lead to additional questions (and they will!) from your leads, they will be more inclined to reach out to you first. After all, you are one of the few taking the initiative to help them to begin with.
Boost your sites SEO with valuable content and inner linking. Adding FAQ's to your real estate website equals adding content and valuable SEO internal link juice within your website – something search engines love. In this article we will offer great tips on where to create SEO internal linking to valuable pages like Search Listings, Featured Listings, Neighborhood Profiles, Market Reports, New Listing Email Notifications, Testimonials etc. The inner linking also helps guide your visitors to valuable pages on your site and keeps them engaged. For more easy to understand insight read 7 Internal Linking Strategies That'll Boost Your Content Marketing SEO.
The basic theory is this: Internal linking strengthens the overall search-optimized value of a website. Inner linking does so by providing clear paths for spiders, prolonged sessions for users, and a tight-knit network of pages and posts.
– Neil Patel, Co-founder of NP Digital
Given all these great benefits, let's take a look at some examples to help you start your FAQ page. These are for common questions clients have, but you can always add a few tough questions for those further into the buying or selling process.
Common Real Estate FAQ's for Buyers
SEO Tip: Any text that is italicized below we suggest you hyper link it to the correlating page on your website. This creates valuable SEO inner linking as well as helps guide visitors to other pages on your site keeping them engaged.

Q. Where do I start when buying a home?
A. The best place to begin when you have decided to move forward with buying a home is to speak to a lender. The real estate market is moving fast these days, so coming to the table with a mortgage pre-approval will help get you the home you want, when you want it. Depending on your situation, we can help you select a lender that will work best for you. It's important you know what your buying power is before you start looking at homes for sale.
Benefit: This answer generates leads, as many potential buyers walk into the process with little knowledge. Indicating you are the best place to start to help them will ensure clients continue working with you. This also lets the client know you have a solid network available to them.
Q. What is the MLS?
A. The MLS or Multiple Listing Service shows the available listings for sale in a particular area so that you may search according to your specific needs and criteria. Search listings on our website or Search by Neighborhoods for details on our more popular neighborhoods. Stay informed of current market conditions by visiting our market reports and be sure to contact us for any questions you may have.
Benefit: This is a great opportunity to educate your customers on how your real estate website with IDX can work for them, as opposed to using other website resources. This will keep those buyers on your website, as it is designed for your local market with information that you can make available to them. Be sure to direct your readers to the MLS search on your website using a hyperlink. Don't overlook links to other related MLS pages on your website like Featured Listings, Sold Listings, Market Reports etc. This creates inner linking on your website that search engines love to see.
Q. I am new to the area, how do I know where to look?
A. Our agents are your best resource for learning pros and cons for the region. In combination, our agents have 25 years of experience working in the area. In addition to our experience, our website offers all the information you need to help guide you to your new neighborhood. Visit our detailed neighborhood profiles for a list of homes for sale, homes sold and detailed neighborhood information. Sign up for new listing email notifications and stay informed when new listings hit the market.
Benefit: Responses to this question allows you to show off your local knowledge. Take this as an opportunity to direct visitors to neighborhood profiles on your site with valuable information such as homes for sale, homes sold, and area descriptions. Be sure to prompt them to sign up for new listing email notifications that marry leads to your site. Our most popular WordPress real estate websites include our Neighborhood add-on so you can offer these great features to your visitors. Our advanced IDX solutions include new listing email notifications so you keep your clients informed. A polygon search is also available for visitors to create their own specific search parameters.
Common Real Estate FAQ's for Sellers
SEO Tip: Any text that is italicized below we suggest you hyper link it to the correlating page on your website. This creates valuable SEO inner linking as well as helps guide visitors to other pages on your site keeping them engaged.
Q. How much can I sell my home for?
A. Our agency is committed to helping you get the most out of your home sale. We can offer you a Free Market Analysis to estimate your home's value along with recent real estate market sales to help determine what is the best price to list your home. With this information, you can easily determine if an offer is worth accepting. When you work with us we help in the negotiation process to help guide you along.
Benefit: Encourage sellers to reach out with a hyperlink to the Free Market Analysis form on your website. Make your website a resource for buyers and sellers so they can see recent homes sold on similar listings, how many days spent on the market before selling, and other helpful details. Ask us about MarketBoost for valuable features buyers and sellers are looking for online and that marry them to your website.
Q. How will you market my home?
A. We are fortunate to have amazing opportunities to market your home. Our website, for example, will have your home displayed with beautiful images and the details that buyers look for. In addition to the easy-to-use design of our site, we can offer buyers video tours of your home, local attractions nearby, information on nearby schools, and other relevant details to help market your home. Our MLS search options help buyers find exactly what they want. We can also add your home to our featured listings, giving it extra attention.
Benefit: This response will of course vary based on your marketing techniques, however real estate website design is vital to a seller's success (and your commission!) WordPress real estate websites are ranked #1 CMS for realtors because of ease of use, website ownership, SEO advantages, array of real estate plug-ins and much more. WordPress real estate websites designed by IDXCentral are sleek, stylish, professional, and well suited to luxury homes that will appeal to buyers and sellers alike. Having the best real estate website in your market sets you apart from the competition. Both your company and your clients benefit from outstanding web design.
Q. Why should I choose your company to sell my home?
A. At our company, we are dedicated to helping our clients get the most out of their home. We work hard to establish positive relationships with potential buyers. We can see who is viewing your home through our website, and track those leads, so we can follow up with personal attention to their needs. Additionally, we have strong testimonials from former clients. Knowing we are at the top of our market will bring buyers from our website to your front door.
Benefit: This is a great chance to inform your potential leads about your sales successes, average days on market, or frequency of overbids. This is your opportunity to shine! List your personal and/or company accomplishments, awards, mission statements, charity work and of course testimonials! Need some inspiration? Read about 10 Steps for Writing Your Real Estate Agent Biography
Additional Real Estate FAQ Ideas
Below we have included some other questions to consider adding to your FAQ section. These questions are open ended, allowing you to expand on how YOU can help your client. Demonstrate your extensive knowledge of the market area by answering the FAQs with the personal touches that only you can offer.
*We should note here that some questions will apply to both buyers and sellers. It is advisable to use different wording of these similar real estate FAQs to tailor the questions for each kind of lead which will also help you to avoid redundancy of SEO terms. For the same reasons, the responses should also not be the same.
Real Estate FAQ Examples for Buyers:
Q. How long does it typically take to buy a home?
Q. What is the market like in this area? How quickly do homes sell, and how common are over-bids?
Q. What are the pros and cons of buying a rental investment property?
Q. Why do I need a realtor, isn't it cheaper to not pay commission?
Q. Should I look for short-sell or foreclosure properties?
Q. What is equity, and how does it benefit me?
Q. Can I include repair costs or a home warranty in the mortgage amount?
Q. What are the covenants or HOA policies for homes in this neighborhood?
Real Estate FAQ Examples for Sellers:
Q. How long does it take to sell a home like mine in this area?
Q. How do I know if an offer is too high or too low?
Q. Is staging my home necessary? If so, do you know someone that will help me prepare my home for sale?
Q. What short term changes can I make to my home to increase the selling price?
Q. Is it worthwhile for me to pay for an inspection of my home if the buyer is required to do so anyway?
Q. Do I need to sell my home first in order to buy a home that suits my family better?
We all know coming up with fresh content can be a challenge. Website FAQ's are a great opportunity to offer original content, improve your SEO score, and boost your leads. Best of all, creating real estate FAQ content is easy. Especially considering you already know all the answers! The secret to keeping your content new, and SEO stats up, is having a blog platform (CMS) that is simple and easy to use. Talk to us about our WordPress real estate website designs built on the #1 content management solution (CMS) for realtors!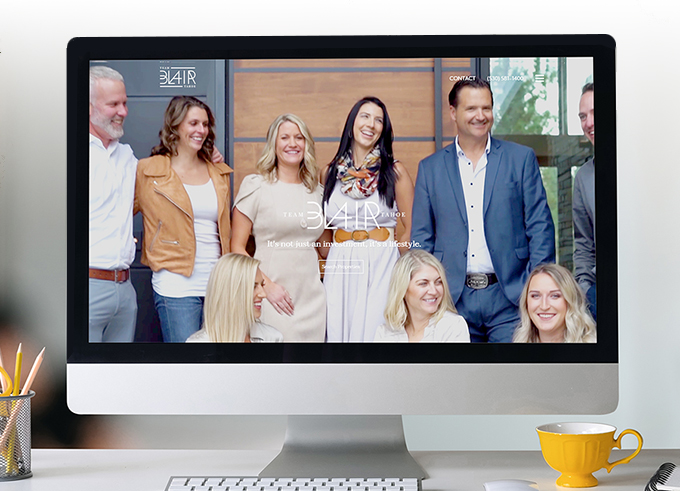 Let us build something great!
Your website is the #1 key to establishing your brand – it's your online business card. In today's real estate market it is absolutely essential to have a website that reflects all you have to offer, as it is your opportunity to illustrate how you stand out and above the rest! A beautifully designed and highly functional site built just for you by IDXCentral will give you that edge. Our websites speak for themselves, so take a look at some of the sites we have created for Realtors just like you. You can choose from our selection of Semi-Custom websites, our Limited Edition featured sites, or create your own totally Custom site! Best of all you own your website and it grows with you.
Call us at (888) 577-8027 ext. 1 for sales, or send us an email to get started with a free consultation.
View Our Real Estate Website Designs
Get Pricing and Features