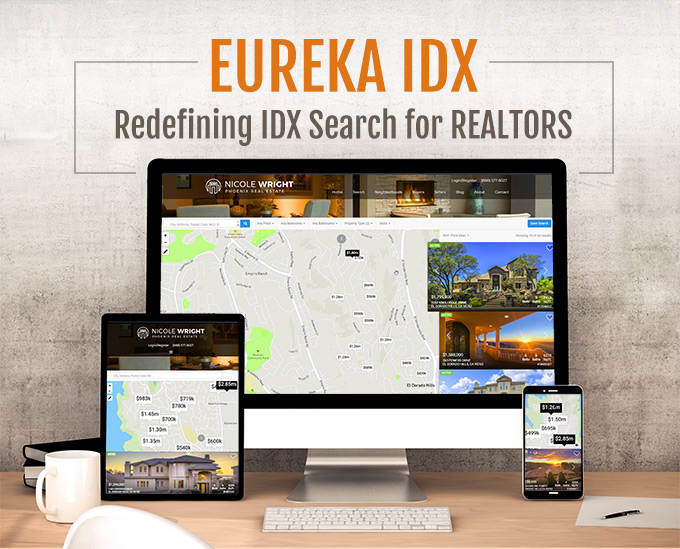 iHomefinder's Eureka IDX solution is the advanced portal-quality MLS search that's leveling the playing field. Now agents and Brokers can offer a similar search to that of top portal sites like Zillow, Trulia, and Redfin with Eureka IDX solution. This the latest and maybe the most advanced IDX plugin for WordPress real estate websites – let's review.
"Until now, most agents and brokerages couldn't provide an experience on par with the major search portals. This proves especially troubling when agents purchase leads from Zillow, send them to their sites and then offer a poor search experience," said Brett DeSchepper, President of iHomefinder. "Eureka fills the gap by offering a well-designed, mobile-first search experience that keeps visitors engaged on agents' sites."
Some homebuyers and sellers begin searching on these massive portal sites like Zillow, but once they get familiar with those search tools, they may find the IDX on your site more difficult to navigate (Learn about What is IDX?). iHomefinder's Eureka IDX solution changes the game by bridging the gap between IDX and portals, giving leads an intuitive portal quality search with a customer friendly, simple interface. It's the latest, and maybe the most advanced IDX plug-in for WordPress real estate websites – our area of expertise. Let's review some of the new features of the iHomefinder Eureka IDX solution.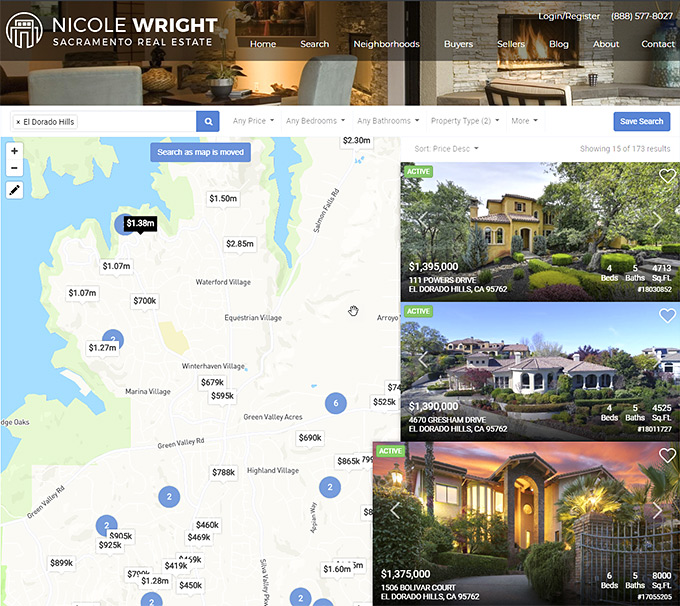 View Eureka IDX Live Demo
Homebuyers can begin their search using a universal search bar with inputs for locations such as cities, neighborhoods, subdivisions, school districts, etc. as well as addresses and MLS IDs. The results page and map search are fully integrated, with a large map on the left and listings with large scrollable photos on the right, and everything is responsive so mobile users have equal ease of use to that of desktop users. This is crucial to landing new leads as 60% and more of homebuyers primarily use only a mobile device to search.
Pricing, home address, number of beds and baths, square footage, listing status, and a full gallery of photos can be seen for each listing immediately from the results page. It's so easy to use and review results, your leads won't have any reason to return to Zillow or Redfin. But if you're wavering on how important it really is to have an IDX search on your site (I mean, leads can just go back to Zillow right?) think of this – the competition! You don't want other agents and brokers appearing as advertisements while your leads are searching, if they find the listing of their dreams YOU need to be the one to get their contact info and the Eureka IDX solution will help you do just that.
Leads can save searches and you'll be able to track what searches your homebuyers are performing and which listings they're saving as favorites. While this was already part of Optima IDX, the new Eureka IDX is more inviting, if not a little addicting. This thoughtful and easy to use design makes searching enticing for both techy homebuyers looking for a first home and seasoned buyers – a must have for today's cutting edge real estate websites!
User-friendly with a simple interface
Results and map are integrated
Details and photos are easy to preview
Search essentials are always visible
Thoughtful mobile design
Very inviting and a maybe a little addicting
IDX plugin for WordPress real estate websites – our specialty!
Eureka IDX solution also includes MarketBoost, if you're not familiar with this popular iHomefinder option, check out our iHomefinder MarketBoost Review to learn more about automated market reports and view this example market report on our WordPress theme called Phoenix. MarketBoost saves you money and time with automated, up-to-date market information and it also makes you look like a local expert in the areas you focus on. MarketBoost will keep your clients informed on current conditions and notify them of changing conditions through an automated email system. Win-win!
Offering market reports and a portal quality search experience can turn your site into a resource leads return to again and again, a true must have for cutting edge real estate websites. Agents and brokers looking to replicate the popular search portals of Zillow and Redfin can finally offer a comparable experience on their own sites and reap ALL the benefits.
Want to learn more about all our IDX solution options? Maybe your shopping for a new lead generating real estate website where the IDX is integrated for you?
Contact us for a free consultation at (888) 577-8027 ext. 1 for sales.
Monday through Friday, 8am to 5pm PST.
Get Started with Eureka!
Interested in learning more?
Do you have iHomefinder already and want to make the switch to Eureka IDX?
Reach out to us today and we will be happy to help.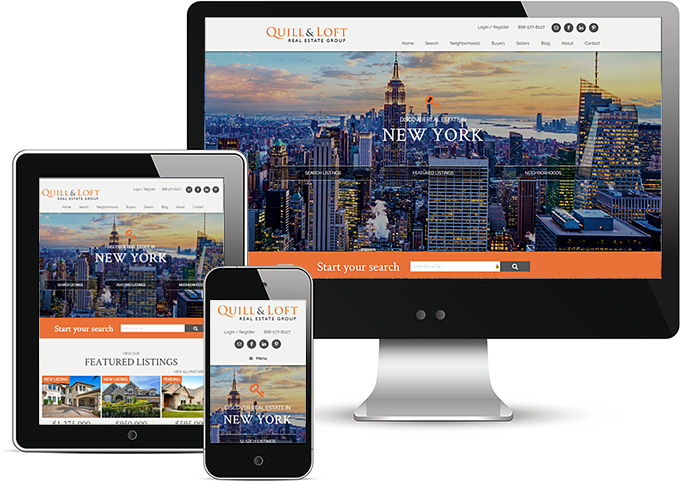 Need a powerful new website combined with the best IDX solution for your needs?
Having a powerful real estate website that you own, has become an invaluable tool for REALTORs®. It's an engaging way to generate new leads and connect with today's clients who expect their REALTOR® to be marketing online. With our WordPress real estate websites, hand-designed by our talented designers, you can leave the creative design work to us. Our great support staff will help train you so your new site up and running smoothly.
Having served over 4,000 REALTORS®, we have a solid understanding of real estate website design, IDX sales and integration. We would love to show you what we can do for you.
Contact us for a free consultation at (888) 577-8027 ext. 1 for sales.
Monday through Friday, 8am to 5pm PST.