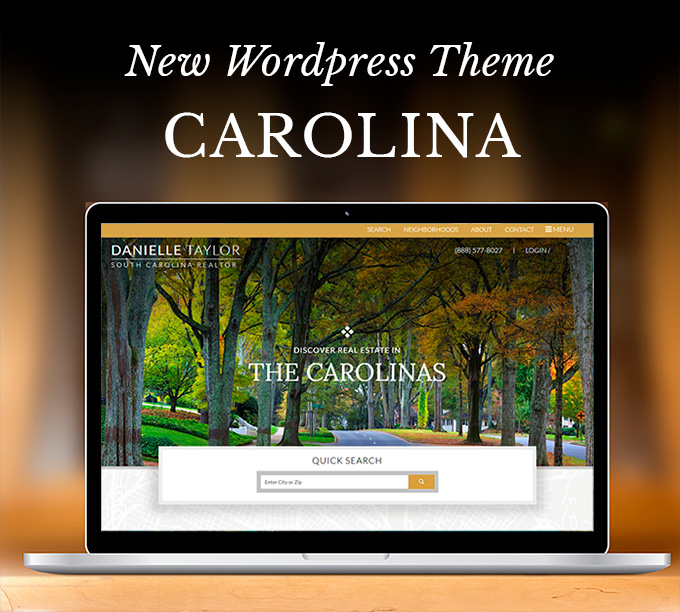 Professional. Sophisticated. Luxury. Celebrate the start of 2020 with our brand new, sophisticated WordPress real estate theme – The Carolina. Designed and developed by our talented team with over 25+ years of experience, "The Carolina" speaks to the modern consumer and will set you apart from the competition. 2020 is the year to make your mark with the most impressive online presence in your market!

The Technology Behind the Beauty
The Carolina offers the best-in-class design paired with the ease of use of WordPress making it ideal for agents who want control of their website. It goes beyond with new modern functions for desktop and mobile users, including a hamburger menu for a balanced, clean navigation bar. The homepage can feature rotating photos or full-screen videos, and everything is fully customizable. Add a portal-inspired home search and experience exceptional localized search tools, open house and market trend data, unlimited landing pages, and so much more.
The Carolina comes with our WordPress real estate add-ons, including an Agent Roster, Featured Listings, Neighborhood Profile, Landing Pages, Testimonials pages and more. With built in photo galleries and stunning internal side bars (with customizable call to action buttons), you'll want to utilize your website to the fullest extent and routinely add content for search engine optimization. We also include a number of premium plugins, and you can expand on by adding your own! Just like all our sites, The Carolina is a website you own and grows with your business – so have piece of mind this site is designed for your long-term success.
For Buyers
The savvy buyer wants to be sold more than "just a home" – they're looking for a lifestyle. They want to fall in love and be impressed, and they want a home that doesn't just look like a million dollar listing, but feels like one too. "The Carolina" is our take on what it feels like to live that life. With a design like this, you'll have potential home buyers excited for the future. Easy to use, yet professional and sophisticated, "The Carolina" brings out the dream home in every buyer.
For Sellers
Sellers need their listings to leave the best-possible first impression on potential buyers, and with "The Carolina" you can offer exactly that to your leads. Enhanced listings and customizable featured listings allow you to shine a light on your luxury listings and set yourself apart in any listing presentation. Immerse your sellers with gorgeous property detail pages, video capable listings, photo galleries, a CMA and more.
Eclipse the Competition
A best-in-class front-end design is what you'll receive with "The Carolina". We'll brand this classy design with your custom branding colors, logo, agent headshot, and more. Our developers get hands on, refining the design to work with your company branding, until the result is a website that makes your mark as the most impressive brand in your market.
Be the First in Line
Don't wait for the competition to catch up, act now and give us a call to get started, or send us an email. We're excited to watch our agent and broker clients win over leads and crush the competition with this elegant yet intricate new design. There's a reason we've been in business for 27 years developing the best real estate website designs on the market – let us show you what we can do.
Contact us today! Take advantage of our 20+ years of website design knowledge and get a truly unique design that will set you apart from all the rest.
Call (888) 577-8027