Ready to boost leads with a game-changing IDX solution for your real estate website? It's time to make a change to Version 10, iHomefinder's Premium Map Search.
"Statistically speaking, Premium map search sites outperform their form-based counterparts, boasting an impressive 50% increase in leads and a 30% uptick in listing views. With iHomefinder's Premium Search, Realtors gain access to a wealth of innovative features and benefits, designed to not only meet, but exceed the expectations of their discerning clients."
– iHomefinder
As real estate website developers for over 25 years, we wanted to take this opportunity to spotlight a game-changing IDX solution for real estate agents and brokers seeking an edge over the competition – the latest version, Version 10, of iHomefinder's Premium Map Search! This beautiful portal based IDX search is a testament to iHomefinder's 20+ years of dedication to providing cutting-edge IDX Broker Reciprocity solutions. Realtors are thrilled with the features and improvements that iHomefinder has packed into Version 10 Premium Map Search. Each element is designed to enhance lead capture and user engagement, a necessity in an increasingly competitive online landscape. Read on to learn why iHomefinder's Premium Map Search stands out from the crowd.
Why such a big focus on the new version of Premium Map Search?
Today's discerning clientele have grown accustomed to the sophisticated real estate search experiences provided by Redfin and Zillow. Failing to offer your website visitors high-caliber search functionality will undoubtedly result in promising leads clicking away from your site and toward the industry giants. Why risk losing people already on your website when you could be using the user-intuitive Premium Map Search, with its included lead capture, activity information, and robust marketing features to convert those leads to clients?
Those who know this industry well also know that nothing is more expensive than a missed opportunity. By relying on other platforms, you forgo critical insights that could carry customers through your sales pipeline. As a Realtor who has already invested in your brand and web presence, the Premium Map Search is the heart of your website that makes it invaluable. This will allow you the time and energy to educate buyers and sellers, nurture your leads, and focus on client retention for the long term, making the Premium Map Search an indispensable component of a successful online strategy. We invite you to view Version 10 Premium Map Search for yourself.
Universal Search
In the realm of IDX solutions, the Premium Map Search stands apart with its remarkable feature functionality surpassing even its predecessors. A prime example is the inclusion of Universal Search, an exclusive feature to Version 10, which offers users versatile search capabilities by encompassing a wide range of unique parameters. Leads can search not only city, postal code and county, but also by lifestyle interests like certain condos or properties near their favorite golf course. This level of specificity caters to the unique needs and desires of the most savvy real estate buyers.
Polygon Map Search
iHomefinders Polygon Map Search is an innovative and user-friendly tool designed to help homebuyers and real estate professionals easily find and visualize properties within a specific area on a map. Users can draw their desired search area directly on the map by creating polygons, which allows for a more precise and targeted search compared to conventional search methods that rely on predefined boundaries, such as zip codes or neighborhoods.
When building out Neighborhood or Popular Searches, Realtors can also use the Polygon Map Search to define unique areas in their market. Here is an example of the Polygon Map Search used to define Lake Tahoe Lakefront Listings a Popular Search in the Lake Tahoe market.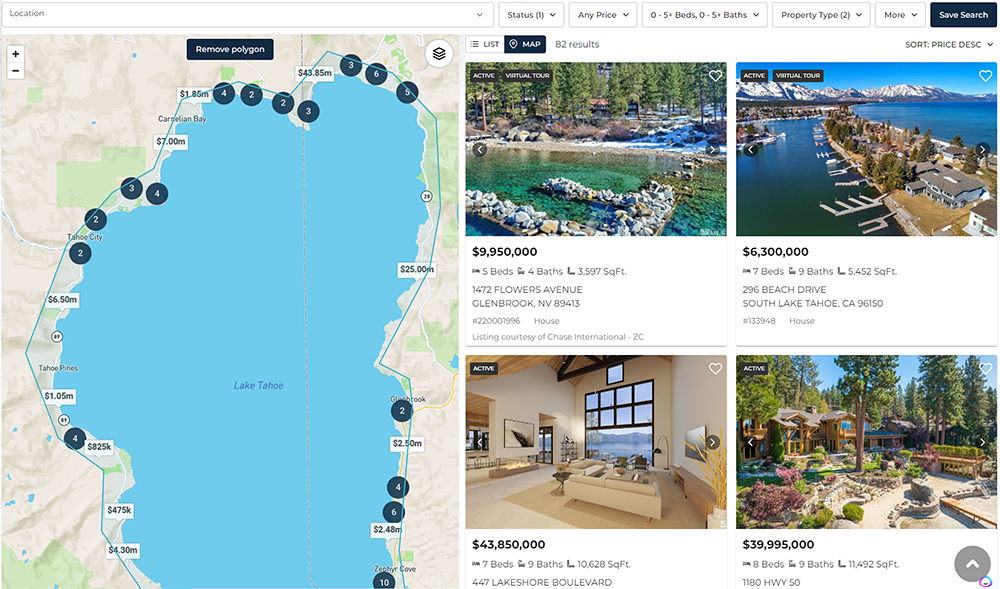 Property Profile Enhancements
iHomefinder's latest Premium Map Search also demonstrates their commendable commitment to lead capture, evidenced by the introduction of four strategically chosen call to action options on each property details page. Visitors can opt to Share, Save, Schedule a Tour, and Request Information. The placement of two "sticky" calls to action – Schedule a Tour and Request Information – remain prominently visible as users scroll, ensuring continuous opportunities for engagement. These dynamic call-to-action features can be moved based on your website layout preference.
Visitors want to see listing photos, and the ability to showcase them in the best possible light is key. There are two new options when displaying property listing photos with the Premium Map Search. The Thumbnail option displays listing photo thumbnails at the bottom of the photo display. The second option is a Photo Carousel which displays a filmstrip-style band, with previews of the previous and next photos. You can choose the one that works best for your site design and preferred aesthetic.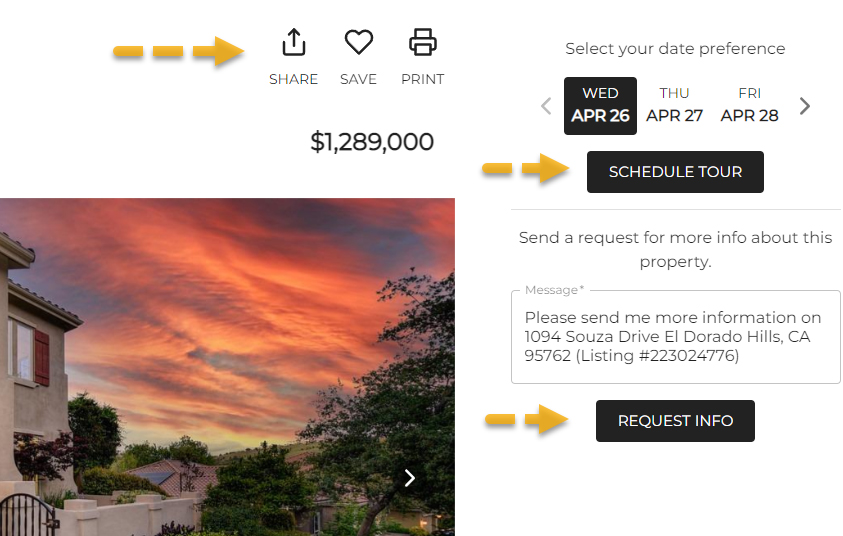 The aesthetic design overhaul of the property details pages is not only refreshing, but also highly functional and engaging. The clean design, skillful use of white space, and user-friendly navigation mirror what one might experience on major real estate portals, but without leaving your site. This meticulously designed approach to layout enhances the overall user experience and interaction.
Built-In Virtual Tours
The Premium Map Search continues to impress with its array of sophisticated features. Among these is the integration of virtual tours which are embedded within the property detail pages. The virtual tour will automatically play when clicked from within the property detail pages. This allows visitors the ability to view virtual tours hosted on platforms such as YouTube, Vimeo, or Matterport – without ever leaving your site.
Similar Listings
Perhaps most intriguing new functionality is the use of artificial intelligence to power the Similar Listings feature. By analyzing individual visitor's behavioral data, the platform generates personalized listing recommendations within each property details page, allowing for uninterrupted engagement and user insight. With every new feature, iHomefinder's Premium Map Search masterfully combines advanced technology with practical utility, setting a new standard in the IDX solutions space.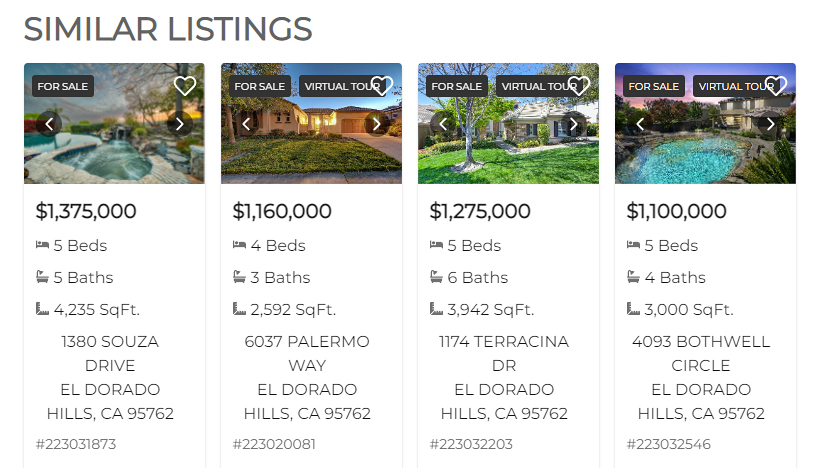 MarketBoost Automated Market Reports
Ever wish you could offer your visitors up-to-date real estate market information, yet find that you are constrained by time or resources (or both)? Are you wanting to boost your credibility and become the go-to real estate expert in the markets you serve? The solution is iHomefinder's MarketBoost feature.
Included with the Premium Map Search, MarketBoost compiles automated market information by your chosen criteria – even for niche real estate markets. The results are automatically rendered in a professional report format which can be displayed on your market pages or emailed directly to clients. This valuable tool is what buyers and sellers need to understand and assess ever-evolving real estate market conditions.
Visitors can subscribe to Monthly Market Reports delivered to them every month with your specific branding included. Beyond monthly reports, MarketBoost can also send out similarly branded weekly emails featuring new open homes to tour. Coupled with daily updates on new listings, price changes, and sold properties. This feature ensures that you remain at the forefront of your visitors' minds as an indispensable resource in their real estate journey.
Marketing Automation
Marketing Automation allows you to convert more leads with smart, automated follow-up. It's like having a personal assistant that helps keep your clients engaged and up-to-date while keeping your name and brand in front of them. With Marketing Automation your account is ready to go with scripted campaigns, but it is ideal for those agents who want to set up their own customizable messages for a personal touch. Stay in-touch with prospective buyers and sellers without all the extra work.
SEO-Optimized HTML Tags & Markup
iHomefinder has incorporated SEO-optimized HTML tags and markup across all elements associated with the IDX ensuring search engines can effectively index each property detail page. This must-have feature bolsters your SEO strategy and solidifies your online presence, an absolute necessity for success in our fiercely competitive industry.
Integrate with Any Website
Version 10 Premium Map Search seamlessly integrates with any website such as WordPress, Squarespace, Wix, Webflow, and beyond. No iframes or subdomains are ever required so your website gets all the SEO benefit. Your site now becomes an invaluable tool for your buyers and sellers while giving you all the powerful features you need to nurture and support them. Ask us how we can integrate IDX into your website!

It is clear that iHomefinder's Premium Map Search and its included features offer forward-thinking real estate agents and brokers an edge above the rest. By offering a state-of-the-art mapping IDX solution that rivals national search portals, iHomefinder empowers Realtors with a wealth of innovative real estate tools designed to enhance user engagement, facilitate lead capture, and aid client retention.
The introduction of features like Universal Search, Property Profile Enhancements, Built-In Virtual Tours, Similar Listings powered by AI, MarketBoost and Automated Market Reports demonstrates iHomefinder's commitment to providing cutting-edge technology, technique, and practical utility for real estate professionals. With proven gains such as a 50% increase in leads and a 30% uptick in listing views over its form based counterparts, iHomefinder's Premium Map Search is the ultimate tool for any Realtor looking to leap into the new era of real estate technology.
Where can I find examples of great real estate websites with Premium Map Search?
Here are some great client examples of Realtors who have the Premium Map Search working hard for them.
Kyle Krzeminski PA – Allison James Estates & Homes
Fawne Hayes, Chase International
The Westall Real Estate Team, Sierra Sotheby's International Real Estate
Heather Ferguson Realty Group
Michelle Keck, Berkshire Hathaway
Lake Almanor Brokers – Chase International
Unlock the Future of Real Estate Success: Discover how iHomefinder's Premium Map Search will optimize your online presence and skyrocket your success! Don't miss out on this game-changing opportunity – contact us today for a FREE personalized consultation and explore how iHomefinder's Premium Search can transform your business.