Best IDX Integration Practices : Maximize Your IDX Features is the first in a series from IDXCentral on getting the most from your Realtor website! We all know a digital presence is necessary in our modern world, which makes for stiff online competition. After all, how many real estate professionals do you know without a website? The trick is how to make your online presence stand out above the crowd.
At IDXCentral we are committed to your success. This series will dive into the various website features and IDX solutions offered by IDXCentral, and how to use them to your best advantage. Not only will we build you the best WordPress real estate website for your online success, we will help you get the most out of it!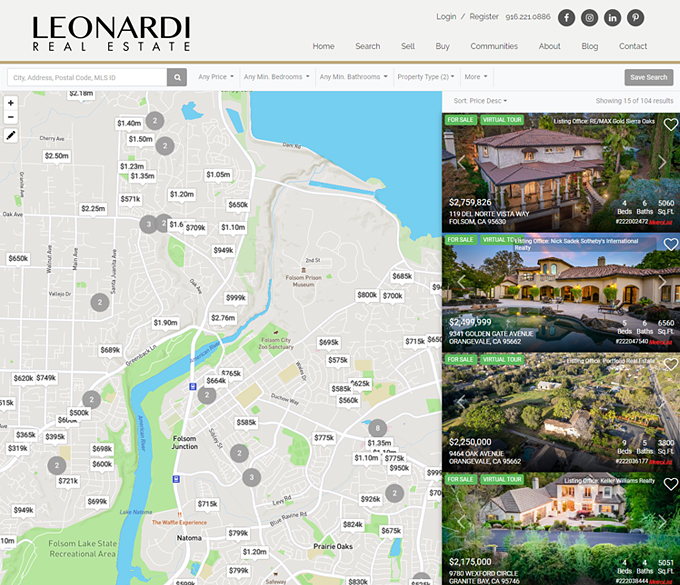 Maximize Your IDX Features
When we are talking about how to get the most out of your real estate website, IDX is the perfect place to start. It's time to think of an IDX (Internet Data Exchange) as being more than an online MLS search – it truly is a marketing powerhouse! The IDX options we provide offer multiple customizable features designed to help you tailor your website to what you want to emphasize about your real estate markets. This article will show you that IDX isn't just one tool, it is a veritable Swiss Army Knife for real estate website marketing. Let's take a quick look at what IDX can do for you!
IDX and Lead Management
Your website is an integral part of your business and the importance of owning your real estate website and the leads it generates cannot be overstated. Having IDX integrated on your website means that your visitors can search for MLS listings without having to leave your site. All leads come directly to you and are not routed to your brokerage or the listing agency. Instead of your leads leaving your website to look at property or market information, you an capture each lead and can manage them through your IDX.
Your IDX solution also enables you to decide when, where, and with what frequency to prompt visitor registration with a custom or preselected sign up form. You can view individual lead activity – see what listings they viewed, what searches they have performed, which alerts they have selected, and the listings they have saved. This allows you to individually subscribe them to new listing email notifications or drip marketing campaigns – all of which can be customized to your liking. Organize your leads, and let your IDX lead management cultivate your lead interest for you. Already working with a CRM? We can coordinate with most CRM platforms to export your IDX lead captures to your CRM program as needed.
IDX and Listing Management
We know that one of the core functions of IDX is to have dynamic listing feeds from your MLS(s). But did you know there are customizable features within this functionality? You can choose your singular agent code, several agent codes, your office code or even several office codes to feature properties, depending on your business structure. We recommend a designated featured listings page to showcase your listings – your sellers will love this extra attention. In searches, you have the option to have your featured listings (or office listings) populate first. You can create featured listings manually, or select criteria for the listings you want to auto-populate.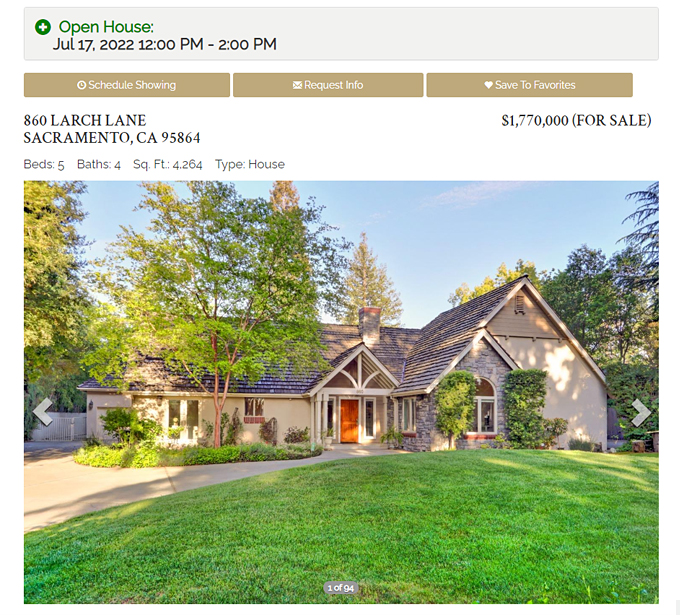 Have an Open House coming up? You can show open house information for all IDX listings, or just your own. Your selling clients will certainly be pleased to see their home featured on your homepage! And let's not forget about your sold listings! Even if your listing is now off the market – you want your potential seller clients to know your selling prowess – these too can be placed as featured listings provided your MLS has this availability. There are many ways to customize listing information available to the client. We are happy to help you set up exactly what it is you want to feature for your site visitors.
IDX and Market Reports
Market reports are extremely valuable for your clients who seek specific market data. They also make you look like the local expert by offering valuable knowledge about the markets you buy and sell within. Offering market reports to complement searches and neighborhoods are beneficial to keep potential clients returning to your website. iHomefinder's MarketBoost is all automated and will make you stand out from the competition who often overlook the power of market data.
iHomefinder MarketBoost include median prices, inventory available, inventory sold, how long listings remain on the market, and sale to list price data. MarketBoost encourages site visitors to sign up for automated monthly market reports keeping your name and branding front and center in their inboxes. Open house events are also included if available through your MLS. This is a lot of information you are putting in the hands of your leads, and they will return to your site again and again to find it! The best part about these reports is that you create the parameters. You can customize reports by several criteria options, such as zip code, price range, predefined MLS areas such as subdivisions, or even niche specialty interests such as lakefront homes. Any filters your IDX solution has can be used to create these reports. Below is an example of a market report page generated by iHomefinder's Market Boost: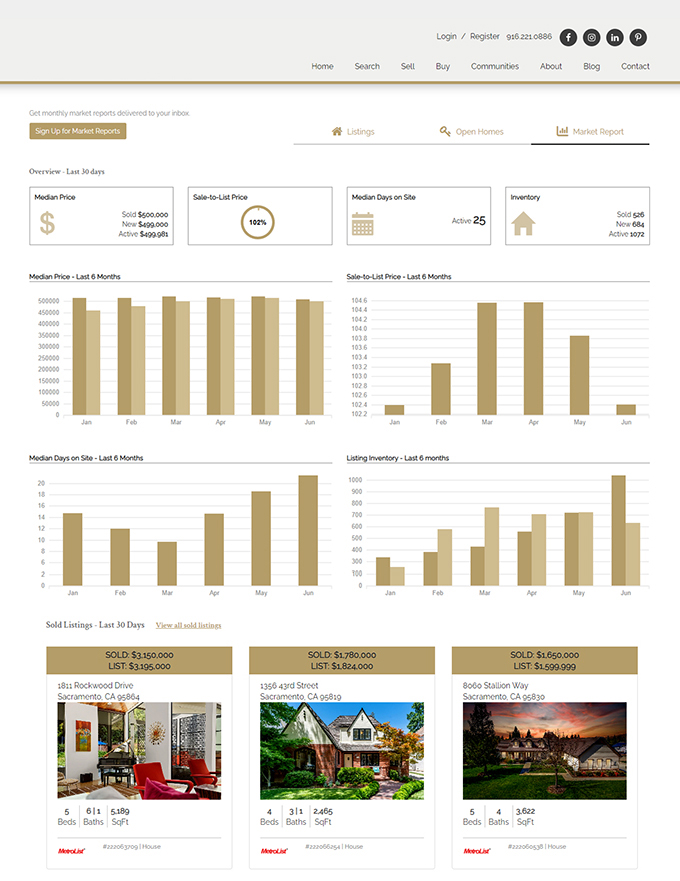 IDX Market Creation & Search Customization
Here we come to the most valuable and versatile feature that IDX has to offer for your website. Oddly enough, it is also the feature many people do not use to their full advantage! At IDXCentral we are invested in your success – so let's take a dive into search customization and market creation!
The MarketBoost reports we discussed above are possible because of the versatility of IDX market creation. With this ability, you can carve out individualized sub-areas of your region – such as neighborhoods, communities or niche areas. You may create these sub-areas using MLS data, like zip codes, or you can use the IDX polygon map tool to outline a specific area to highlight. For example, most of IDXCentral's WordPress websites include our Neighborhood Pages feature. Most real life neighborhoods aren't defined by MLS data like zip codes, but are quite distinct from one another, think areas like "Downtown" or the directional "Northeast" of a city or town. You can use the polygon map tool of your IDX solution to carve out the individual neighborhoods, and have a page of your website dedicated to each. The Neighborhood Pages you create can include a description of the area's highlights, market reports, listings specific to the area, and a map of the neighborhood showing where the listings are located. All of that on one page! This is incredibly helpful to leads from out of town, as it is difficult to discern different neighborhoods from one another simply by looking at a map – or even search sites like Zillow!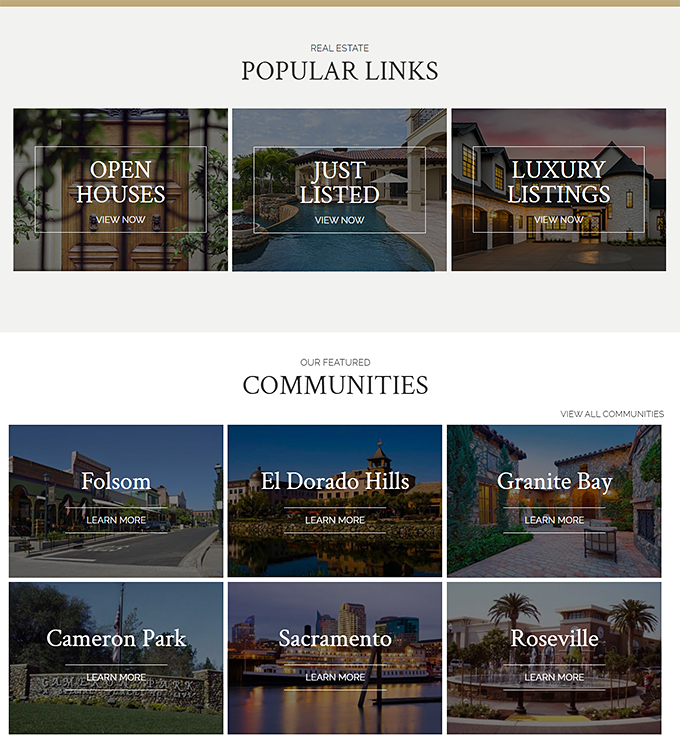 With IDXCentral's Neighborhood Pages feature, you can create as many of these neighborhoods as you like, all with the criteria you create. You are not limited to only neighborhoods – with IDX you can also create any subset based on the MLS data, such as price range, school districts, and other criteria. Essentially any information filter available from your MLS can be used to build pages specific to that criteria. Take pricing for example – instead of creating specific neighborhoods, you can use the data provided by the IDX to create price range pages. You can use available MLS data such as "Lakefront" etc, and if your MLS doesn't offer "Lakefront" as a search criteria, you can simply use the IDX polygon tool to draw out the parameters. Here's a great example of displaying Lakefront listing in Lake Tahoe. The options for market creation are plentiful, and you can also opt to do subsets within your "neighborhood" so your clients can find 3bdrm homes in the "Downtown" area.
IDX features like the polygon tool are also available to the client side of your website, leads can search under the standard MLS criteria, the markets you create, or draw a polygon of their own. Using these saved searches, clients can visit your site multiple times, and you will know what it is they are interested in – with the lead management tools we discussed before. This type of customization can tell you everything you need to know to market to your clients.
There really is no way to overstate how important IDX can be for your real estate website. IDX has so much functionality that the possibilities are practically endless. With the range of customization options available, IDX helps set you apart from the rest and illustrates the community expert you are! It gives you, and your clients, the knowledge needed to make the best decisions when buying or selling homes. The IDX solutions we offer continue to grow, adapt, and innovate alongside the ever-evolving real estate industry, and will help you to do the same.
Have questions?
Contact us to review the many features of a great IDX solution and help you choose the right solution for your needs. We can also create you the best WordPress real estate website with all the bells and whistles to stay competitive. Just call us at 888-577-8027 to review.
View IDX Solutions
View Our Real Estate Website Designs
The next installment of IDXCentral's WebSeries discusses how to market your neighborhoods, and other created markets with our Neighborhood Profile feature. Stay tuned to get the most from your real estate website with IDXCentral!