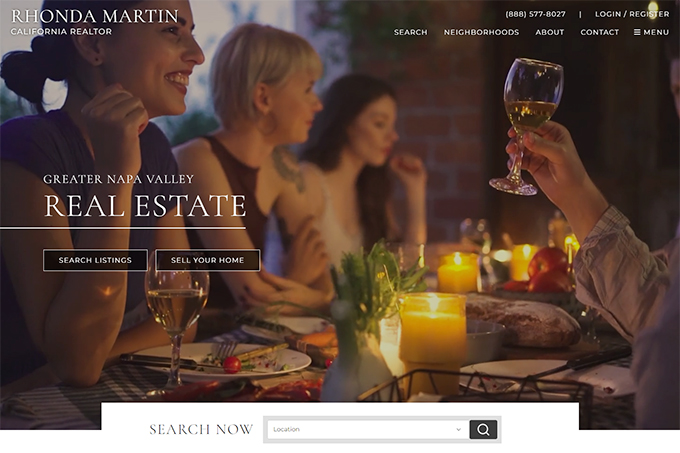 Are you ready? It's time to elevate your real estate brand to new heights! We're thrilled to announce the launch of our latest and most luxurious real estate WordPress theme yet – say hello to Napa!
For years IDXCentral has been the leading provider of real estate WordPress themes with seamlessly integrated IDX. Our designers crafted Napa with the perfect blend of sophistication, cutting-edge technology, and superior web performance to deliver an unparalleled user experience. This exciting new luxury real estate WordPress theme will set you miles apart from the competition, and we simply can't wait to share it with you!
Why Napa? The Ultimate Luxury Real Estate WordPress Theme
Our dedicated team at IDXCentral has been working tirelessly to develop a theme that surpasses all others in terms of elegance, functionality, and adaptability – at a price you can afford. Napa embodies the essence of luxury, with its sleek, modern design and attention to detail that will captivate and impress your real estate buyers and sellers. All this built on WordPress, the undisputed leader in website platforms, powering an impressive 43% of websites around the globe.

Napa Elevates Your Brand with Advanced Features
Napa comes packed with the latest tech and tools to ensure the best user experience – AND keeps you far ahead of the competition.
We build on WordPress, the #1 CMS for Realtors, with your professional growth in mind.

Website Ownership: A website you own and grows with you.

Responsive Design: The Napa theme is fully responsive, ensuring your site looks impressive on every device.

IDX Integration: Effortlessly integrated and seamless IDX solutions.

Advanced Property Search: Provide your clients with an intuitive, user-friendly MLS search experience that makes finding their dream property a breeze.

Customizable: Fully customizable to meet your specific needs as your business grows. Consider us your in-house technology and design department – there when you need us.

Essential Features: Showcase your listings, local neighborhoods, client testimonials, and team members.

Lead generation forms to get visitors to connect with you!
SEO Optimization: Boost your website's visibility in search engine rankings with built-in SEO tools like Yoast.
Over $600 in Premium Plugins and Stock Photography
Superior Web Performance Keeps You Ahead
In today's fast-paced digital world, your website performance is crucial. Napa is built with emphasis on speed and efficiency, ensuring your website loads flawlessly. This means your clients can access your listings and valuable content without delay, enhancing their overall experience and ensuring engagement.
Unmatched Support from IDXCentral
As always, when you choose IDXCentral, you're not just getting an exceptional theme – you're also gaining access to our unparalleled customer support. Our knowledgeable and friendly support team is here to help you every step of the way, from theme installation and customization to ongoing maintenance. We offer WordPress Maintenance Service Plans so you have the confidence and peace of mind knowing that your real estate website is always there and running quickly for your buyers and sellers.
Transform Your Luxury Real Estate Business with Napa Today!
The time is now! Upgrade your online presence and elevate your luxury real estate brand with Napa, the finest luxury real estate WordPress theme on the market. Don't miss this opportunity to harness the power of IDXCentral's expertise, latest technology, and unmatched support to take your real estate business to new heights. We strive to offer the best in real estate WordPress themes with IDX for Realtors, and it shows.
Experience the Napa difference for yourself – visit our website and get started today!
Call 888-577-8027 or contact us