Broadcast yourself! Get the word out about your real estate website launch with a simple, yet powerful blog post announcement. Let your clients know you have a tech savvy responsive and/or mobile friendly website that caters to the 60% of people who use mobile devices to search for listings. Promote your article on all your social media channels and you are off and running. Use our model blog post below or hand craft one from scratch.
As you are writing, be sure to incorporate keywords into your announcement with direct links to other pages on your site for SEO benefits. Connect readers to some of your favorite neighborhood profiles using keywords and phrases, i.e., Miami Real Estate, Miami Luxury Real Estate, Miami Homes for Sale, etc. For more ideas on how to optimize your website's search engine rankings and increase website traffic, read "Link Building 101," a how-to guide, or check out "Resources to Link Building Tips and SEO Best Practices."
We know you are busy, so to make your life just a little bit easier we have created the following template for you to use however you like. Just adjust the underlined words or blanks to fit your needs. For the phrases highlighted in orange add hyperlinks to the appropriate pages on your site. Examples of where to link them are the IDX search page, map search page, contact page, biography page, new listing notifications sign up page and more. Be cleaver and think of ways to link to community description pages, market report page, mortgage calculator etc. Or, you can use it to generate ideas for writing a post from scratch.
Miami Real Estate Website Launch (Blog Post Title)
We are / I am happy to announce the launch of our / my mobile responsive website www._______.com – your online resource for all Miami real estate! We / I always endeavor to provide clients with easy access to up-to-date listings and information impacting the real estate industry. Our / My goal is to enable you make the right decisions about one of your largest investments, whether you are buying or selling a home.
This feature rich website has everything you need to help you in your search for local homes for sale in Miami. Start your advanced search for Miami real estate now or search by map.  Also check out our / my featured Miami properties for sale. Have any questions about a listing or real estate in general then contact us / me by email or call ______.
Interested in being notified of the hottest listings to hit the market? Then be sure to sign up for FREE New Listing Email Notifications or a Free Market Analysis and stay informed of new listings as they the hit the Miami real estate market. Only get listings emailed to you that meet your specific criteria. Sign up today!
Have any questions don't hesitate to contact me/us – your Miami real estate expert(s).
Client Example Blog Post: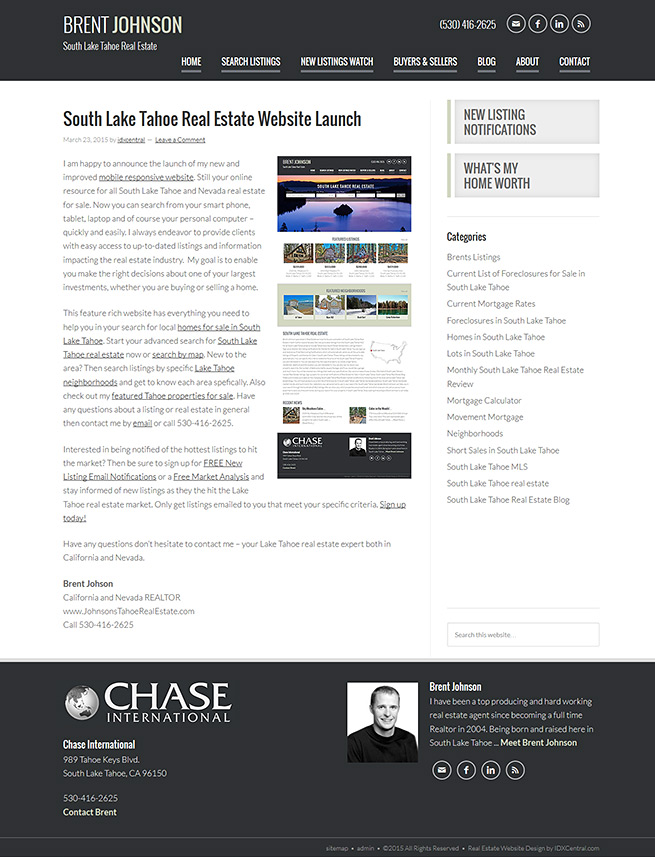 Once your announcement post is created, be sure promote it on your Facebook, Twitter, Google+ and LinkedIn accounts. For more great tips on how attract people to your site, check out "Your New Real Estate Website is Live. What's Next?" If you are interested in learning more read, "The Little Real Estate Site That Could." Happy Writing!