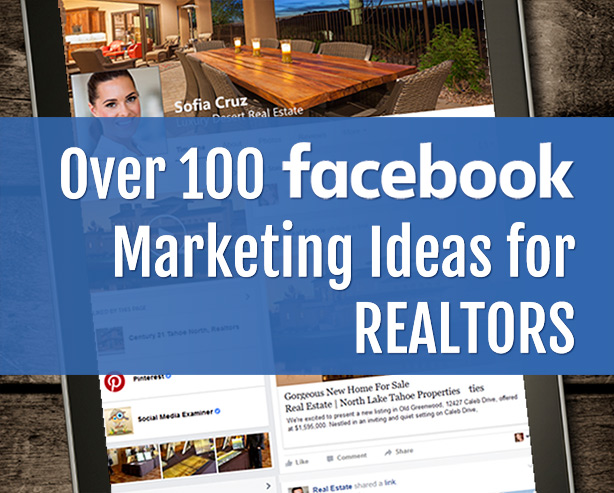 Get inspired with over 100 Facebook marketing ideas for REALTORS®. With almost 2.8 billion monthly users in the fourth quarter of 2019, Facebook marketing is a tool you cannot afford to ignore. You most likely already use Facebook and know the appeal; according to a NAR 2019 Report on Real Estate in a Digital Age report 97% of REALTORS® have a Facebook page. It's easy to get started with a Facebook business page, the tricky (and necessary!) part is creating new real estate Facebook posting ideas daily to increase your audience and drive traffic to your website.
We've put together a list of creative Facebook posts ideas from real estate agents that will get you thinking outside the box! Consider your audience – homebuyers and sellers love topics like design tips, home ideas, current news, real estate tips, etc. These may seem like fluff when your goal is sharing listings, so think of it like staging a house – you can captivate interest by presenting more than just the cold facts. These Facebook marketing ideas for REALTORS® will get you started, and with over 100 Facebook real estate post ideas to try, you should have no shortage of content to share!

Attract Buyers
Attract buyers with unique ideas that will get traffic to your site and take advantage of your IDX solution. The different features your IDX provides like New Listing Email Notifications, recent homes sold, recent homes listed, and posting a price range of homes etc. will lure visitors over to your informative real estate website. Here are some creative ways to attract buyers.
1. Integrate your MLS search (IDX solution) on your Facebook account. This drives traffic to your website when they click on a listing profile – win, win! View our short instructional video on How to Add IDX to Facebook.
2. Promote your site with a link to the "Search Properties" page (IDX solution)
3. Promote your site with links to price ranges, neighborhood profiles, sold listings
4. Promote features of your site i.e. homes listed or sold in the last 30 days
5. Promote your site with a link to the "New Listing Notifications" feature (IDX solution)
6. Post the "home of the week" or the best deals of the week
7. Share price reductions for your prime listings
8. Post Open Homes and get the word out
9. How to calculate your home's equity
10. Share articles about renters – when should they buy?
11. Share advice about Insurance – what to be aware of
12. Post advice on what NOT to buy or do!
13. Post a promotion i.e. part of your commission goes to a local organization in need
14. Promote the inclusion of your listings in local newspapers and/or online publications
15. Share your market reports. Try MarketBoost which generates market reports for you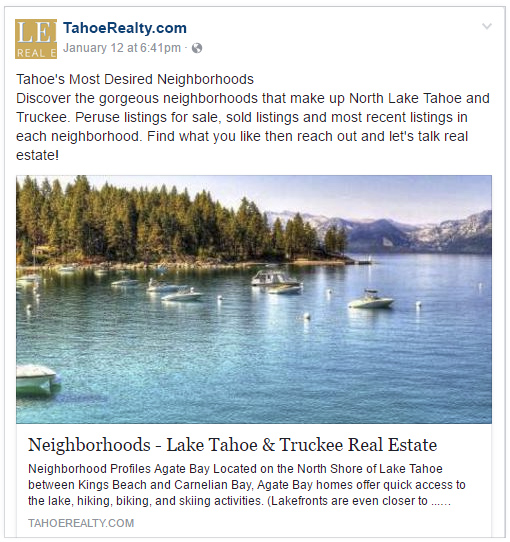 Attract Sellers
Some of the ideas encourage you to seek out great articles to post from resources like HGTV, DIY Network or news resources like Huffington Post. See which articles get the most Likes or Shares to know which ones resonate the most with readers. O better yet, create your own informative blog articles to promote and drive traffic to your website. Take a look at our article on Real Estate Blog Ideas – Your Resource Guide or specifically Real Estate Blog Ideas – Think Sellers to get those creative writing juices flowing.
16. Post that you offer a FREE CMA
17. Post your Home Selling Strategy
18. Post client testimonials and link to testimonial page
19. Congratulate your seller on his/her recent sale with you
20. Post articles on how recent events may affect the housing market
21. Share your market reports. Try MarketBoost which generates market reports for you
22. Post photos of closed or just sold properties that impress
23. Share your seller's garage or yard sales
24. Share a "Room of the Day" from one of your listings
25. Post photos of great yards/gardens/outdoor areas for your listings
26. Share ideas for staging your home (inside and out!)
27. Share articles on "buyer" psychology and what hurts/helps?
28. Share articles on how to price your home? (Tips for Sellers)
29. Remodeling projects/suggestions/ideas/tips… there are endless resources online
30. Promote the inclusion of your listings in local newspapers and/or online publications
All About You (The REALTOR®)
On Facebook you can keep it "all business" or sprinkle in some personal touches that make people connect with you on another level. Of course this is all up to you.
31. Post positive community outreach/education about your career (Kids thinking about future real estate careers)
32. Share your interviews or large speaking engagements you've participated in
33. Post office news, awards and milestones
34. Post photos of your office and its location
35. Share and show off your unique branding and/or company signage
36. Share ways you give back to the community
37. Promote your newsletter when it goes out
38. Promote new client testimonials/reviews you receive
39. Promote your new website on all social media… get traffic going to your site
40. Post a special milestone or event that connects with your audience
41. Share a "lesson learned" or personal knowledge that could educate others
42. Share a moving quote or book that inspired you
Promote Your Local Area
This is a great way to keep people informed and help promote local businesses and organizations. Show your pride in your community and people will consider you a great source for local happenings. Check the local newspaper/online publication for news articles to share and current events.
43. Promote local historical homes that may have tours
44. Promote local "Best Of" businesses from polling publications especially if you won
45. Share local fundraisers and charity events
46. Share great local freebies and giveaways that get locals excited
47. Share snow reports for the slopes with photos are the best
48. Share local fun and educational events for the whole family
49. Share special events, plays, concerts, cook offs, farmers market… you get the picture
Videos
Real estate videos are a great way to market yourself, your brand, your company, and really connect with people. From hiring a professional company to doing your own Facebook Live-Streaming video, you have plenty of ways to deliver video that transcends over the internet.
View Living the Carmel Lifestyle by Nicole Truszkowski

50. Share community videos that promote the area
51. Share a connection video about you and the community you love
52. Promote your new listing videos or interviews with clients
53. Use Facebook Live-Streaming apps for creative marking i.e. live client testimonial, tour a house or a neighborhood
54. Post a videos about your business platform or office promotional videos
55. Post a video introducing yourself/and or your agents
56. Share local news videos about your listings/real estate topics
Real Estate Humor
Real estate humor is a great way to connect with people who also like to Share what's funny with family and friends. Who knows, people might just remember you for all the chuckles and laughs you deliver.
57. Hire a cartoonist that captures real estate humor i.e. Glasbergen Cartoon Service
58. Post Funny Real Estate Stories
59. Share real estate Pinterest humor
60. Share these 28 Terrible Real Estate Photos
61. Share hilarious real estate signs
62. LighterSide of Real Estate full of cartoons, DIY Failures, funny videos etc.
Seasonal and Holiday Posts
This can be a treasure trove of great, almost endless ideas and most active Facebook users are already doing many of these ideas. If you are fairly new to Facebook and just gearing up, here are a few ideas to get you going in the right direction.
63. Share a holiday graphic
64. Share a great concept like "letter from Santa" provide by US Post office
65. Share a video relating to the Holidays like this "Welcome Home" Veterans video
66. Share great local events that support the community
67. Daylight savings time reminders
68. Astronomical Events (Eclipses, Super Moons, Meteor Showers, etc.) with photo
69. Show off with photos how your town/city decorates for the season or holiday
70. Share local ways the community can give back or volunteer during the holidays
71. Share local news report on the best Christmas light displays in your town
Ask Questions
Asking great questions is a sure fire way to start a dialogue with your Facebook fans who might be looking for a challenge or just enjoy adding to the conversation. Ask trivia questions, opinion questions, true or false questions and get people involved. Here are a few ideas to get you started on the right track.
72. What are the best places to take the kids?
73. What are the best places to take your dog?
74. What is the best neighborhood to trick or treat?
75. What's your top three favorite (town) restaurants?
76. What's your favorite top three favorite neighborhoods?
77. What's your favorite way to "upgrade" your home?
78. The oldest surviving timber-frame house in North America is located in what state? (MA)
79. Having no income means you will get a bad credit score. True or False? (False)
80. To increase profits remodel your home before listing it. True or False? (False)
81. Most home buyers search online with over half using a mobile device. True or False? (True)
82. Home buyers would rather not work with an agent and go directly to the seller. True or False? (False)
83. You default on your mortgage loan when you pass away. True or False? (True)
84. Which are the smallest and largest planets in our solar system? (Mercury and Jupiter)
Higher a Company
Do some research and you will find a lot of services ready to help – here are a few that might make the cut for your needs.
85. Promo Republic – Up-to-date library of Facebook post templates
86. Curalate – Visual commerce software and marketing platform
87. UpWork – Facebook marketing freelancer service
Real Estate and Home Tips
88. Share popular posts from Orchard Supply, Lowes, Home Depot etc.
89. Share design ideas by room
90. Post space savings tips for smaller homes, cabins or condos
91. Share great decorating tips and tricks
92. Post articles on great outdoor spaces
93. Ideas for Decorating Different Rooms (Kids room, etc.)
94. DIY decorating ideas… many great articles online
95. Post a link to your Pinterest account or one popular Pinterest resource
96. Share some celebrity real estate news
97. Share the latest home decor design trends
98. Share the latest in home technology
99. Share the Share budget decorating ideas
100. Share dream houses i.e. in Hawaii, luxury homes, waterfront homes etc.
101. The world's most expensive homes to hit the 2016 market
102. Share a list of the oldest buildings in the U.S.
103. Share the ability to tour a home from every decade
Final Thoughts
As you ponder over this list and realize it's not that hard to come up with good ideas, consider these tips as well. No one said you can't post an article once. Take some of your most popular posts and recycle them over the coming months, staggering them out well enough most people won't notice. Take note on topics that get attention and see if you can create similar topics for even more interaction. The key is to get people to remember you and also get them to your website! Always give them a reasons to visit your real estate website. Ideally, get them to sign up for some form of drip marketing like New Listing Notifications (IDX solution), MarketBoost market reports or your marketing newsletter.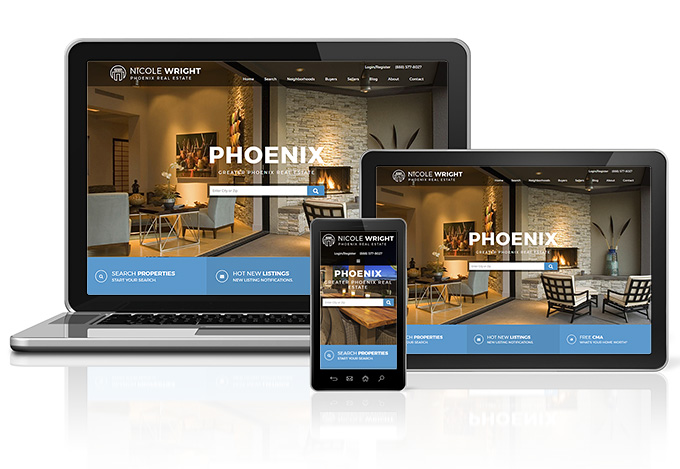 In the market for a powerful new website?
Of course, what good are well-managed social media accounts like Facebook, if there is no cutting edge real estate site to send your visitors to? If you're in the market for your own real estate site, or ready to upgrade to a mobile responsive website, then give us a call! We have been in business over 20 years and specialize in real estate website design along with IDX solution sales and integration.
Contact us or call direct at (888) 577-8027 ext 1 for sales.
View WordPress Real Estate Websites
Contact Us to Learn More