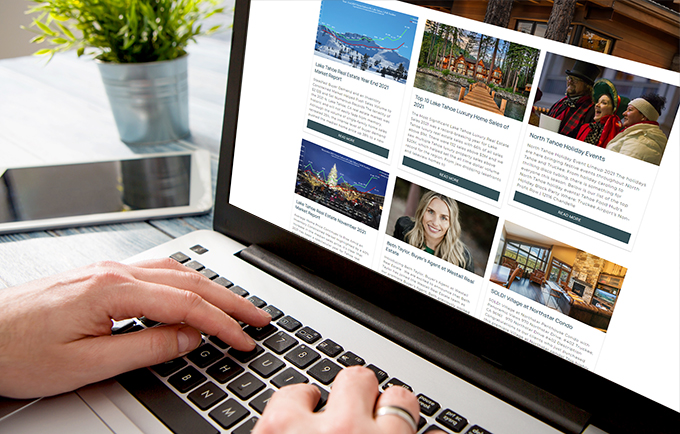 It is no secret that getting your site or content on the front page of search engines is THE definitive marketing goal. Blogs created with original SEO heavy content for your real estate website can certainly get you there. A well created blog is what ends up being on Google's front page. This article will cover what you need to know about boosting your search engine ranking with real estate blogging tips, tricks and topics! This is your in-depth guide to real estate blog content and ideas.
Get Your Real Estate Blog Started Right
It may seem obvious, but you need a platform to publish your real estate blog articles. The most popular choice is the best choice. The WordPress platform is the most widely used content management solution (CMS). As of January 2022 WordPress powers 43.2% of all the websites on the internet! To truly understand the full benefits of WordPress for Realtors we have broken it down in our article Why WordPress Real Estate Websites are Ranked #1 CMS for REALTORS. We have taken our 27+ years of experience to develop the best real estate WordPress themes with IDX on the market – take a few minutes to view our portfolio now.
14.7% of the world's top sites are powered by WordPress, counting the NFL, NBC, and CNN as just a few among the Fortune 500 companies that use WordPress as their preferred CMS. Source
Blogging for Buyers
Writing info packed blogs geared towards buyers is absolutely essential for page views, after all, they are a large and very important part of your audience – an audience who generally have a lot of questions! It is very easy to create blogs for buyers, whether they are potential buyers, new buyers, or those who have purchased multiple properties. Just consider the types of questions or requested information you generally receive from these categories of clients. You can even post these items in the typical chronological order of the home buying process. Ideas for these blogs likely will come naturally to you! Below are some topic ideas to consider:
Reasons for Buying. Most people visiting your real estate website have probably been leaning towards buying a home versus renting. Reinforce the pros of buying with a blog that expands on the benefits.
Credit Scores. Most prospective buyers start needing to know how to improve their credit scores. Write about what constitutes a good credit score, and how to get there!
The Buying Process. We know new buyers are unfamiliar with the general process of home purchases. The process which can seem confusing and daunting at first for new buyers. Also, with the pace of today's market – even experienced buyers could use a refresher course for the current state of the market, especially as it is vital to pull the trigger in a rapid fire. This topic also segues well to…
The Closing Process. Blog about issues many buyers face during closing. You already know which you see most frequently! You can also include information about closing costs here, or you may make costs it's own topic. The more blogs you post, the better!
Down Payments. Once you have educated your buyers on the basic process, the next thing they will look for information on is the best down payment they will need to get the monthly mortgage payment they desire on a home within their spending range. PMI versus 20% down payment is a good place to start. This is another place where you can blog about the fast pace of today's real estate market.
More Buyer topics! These are some ideas to get you started on blogging for buyers, but of course not an exhaustive list! But don't worry, we have you covered in our own blog on this topic with 20 Real Estate Blog Ideas – Think Buyers.
Real Estate Blog Ideas – Think Buyers
Blogging for Sellers
Like Buyers, those clients who are looking to sell are also a prime audience for blogs. Also like buyers, sellers will have topics of particular interest to them. For this audience as well, there are quite a few available topics to work with. Also, many sellers are buyers as well, so don't neglect to address the topic that apply to cross-over clients. Here are some ideas to help you get your blog on!
Why sell now? Selling a home or property is a big step, one that some sellers consider for months or even years. While realtors know now is a great market for sellers, those sitting on that lovely A-frame cabin on several acres may not realize exactly what they could gain from selling now. While market reports are helpful, they are usually put to use by people already in the know. Writing about the market in easy to understand terms on your blog does double duty – helps explain the reports to sellers, and you place yourself as the expert.
Do I have to renovate? Very few sellers would be knowledgeable about what home improvements can and should be done to up their selling price. You know what is worth the time and effort for a good return on their investment. They will thank you when they do a few small repairs instead of an overhaul – and get the price they want!
Staging. Similar to home improvements above, most sellers are not sure what they need to make a good impression. People are used to the way their home looks, and look right past the aging paint on the door, something that buyers won't miss. This can also be a good time to plug professional stagers you have a good working history with. They will certainly appreciate the free advertising!
Appraisal and Inspection. For most sellers this topic can be anxiety inducing. They can afterall, significantly reduce a selling price. A simply written blog explaining the process of each, will help your sellers to put their trust in you. Being the expert and having the info they need about the appraisal and inspection processes will make sellers more confident in your knowledge, and in you!
Negotiation! Sellers and buyers alike struggle with understanding the negotiation process – even in this market, it can be something to contend with. Sellers should know that while they may have the upper hand in negotiating – that they still need a number to determine what works for them, and that they have the right of first refusal.
More Seller topics! You can find more blogging tips and topics that speak to sellers in our article Real Estate Blog Ideas – Think Sellers.
Real Estate Blog Ideas – Think Sellers
Blogging for Your Local Market
During the age of Covid, many buyers are seeking homes outside their current region. Also due to Covid, less people are traveling to areas they are interested in. This is where blogs can come in! You know your local area better than anyone, so you can be the source of information for out of area clients. There are many things you can include with your area based blogs – here are a few:
Neighborhood Profiles. Show off your local know how with creating blog pages with photos and details about specific neighborhoods in your community. You can even include search options on the neighborhood info pages. Check out our Neighborhood Add-on. This is an easy platform to show off a community profile. View this great example of a live neighborhood page done right!
Promote Local. A great way to cross market, a blog post offering information on local businesses or resources is always a good idea. If you are mostly marketing lots for example, do a blog on a local architect or building company. If you work primarily in retirement community homes, write about senior service centers in your area.
Local Market Conditions, Both in and out of town buyers will need this information. Show your knowledge of regional market conditions and contributing factors. An informative blog on market conditions and offering monthly market reports is a great way to get people on your mailing list. You can consider using MarketBoost (an add-on to your IDX) to deliver automated reports to clients. Take a look at a live MarketBoost report that can accompany your monthly marketing emails.
Community Flair! Compose a blog about what makes your communities great! Farmers Markets, fairs, restaurants, hair salons, dog friendly parks, pretty much anything can go in this category. Discuss cultural and learning opportunities like galleries, libraries, historical places, children's museums, etc. These blogs help people fall in love with a neighborhood. Tell them what it would be like to live in their new community by offering information on the lifestyle of the area!
Video and Photos. Many people are visual learners at heart. A blog doesn't have to consist solely of text. Take some videos, photos, or slideshows to show off the picturesque areas. This allows clients to visualize their new home's surroundings. Hire a local photographer to take photos or purchase from his existing portfolio to show off the area in the best light. If you sell in a large city you might find stock photography you can purchase online via sites like iStock. Take a look at our recent article Best Real Estate Video Marketing Ideas To Improve Leads for some tips and tricks!
More Market Condition topics! Take a glance at our article Real Estate Blog Ideas – Think Market Conditions for more great blog ideas in this vein.
Real Estate Blog Ideas – Think Market Conditions
Blogging About Listings
Listings are the most often visited part of your site, but they do not have to be static and limited to your search pages. Blogs featuring certain types of listings practically create themselves.
Home of the Week. Having a blog each week on a featured home accomplishes two things – promotes that specific listing, and gives you a dynamic blog page that updates every week. Have the listing itself, and a short description about why it is chosen for the weekly blog, and you are done!
Specialty Homes. Do you have listings on a golf course? How about homes on the waterfront? There are many examples of this type of specialty listing blog. You could focus on listings with interesting architecture, or historic homes, or even a certain type of home style (A-frame, Victorian etc). Just choose a category of home, and add some listings of that category into your blog post.
Sold Listings. A great blog aimed at sellers is one that features your recently sold listings. This blog can show off your skills as a realtor. The more you let people know that you have had much success with selling properties, they will more likely bring their property for you to market. Including a testimonial from the buyer is a big bonus!
Featured Properties. Every successful real estate website has featured listings somewhere on the site. What if you gave each featured listing its OWN page? Take a look at this example by Westall Real Estate. This post gives plenty of room for photos, features of this home and surrounding neighborhood. A video walkthrough could also be added for more impact. We offer a Featured Listing Add-on to give your featured listing the most punch!
Top 10's. Keeping your blog fresh, updated, and on the search engine results page means continuous content. This sounds like work, but if you do Top 10 blogs, you will not run out of content. Think "Top Ten Foreclosures," "Top 10 Homes to Flip," Top 10 Best Condos". "Top 10 Vacation Homes" Top 10 lists can keep you in content for quite some time.
More Real Estate Listing topics! For more ideas to push traffic to your listings, please take a look at our article Real Estate Blog Ideas – Think Listings!
Real Estate Blog Ideas – Think Listings
Keeping It Interesting!
An important thing to keep in mind is that you want to stand out from the local competition. Keeping your blogs not only informative, but fun is the key to success. All of the below ideas can be applied to the topics above to create fresh and lively content for your blog posts.
Social Media. 233 Million Americans use social media. You can cross-post your material to many applications. For example, you can post a short video about a special listing on Facebook, Instagram, Pinterest, YouTube, and TikTok. Including the blog itself, that is six different platforms for one video. Take advantage of these multiple platforms to get your marketing out.
Polls and Quizzes. People love to learn more about themselves. WordPress has several poll/quiz widgets that can be added on to your site (Fun Fact: WordPress offers 50,000 add-ons!) Post a poll asking site visitors to share what decorating style they prefer. Or a quiz where the results indicate what kind of neighborhood they should look for. The results can even link to listings! Polls and quizzes are fun, engaging, and will keep visitors on your site.
Vlogging. Vlogging (video blogging) is a great way to introduce yourself to your site visitors. They will feel familiar with you, and more likely to call you when they are ready to make a move on the market. We mentioned using videos for community events above, but video can apply to any category! You can use video to discuss a special listing, create a video on market conditions, do walk-throughs of luxury homes – the possibilities are endless.
Interests. Not every blog has to apply to a specific listing. You could do a blog on decorating styles, gardening ideas best for your area, or DIY projects for new homeowners. There are endless ideas! Make these blogs conversational and fun, and people will come back to visit your site. Create a connection via special interests.
Tips and Tricks. Just like this article, you can offer your audience some tips and tricks relevant to your audiences. Either buying or selling, encourage people to come to you for inside information. FAQs are a great way to approach this angle. Just think of topics that you commonly get questions about, and blog about it! You can find ideas and inspiration about FAQs in our article How to Write Real Estate FAQs with SEO Link Juice.
More Keep It Interesting topics! You just need to get a little creative and "think outside the box" to come up with ways to utilize the many free tools at their fingertips. Simply combine ingenuity with access to social media tools, input some SEO keywords and phrases, and suddenly you have some very powerful marketing tools.
Real Estate Blog Ideas – Think Outside the Box
Blog Services
Hopefully, this article has given you some encouragement and ideas to create content for your blogs that will generate site traffic! That said, we know real estate professionals have enough work to do! You can opt to get help from content writing companies. The acceptable average rate for content writing is $0.2 to $0.5 per word. Sometimes you can find content writers that will work for less, but be aware – you get what you pay for. We have all seen those sites littered with spelling and grammatical errors, and you do not want that for your blog. Most content writers will ask what kind of key words and phrases that you would like for SEO purposes, and then will familiarize themselves with the subject matter before creating your content. Content writers are not difficult to find, but the good writers will have sample works to offer you to show their talents before you decide to hire them for your blog content.
How to Get Your Real Estate Blog Started
We have taken our 27+ years of experience to develop the best real estate WordPress themes with IDX on the market. WordPress is the #1 CMS for REALTORS so you know your blog is built on the best foundation available. Save yourself valuable time and money – start with the best!
Whether you know exactly what you want or need to spend some time reviewing your goals, our team is eager to help! We can make recommendations and answer your questions whenever you're ready. Call (888) 577-8027
View WordPress Real Estate Websites
Contact Us to Learn More