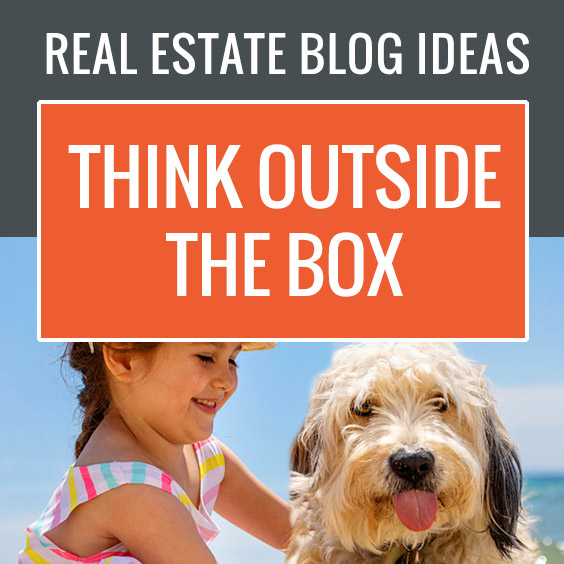 The Internet offers tons of possibilities for promoting oneself. Real estate agents need only to get a little creative and literally "think outside the box" to come up with ways to utilize the many free tools at their fingertips. Simply combine ingenuity with access to social media tools, input some SEO keywords and phrases, and suddenly you have some very powerful marketing tools.
1. Man's Best Friend Guide
For a growing number of people, dogs are treated like their own flesh and blood children. That said, dog owners will love to find a reliable resource for all their dog needs. You can compile information about dog-friendly beaches, dog parks, dog bakeries, groomers, shelters, vets, pet sitters, etc. You could make this its own section on your website. Homebuyers will appreciate knowing what kind of services are available in the communities they are considering for their new residence.
2. Cater to a Special Interest Groups
Similar to the "Man's Best Friend Guide," you can write posts for specific special interests groups. Depending on your area, you might target golfers, pickleball players, mountain bikers, yachting or boating enthusiasts, fishermen, hunters, campers, rock climbers, etc. Offer favorite places to take part in the activity, special inside information, and other tips. Write about topics you know best and that energy and passion will come through. Make connections with people.
3. School Rankings
Want an attention getting blog post? Create a school rankings blog post for the areas you serve. Link out the school websites and get some online information from websites like NeighborhoodScout.com or GreatSchools.org. Don't forget the colleges and universities and link to the different neighborhood pages on your site with homes for sale near the schools on the list. Generate inner linking within your site to get visitors engaged and using other valuable pages that will hook them.
4. Create 15-second Updates
Use Instagram to promote short market updates, interesting local news, or a quick tips series. You'll be surprised at how these short video clips will capture interest and create a following over time. Creating these short and sweet videos for your real estate social media channels will not only engage your audience, but keep them up-to-date on market happenings and other real-time information. Read about Melissa Gomez and how she uses Instagram to generate leads with short videos on real estate Lead-generation game changer: How 60-second Instagram videos have transformed my business.
5. Local Crime Rates
If you have a low crime rate and you want to showcase how safe the area is then why not post it! Maybe there is lower crime rate from 5, 10, or 15 years ago and it's become news worthy – post it! Mention the local police force what's working or may have changed to make the area more safe. Link to local news stories that will be informative and give more insight.
6. The Perfect Day
This could be an ongoing series of posts about your perfect day. Go to your favorite breakfast or coffee joint, park, tennis courts, gym, dog park, lunch spot, picnic area… you get the picture. The Perfect Day posts can be seasonal and how the day changes based on weather, holidays, kids or not kids. You get the picture. Be sure to post this article to your social media and start building connections.
7. Create "How-to Guides"
You will be amazed at how valuable your thoughts will be to other people when you simplify your ideas into a "how-to" format. It puts you in the position of teaching others to overcome or conquer things that might feel out of reach. Here are some "how-to" topics to get you started:
a. The Art of Negotiation
b. How to Sell Your Home in 30 Days or Less
c. How to Get Top Dollar for Your Home
d. What Not to Do When Selling Your Home
Do a little brainstorming and you will find that there are many real estate topics that can be presented in this format. It is a great way to communicate complex or meaty information to clients in a more simplified manner.Don't feel like writing? Then make these your own YouTube video series to really connect with your audience.
8. Utilize the Power of Pinterest
Pinterest may not be too far out of the box, but it is a powerful tool for generating traffic to your site and you can get pretty creative with your boards. As you may know already Pinterest is a popular tool that allows users to organize and share anything that sparks their interest on the web. This makes it a great resource for home decorating ideas, remodel ideas, organization ideas, luxury home photos etc. Everything is presented in pictures, hence the name, making this a great visual tool to present ideas for people to try in their own homes. As a real estate agent you can create your own account and start filling your pinboards with all of the great ideas that you find that inspire or educate buyers and sellers. Pinterest is already chock full of ideas, so it won't take much effort to get your own pinboards started, and your clients will love the interesting and inspiring ideas. To help in your Pinterest endeavors here are a great articles to help you think "real estate" on Pinterest – 60 Pinterest Board Ideas for Real Estate and Pinterest: Best Real Estate Boards.
9. Engage with Video
As you already know YouTube is another great resource and holds many possibilities of interest for viewers. You could create a "Top Videos" section on your blog to showcase your favorite finds. Gather a resource of hot real estate topics, news videos, great things to do in the area or even innovative home improvement ideas. The possibilities are endless, and clients will love the visuals that it provides.
Use your iPhone to create beautifully edited videos using the GoPro App QuikStories. Get creative and show visitors how you spend your day at all your favorite area hot spots. Make the videos seasonal and create a YouTube channel featuring your great escapes in the area you serve. Continue to build that personal connection.
10. Showcase Homes of Famous People
Write a post about famous people who sold or bought a home in the areas you serve. You could reveal the location, and any interesting facts about it, such as what it is worth, square footage, number of rooms, etc. People love to "snoop" and get inside information on celebrity homes. Include pictures or find a video on YouTube – make it visual.0
11. Profile High-end Luxury Homes
Give your website visitors something to dream about—profile the high-end luxury homes in your area. Provide interesting facts along with the basic information about the homes. Pictures are a must! Pin these amazing home photos to your Pinterest account and use hashtags that are about your area i.e. #Sacramento, #Miami etc.
12. Top Ten List
Make a list of the top 10 or 20 favorite area activities. Include pictures of yourself, family, friends or others taking part in these activities. If you want to get really creative, your list could be completely "visual" with a picture for every activity. Post on your social media channels especially Instagram and Facebook to engage viewers and create a connection.
13. Picture Series
People love pictures! One picture can say in a glance what it might take a whole page to convey with words. Take the opportunity to showcase a picture or two of the month featuring great shots of the area. You can capture the changing seasons, people enjoying the outdoors, iconic places in town, or locals taking part in favorite area activities. This will also allow visitors to see the area through your eyes and thereby create a connection with you. Take it a step further with Animoto to then create amazing photos tours/video to music. Of course upload your images to Instagram to build that personal connection so visitors remember YOU!
Have fun and get creative when you are coming up with ideas for your blog posts. There are so many ways to promote your area without actually coming out and saying it. Giving website visitors access to great area information from someone who lives, works, and plays in the community will build you up as a credible real estate agent. When it comes time to buy or sell, they will have already picked you as their real estate agent. Happy writing!
Other Related Real Estate Blog Ideas:
For other great real estate blogging ideas visit
Real Estate Blog Ideas – Think Listings
Real Estate Blog Ideas – Think Local
Real Estate Blog Ideas – Think Buyers
Real Estate Blog Ideas – Think Sellers
Real Estate Blog Ideas – Think Market Conditions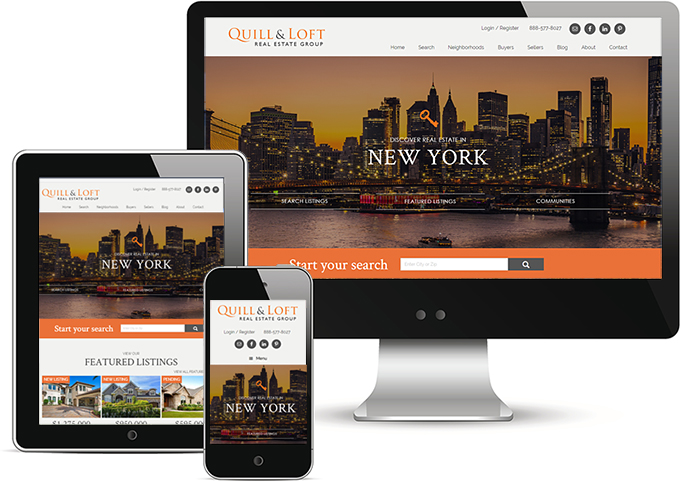 Real Estate Website Services
Now more than ever a real estate website is recognized by agents and brokers as an invaluable tool to generate new leads and connect with clients. Having serviced over 5,000 REALTORS, we have a solid understanding of real estate website design, IDX sales and integration. We would love to show you what we can do. Learn more about our real estate website services or contact us now.